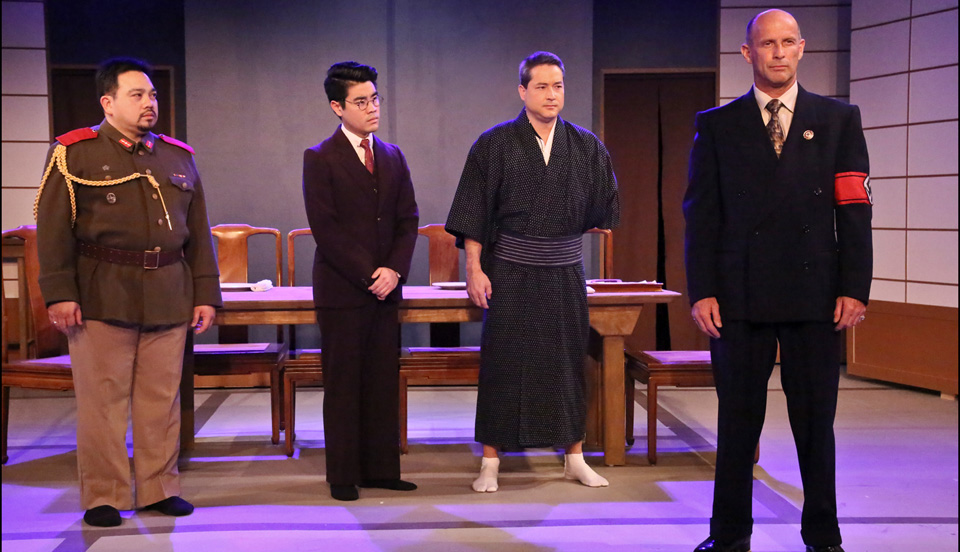 LOS ANGELES — West Coast Jewish Theatre (WCJT), founded in 1993, often astonishes with the originality of its new plays and performs a remarkable service by reviving less familiar works dealing with Jewish themes. Its breadth and scope continue to impress.
Its newest offering is a world premiere play that authors Steven G. Simon and Howard Teichman have been working on, off and on, for a quarter of a century. It took that long to conduct all the research that went into it and get it right. It's an unusual story indeed, based on factual history.
Japanese diplomat Chiune Sugihara, stationed in Kaunas at the outbreak of World War II, rescued some 6000 Lithuanian Jews from the Nazi clutches and relocated them to Kobe, Japan. Sent back home for his disobedience to diplomatic protocol, he lived out the rest of his life in obscurity and disrepute. He is now recognized as a "righteous Gentile" who resisted the Holocaust. That's just the background: He set these events into motion, but the play is not about him.
Set in November 1941, just prior to the U.S. entry into World War II, the drama centers on the Fugu Plan — yes, the fugu is that curious blowfish that is poisonous when not properly prepared, and temptingly delicious when rightly cooked. The idea comes from Col. Nohiro Yasue (Ryan Moriarty), Japan's minister of foreign affairs, who is stationed in Kobe.
Yasue has devised a scheme with the objective that Japan and America not go to war, thus leaving Japan greater freedom of action in Manchuria and other parts of China and the Pacific. Mistakenly believing that President Roosevelt is Jewish, Yasue selects the leader of the Jewish community, Dr. Avram Kaufman (Warren Davis), as his emissary to contact the president and Congress in Washington, as well as leading Jewish Wall Street and Hollywood moguls to convince the U.S. of Japan's good intentions toward the Jews. The Japanese harbored good feelings about Jews dating back to the Russo-Japanese War of 1905, when anti-Czarist Jewish financiers aided the Japanese side.
But Yasue meets his foil in the Gestapo's Col. Josef Meisinger (David Preston), a.k.a. The Butcher of Warsaw, a Nazi liaison at the German embassy, intent on seeing that no Jews escape alive. (One slight wrong note is sounded when Meisinger refers to the "atrocities" he has committed and plans on committing: I doubt he would have employed such a word.) Yasue has opponents to his plan among his own staff, who remind him of Japan's treaty with Germany and Italy, and supporters of it as well. But Yasue is above all a man of honor, and the Jews are under his sworn protection.
A complication arises for both the Jewish and the Japanese sides when Kaufman's beautiful daughter Sarah (Rosie Moss), very much under the traditional male thumb, and Yasue's top aide, Setsuzo Kotsuji (Scott Keiji Takeda), have fallen in love and have embarked on a forbidden romance.
Can a Jewish woman and a Japanese man find love under the shadows of war? Can their love possibly survive?
Can the brave Yasue, Kotsuji and Kaufman thwart the machinations of the murderous Nazis?
It seems that imperious, demanding Nazis representing their regime abroad are in vogue these days. Two other recent plays on the boards in L.A. feature such characters: The Consul, The Tramp and America's Sweetheart and Blueprint for Paradise. While the Nazi role is not open to great nuance, this cannot be said for Teichman and Simon's other characters (Teichman, artistic director of WCJT, also directs and produces.) Dr. Kaufman is torn between his leadership to his community in Kobe and the Japanese demands. As the spokesperson for an oppressed people, he is simultaneously a bully toward his only daughter Sarah, who chafes under his strict traditional chauvinism.
Rabbi Shlomo Shapira (Peter Altschuler) must uphold the tenets of his people, yet he also derives a universal wisdom from its sacred texts. Kotsuji is Yasue's loyal assistant, who shows unexpected appreciation for the Jewish plight, having (perhaps somewhat improbably) lived for a time on a kibbutz in pre-Israel Palestine to study agricultural techniques, where (perhaps equally improbably) he also learned to speak both Yiddish and Hebrew. He's also a haiku poet who piques Sarah's interest in writing Yiddish haiku (not unheard of).
Other characters, too, are finely drawn with strong individual identities, particularly Capt. Yosuke Matsuoka (Marcel Licera), who answers to Yasue but disagrees with his sympathy for the Jews under his wing. A completely invented character (most of the others are historic personages), is Mrs. Dovitch (Bryna Weiss), an elderly survivor of several marriages and of one lover, Sergei, whom she dreams about finding in America some day. Although evidently tetched by her chaotic life, and also by the contents of her flask, she is a positive role model for Sarah seeking her independence as she becomes a young woman.
Additional characters include a Japanese fan dancer (Kaz Matamura) and a young Chasidic dancer and hothead (both played by Matt Gottlieb). It's noteworthy and unusual that in this new era of Actors' Equity demanding minimum wage pay for both rehearsal and performance time, all ten of the actors are SAG/AFTRA members.
Theatrical precedent exists for a Jewish-Japanese love affair, Leonard Spigelgass' 1959 A Majority of One, with Gertrude Berg and Cedric Hardwicke. The 1961 film starred Rosalind Russell and Alec Guinness.
Dealing with historical characters, Fugu avoids the curse of didacticism. Teichman and Simon both have long and rich enough experience in the theatre to allow the characters to dictate their roles while staying within the general confines of the well made play that encompasses elements of danger, romance, war, intrigue and the grand sweep of historical events that will be entirely unfamiliar to most theatregoers. The play proves the truth in the old dictum that "something good came out of something terrible."
Fugu plays at the Pico Playhouse, 10508 W. Pico Blvd., Los Angeles 90064 through March 19, Fri. & Sat. at 8:00, Sun. at 3:00. For tickets and information call (323) 821-2449, or go to www.wcjt.org.