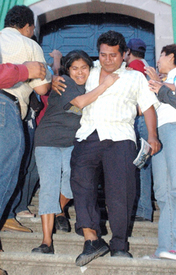 Venezuela: Indigenous voices for peace
Hundreds of indigenous leaders took part in the First National March of the Indigenous People in Caracas on June 10 in support of Venezuelan President Hugo Chavez and unity of their communities. Joined by indigenous from Peru and Ecuador, the marchers expressed opposition to U.S. military operations in Caribbean waters and support for Venezuela's withdrawal from the Andean Community of Nations.
According to venezuelanalysis.com, the mobilization was organized by the National Indigenous Council of Venezuela (CONIVE), a coalition of 60 organizations and representatives of 32 indigenous groups.
Speaking at the march, CONIVE President and National Assembly representative Nicia Maldonado said, "We are also saying to the government of Mr. Bush, take all your military that you have in the Caribbean and get out, because here, we want peace, we want to live, because we are in search of our greatness, our spirituality and the flourishing of our liberty … liberation is here in Venezuela."
Japan: Support for peace constitution
The first national meeting of the Article 9 Association (A9A) was held in Tokyo last week and attended by 1,550 representatives from about 900 of the 5,174 local A9A organizations throughout Japan. A9A was formed in 1989 to protect Article 9 of the Japanese Constitution, which bars the re-militarization of the country.
The newspaper Akahata reported the national exchange called for "establishing a nationwide network irrespective of ideological or political differences and increasing public awareness of the need to defend the Constitution."
Writers, critics, philosophers and other prominent members of Japanese culture, including Nobel Prize winner in literature Oe Kenzaburo, spoke at the meeting, where participants described their activities.
Miki Mutsuko, one of the nine original A9A founders and wife of former Prime Minister Miki Takeo, told participants, "I began this movement because I don't want young people to suffer again from the miseries caused by war."
Mexico: Police attack striking teachers
Hundreds of state and local police agents June 14 attacked an encampment of 40,000 teachers in the main square of Oaxaca, capital of the southern Mexican state of the same name, reportedly resulting in at least four deaths and injuries to over 90.
The teachers had maintained their encampment since May 22 to demand increased educational services for children in their poor and largely indigenous area, as well as cost-of-living adjustments. They fled into nearby streets as police destroyed their encampment, invaded the headquarters of their union — Section 22 of the National Education Workers Union (SNTE) — and smashed furniture there, Weekly News Update on the Americas said.
Covering their faces with dampened cloths against the gas, and armed with clubs and rocks, teachers regained the central square within hours.
Organizers said some 300,000 teachers and their supporters, including traditional leaders of indigenous communities, joined a June 16 march through Oaxaca to protest the attack.
Ukraine: Anti-NATO demonstrators rock Black Sea port
Lawmakers declared the Crimean Peninsula a NATO-free zone last week after the Black Sea port of Fedosia was rocked by about 2,000 anti-NATO demonstrators protesting the presence of the U.S. Navy ship, the USS Advantage, and 200 U.S. Marines who arrived in late May for planned military exercises.
The Marines — originally scheduled to stay in the Crimea for three weeks to repair a military training facility and participate in war games — left earlier than scheduled.
According to ISN Security Watch, foreign troops are banned from holding military exercises in the area due to a parliamentary decision earlier this year.
Although negotiations continue to form a new government following the March elections, anti-NATO sentiments are strong in this area.
Burundi: Accord signed to end civil war
Burundi's remaining active rebel group, the Forces Nationales de Liberation (FNL), and the Burundian government signed an agreement June 18 to end hostilities, effective immediately, the UN's IRIN news agency reported. South African President Thabo Mbeki and Tanzanian President Jakaya Kikwete joined Burundian President Pierre Nkurunziza at the signing.
The agreement is expected to end 13 years of civil war in the Central African nation, during which at least 300,000 people have died and hundreds of thousands have been displaced. Conflict broke out in 1993 between ethnic Hutus and Tutsis following the assassination of the country's first democratically elected president, Melchior Ndadaye, a member of the Hutu majority. Fighting had continued between the army and the FNL even after Nkurunziza was elected in August 2005.
World Notes are compiled by Pamella Saffer (psaffer @pww.org). Marilyn Bechtel contributed to this week's notes.