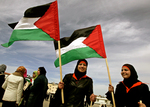 Philippines: State of emergency denounced
When members of the Philippine Communist Party (PKP-1930) and other mass organizations converged on Feb. 24 to celebrate the 20th anniversary of the fall of the Marcos dictatorship, they were violently dispersed by the police. Acting under Presidential Proclamation 1017 issued that very morning without congressional approval, the police were enforcing a declared National State of Emergency issued by President Gloria Macapagal-Arroyo.
In addition to banning all rallies and public demonstrations, several anti-Arroyo newspaper offices and presses were raided, and many arrests were made, including a congressman and trade union leader.
PKP-1930 stated: "The steps taken by the Arroyo regime under the 'state of national emergency' are blatant attempts to silence political dissent and to institute a new dictatorship. The Arroyo regime, which continues to be haunted by questions of legitimacy and corruption, would surely use this proclamation to prevent any further congressional investigations on Arroyo's cheating during the 2004 elections."
Pakistan: Cuban medics aid quake victims
A contingent of Cuban doctors and other medical personnel has been treating earthquake victims in Pakistan since Oct. 14. The Cubans, part of the "International Henry Reeve Contingent" of medical workers originally assembled to help victims of Hurricane Katrina (but spurned at that time by the Bush administration), are specially trained in disaster relief and serious epidemics.
They have treated over 1 million Pakistanis, almost half of them women. Nearly 500,000 people were treated at their homes in mountainous communities in northern Pakistan.
Forty percent of the 11,000 surgeries carried out in tents were considered major surgery. Tent hospitals set up in 32 locations served close to 6,000 patients just in the last few days of February, the Cuban newspaper Granma reported.
The brigade is named after a U.S.-born supporter of Cuban independence from Spain.
Palestine: DFLP urges coalition government
On Feb. 20 a delegation of the Democratic Front for the Liberation of Palestine met with Hamas representatives to discuss the framework of the new Palestinian government. The DFLP affirmed the importance of forming a national unity government based on "an agreement on common denominators regarding a political, social and security program."
In a statement celebrating its 37th anniversary two days later, the DFLP stated, "The great majority of our people in the Gaza, the West Bank and Jerusalem voted in favor of change and against corruption, chaos and absolutism. All forces must respect the will of the people by demonstrating an open democratic attitude, far different from any monopolization of power or replacement of one form of absolutism for another."
The DFLP and the Palestinian People's Party campaigned as part of a progressive coalition called The Alternative and won two seats in the legislative council.
Guinea: General strike paralyzes country
Unions in this small West African country essentially shut down the entire nation last week when they called a five-day general strike to protest escalating inflation and low wages.
"The average civil servant earns around 150,000 Guinean francs ($34 US) a month. It's a disgrace. It is impossible to live on such a salary when a simple bag of rice costs more than 120,000 francs," union leader Louis Mbemba Soumah told Reuters.
The government of the former French colony responded by putting soldiers in force on the main streets of the capital city, Conakry.
Guinea's land holds gold, diamonds, iron ore and about 30 percent of the known world reserves of bauxite, a mineral used to make aluminum. Despite these resources, the majority of its 8 million people live in poverty.
The U.S. and France both supply aid to the present government.
France: Toxic ship turned back
In a move hailed by environmentalists and peace activists, the French Supreme Court ordered the decommissioned warship the Clemenceau, laden with asbestos and tons of toxic waste in her hulk, to turn away from Indian waters and head back to France.
The ship was headed for an Indian shipyard where workers were to break it down and dispose of the waste.
Initially both French and Indian governments agreed on the deal, but Greenpeace and asbestos activists in both countries launched campaigns publicizing the international scandal. A storm of protest in India and elsewhere arose over the transport of toxic waste across international waters, the dumping of the toxic chemicals in India and the refusal of the French government to deal with its own hazardous waste.
"This is a victory for international law, a victory for Indian workers, and a victory for workers all across Asia," said Pascal Husting, executive director of Greenpeace France.
World Notes are compiled by Pamella Saffer (psaffer@pww.org).