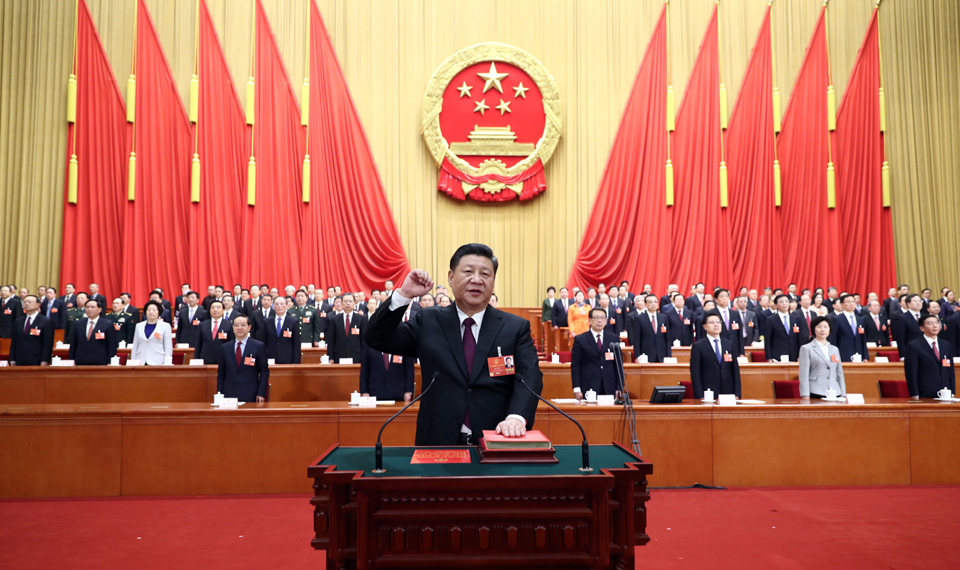 Re-elected President Xi Jinping pledged yesterday to protect "every inch" of China's territory, improve people's living standards, and promote a resurgence of culture and creativity.
"Every inch of our great motherland absolutely cannot and absolutely will not be separated from China," he told nearly 3,000 National People's Congress delegates in a clear warning against separatism.
"All acts and tricks to split the motherland are doomed to failure and will be condemned by the people and punished by history," he said.
Xi emphasized that his government would continue to promote "peaceful unification" with Taiwan.
His forthright speech may have been in response to President Donald Trump's signing on Friday of a law that encourages expanded contacts between officials from Washington and Taiwan.
Beijing has protested against the law, underlining that it violates U.S. commitments not to restore direct official contacts with Taiwan that were severed when Washington switched to a "one China" policy in 1979.
President Xi stressed in his speech that "high-quality" development that values innovation will be promoted above speed of growth.
He invoked China's historical achievements in governance and culture and confirmed the importance of national unity in working to reduce poverty.
While backing the ongoing expansion of the Belt and Road international development initiative of building ports, bridges, and railways connecting Europe with Asia, he insisted that China wasn't seeking political hegemony.
"Only those who habitually threaten others will look at everyone else as threats," he suggested.
Beijing faces mounting pressure from Trump over claims it hampers access to domestic markets, forces foreign companies to transfer technology, and floods overseas markets with unfairly low-priced steel and other goods.
Prime Minister Li Keqiang appealed to Washington yesterday to "act rationally" and avoid disrupting trade over steel and technology disputes, promising that China will "open even wider" to imports and investment.
"No one will emerge a winner from a trade war," he told a press conference held outside the parliamentary session.
"What we hope is for us to act rationally rather than being led by emotions. We don't want to see a trade war," Li stressed.
Morning Star.