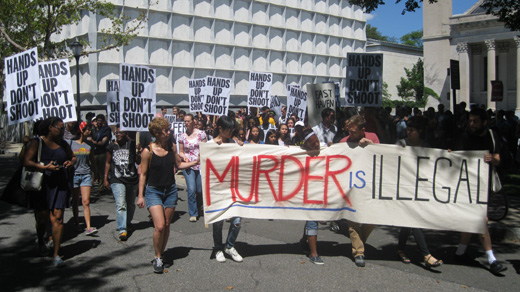 NEW HAVEN, Conn. – Over 200 Yale graduate students and community members marched yesterday from Beinecke Plaza on campus to the New Haven Green in solidarity with Ferguson, Missouri. They walked in silence holding printed signs that read "Hands Up – Don't Shoot" and handwritten posters with the names of victims of police brutality from different cities around the country including New Haven. One sign read, "We are all Ferguson."
The noontime solidarity march was initiated by students at the School of Art, only days before undergraduates are due to arrive back from summer vacation. They saw protests at other campuses and wanted to make sure that Yale students made their solidarity known.
A multi-racial group of students and staff responded in outrage at the police killing of unarmed African-American teenager Michael Brown in Ferguson, Missouri, and the militaristic police attacks on peaceful protesters where most residents are African American and the police force is virtually all white.
Alderwoman Dolores Colon, who works at Yale, joined the march briefly during her lunch break. "I'm here to stand with the people of Ferguson," she said reflecting on double standards in the judicial system that disadvantage people of color.
The art students read a prepared message at Beinecke Plaza and again after arriving at the Green as participants sat in a large circle symbolically holding their hands up in the air.
The statement, also being circulated as a one page flier, says: "In solidarity we are compelled to speak, not just to condemn the murder of Michael Brown, but the conditions across America that allow for this to happen. It is unacceptable to kill an unarmed civilian posing no threat. It is unacceptable to presume threat based on race, age, perceived gender or appearance otherwise. It is unacceptable for authorities to abuse the rights of individuals and prevent them from participating in and being protected by the democratic process. It is unacceptable that structural racism – despite the recent efforts of the State Police and the continual good-will effort to 'heal' – remain unchallenged. It is unacceptable to manipulate the narrative in order to vilify the victims."
Lisa Bergmann, national coordinator of the Young Communist League, joined the march to be part of the anti-racist message. "Racism is at the root of capitalism in the United States and Ferguson is showing us yet again that we need a different system that promotes equality, unity, justice and healing. The 2014 elections are a major battleground for moving us forward in our next steps. We cannot afford to go backwards."
Photo: 200 Yale graduate students and community members marched in solidarity with Ferguson on August 19 in New Haven. Art Perlo/PW