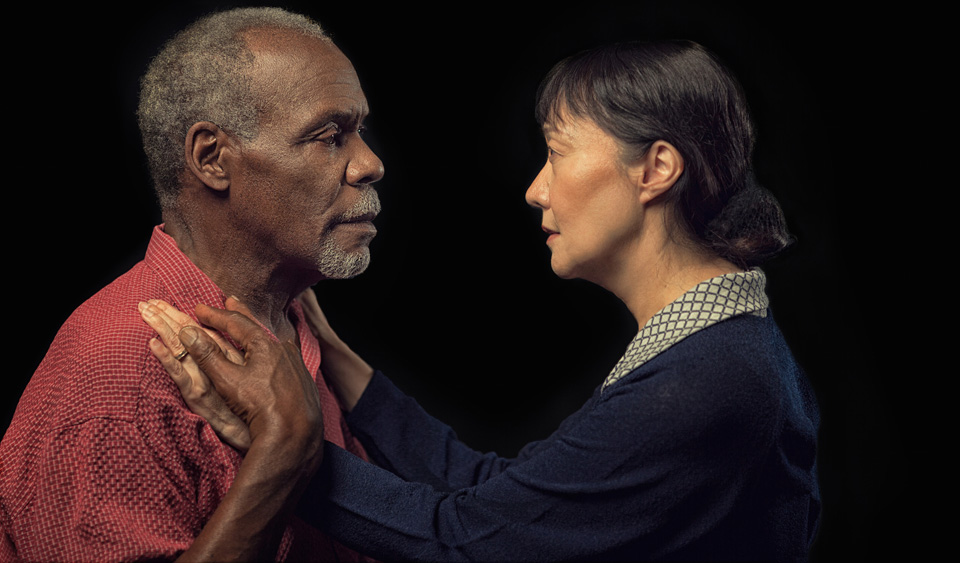 LOS ANGELES—More Americans should be familiar with the Japanese word "yohen."
In a short memoir about the play by this name, and the long and strange trajectory of its ever getting to the stage, playwright Philip Kan Gotanda recalls his apprenticeship with the Japanese ceramist Hiroshi Seto:
"As I learned in time, yohen is traditionally used in specific reference to the coloring of pots and that my teacher's usage to include physical misshapen-ness was a broader interpretation, perhaps again, to suit his own particular approach—expansive, allowing greater spaces between the logic of his aesthetic rationalism….
"Interestingly, the idea that yohen pertains to coloring, is in fact, more appropriate to this American play where we live in a highly racialized world. And where the tradition is to focus on color."
It's a useful word, yohen: Finding the beauty in the flaw that occurs during firing, an unexpected, unintended result owing to an accident.
The concept of yohen dominates Gotanda's play about the challenges facing James Washington, an African-American World War II veteran and now retired 37-year military lifer, and his Japanese wife, Sumi, after more than 30 years of marriage. A tragic sense of unfulfilled disappointment has set in, particularly on her part. In an experiment aimed at overcoming years of miscommunication, Sumi kicks James out of the house and orders him to "start from the beginning." The first scene has him knocking on their door to reignite their courtship by visiting her as if it were a first date.
But they have over three decades of history between them, and in the kiln of their marriage certain uncorrectable damage has occurred. Should the whole thing, complex and unfathomable, be tossed out, the pot broken up into tiny shards for paving roads? Or are they able to see that the imperfections in their unique story only make their relationship more beautiful?
Yohen is being co-produced by the East West Players, founded in 1965, the nation's longest-running professional theatre of color and the largest producing organization of Asian American artistic work, and the Robey Theatre Company, founded in 1994 in tribute to Paul Robeson to explore and cultivate works emanating from a Black sensibility. This same team originally produced Yohen in 1999 in a staging, also at the East West Players' David Henry Hwang Theater,  with Danny Glover and Nobu McCarthy.
The 2017 revival features Danny Glover again as James, now paired with Emmy Award-winning actress June Angela as Sumi, directed by Ben Guillory, producing artistic director of the Robey.
Part of the reason it took a while for Yohen to establish itself is that at first theatre companies were unsure what to do with a two-character play about race in America that focused on an African-American and an Asian. It's interesting that Gotanda, creator of an extensive canon of theatrical work on Asian-American subjects, puts James more in the spotlight, portraying him far more sympathetically than Sumi. The audience for this play understandably brings together large numbers of Blacks and Asians, among other theatergoers.
Needless to say, each brings their share of baggage to the relationship. For James, there's a litany of micro-aggressions he can cite, from an early age when he started out as a fish processor and salesman, to his military career, to the slights he feels from Sumi's co-workers at the law firm where she is a secretary. He retreats into his comfort zone of TV watching and beer drinking when he's not hanging out at the gym, where he mentors street kids in boxing and tries to impart useful life lessons.
Sumi feels unassailable pride in being the daughter of a famous samurai family in Japan. She spent her childhood in Manchuria where her father was in the lumber business as part of the imperial Japanese occupation of that part of China in the years leading up to World War II. In Nagoya after the war, she and many other young Japanese women were only too happy to marry American G.I.s, but she only fitfully learned that marrying a Black G.I. placed her, both in Japan and once in the U.S., in a lower social status. Her mother cautioned her that being so petite, and James being so tall, having his baby could kill her.
They never had children—one of the slow-burning embers of their mutual resentment.
I actually saw this play twice: First on opening night (Nov. 1) and again on Nov. 9th. Opening night was a major yohen that I demurred from writing up to spare the two companies and the two actors. Sometimes, as we all know, an irreparable misfire happens—in the kiln, in the theatre, in life. The Los Angeles Times reviewed the opening night performance and panned it.
But People's World was invited back: I hoped the problems I cited (and that the Times also brought out) might be addressed, although honestly I had my doubts because once a play opens it's usually pretty fixed. I said to myself, No demurring this time.
I'm very glad I returned, and am happy to report that while some flaws still show, Yohen is now most worthy of being appreciated for the rare insight it provides. These imperfect characters, both of them at some point occupiers of other people's lands, may never pass any political correctness tests, but they're human and vulnerable and do have many positive, laudable qualities. In their own ways—are these compatible, however?—they are trying to make a better America by becoming more true to their own experience and values.
The sound system could still use improvement, and the final curtain call, intimating a return to domestic peace after an acrid hour and a half, is distracting and untruthful. That said, it's good to have this work back in public circulation.
Yohen plays through Nov. 19 at the David Henry Hwang Theater at the Union Center of the Arts, 120 Judge John Aiso St., Los Angeles 90012. Tickets information can be found here, or call (213) 625-7000.