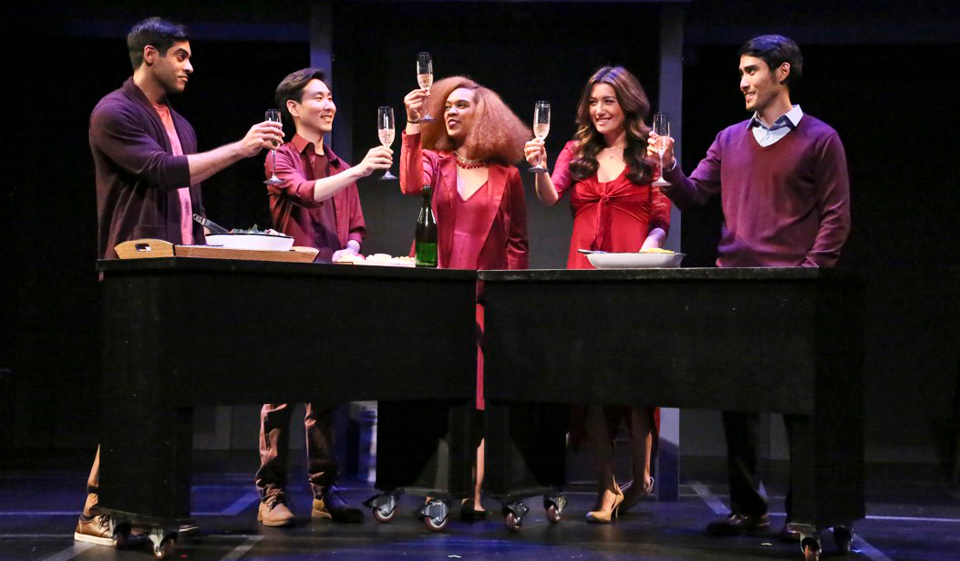 LOS ANGELES—"Adulting is hard AF" reads the subtitle of Nathan Ramos's As We Babble On, whose production is now playing in downtown Los Angeles, a collaboration between East West Players (EWP), in association with the Los Angeles LGBT Center. Featuring a winsome cast of five young Asian-American characters pursuing their dreams, the play asks whether or not society's rules for living adult lives remain valid models for the future.
Ramos's work won EWP's 2042: See Change Playwriting Competition, named for that moment—only 24 years from now—when the racial composition of the United States is predicted to become "majority minority." "As We Babble On is sharp, funny, and asks thought-provoking questions about identity, artistry, and culture in our current economic climate," says EWP Producing Artistic Director Snehal Desai. "It's a world premiere of a bold, new voice that explores all facets of identity, from race, sexual orientation to class."
The playwright was born in Cleveland to a Korean mother and a Filipino father. Calling himself a "Queer Gaysian Icon," he wonders if he's "Koreapino? Filirean? Kimchi Adobo Kween?" "It frustrates me when we other-ize each other, sometimes cutting our community off at the knees instead of building a castle together."
Alison M. De La Cruz, director of performing arts and community engagement at the Japanese American Cultural & Community Center, nimbly paces her five actors who have interlocking and sometimes conflicting interests, values and moral codes. And it is a fast pace, indeed, tweets and messages displayed ricocheting between characters across the stage with dizzying velocity. The printed program states that the play is staged with one intermission, but before the show started it was announced that instead it would be a non-stop one-hour forty-minute show.
The cast is centered by Benji (Will Choi), a first-generation Asian-American comic book artist (precise ethnicity unclear, Thai maybe) who's just been let go by his employer, Dynamic Comics, and who has aspirations of launching his own series via an online fundraising site. He rooms with his bestie Sheila (Jiavani Linayao), who has a semi-erotic foodie "Babble" video show about life and her culinary experiments. Already we get the idea that modern existence is the creation of a wide variety of platforms on social media.
Other characters include Benji's half-sister Laura (Jaime Schwarz)—not clear what the backstory about that family is—working as a barista but with a writer's dreams. At her store she encounters Orson (Bobby Foley), billionaire scion of a major global phone company (think Apple), who asks her out for a date—this could be life-changing! Rounding out the picture is Indo-American Vish (Sachin Bhatt), inventor of a number of successful apps. He is Benji's former boyfriend, and in the year or so since Benji broke up with him, Vish has been seriously hitting the gym, so he is now major eye candy.
The play's title inevitably summons up the name "Babylon," which is a city on Long Island not far from New York City. But that's clearly not the intended reference. Babylon, the name of the ancient Mesopotamian capital, is slang for New York City, largest city in the U.S. and financial and cultural center of the Western world. If Asian-Americans can make it there, like the song says, they can make it anywhere. It bears saying, however, that the playwright has little that's substantive, or even poetic, referencing the Big Apple's Upper West Side (where I lived for 11 years).
It's often said that youth is another country, and I am already of sufficient age to appreciate what's meant by that. All the app- and internet-lingo had me baffled, although I grasped the general principles. I just could not imagine myself living in such a highly mediated world, and one with such a constant flood of snappy, hip, with-it, somewhat sitcommy language. I learned a new verb in this play: "to Zuckerberg." The play is beautifully acted, and production values are superb, but it may not appeal to every theatergoers's demographic sensibilities.
The characters are not idealized in any way, and do not represent Asian-American "types," which for the most part are Caucasian projections anyway. Perhaps the "babble" of the title refers to more than Babylon, and more literally to the constant chatter that takes up time and space but doesn't change much. A late-in-the-action outburst by the up to now self-effacing Benji is almost incomprehensible in its blind fury, and I did not feel it was satisfactorily resolved.
Each of them suffers a certain degree of mistreatment and racist discrimination, with the possible exception of Orson, whose wealth shields him. Notwithstanding the occasional outburst against the rich, the characters are willing to make such compromises as will allow them greater access to society's rewards, and I appreciated that honesty on the playwright's part.
Yet that very fact begs the question, what are we buying into, and what is the price? The success model recapitulates the every-person-for-themselves ideology of dog-eats-dog individualism, with a strong dash of privilege thrown in owing to Orson's newly stirred philanthropic generosity (a tax write-off, of course). Ramos's fantasy does not account for the reality that not everyone, however many times the American ethos repeats it, is a millionaire in training.
As America moves toward ever greater multi-ethnic nationality, will more democratic racial and gender representation in the halls of success do anything to alter the hardening class divide? That will be the challenge for the indebted Millennials. Given the rate of automation, the rise of the service economy, and the domination of finance in the marketplace, it will take much more than fair "representation" to make America a happy place for all its inhabitants. And that will indeed be "hard AF."
As We Babble On plays at the David Henry Hwang Theater at the Union Center of the Arts, 120 Judge John Aiso St., Los Angeles 90012, Thurs.-Sat. at 8 pm, and Sat. and Sun. and 2 pm, through June 24. Tickets may be purchased here or by calling (213) 625-7000.