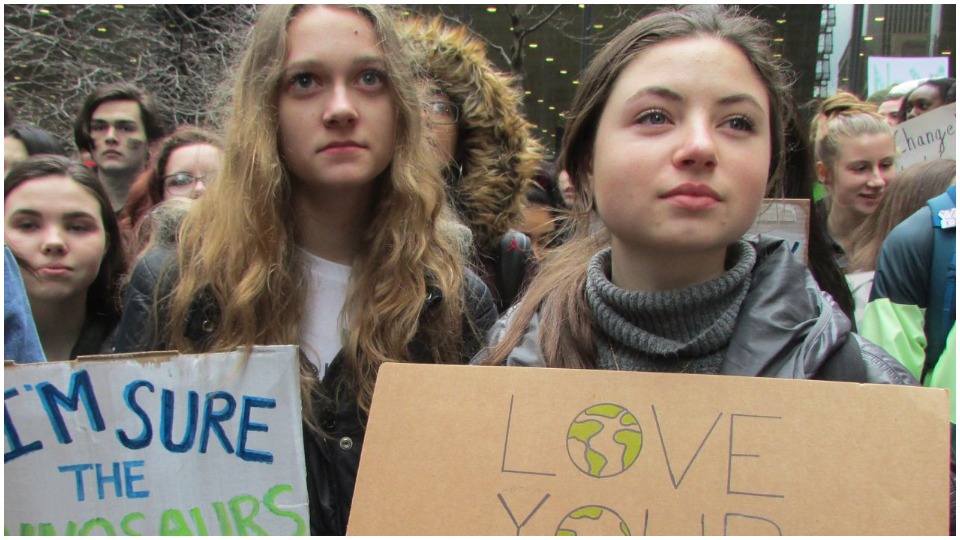 CHICAGO—Chicago youth skipped school Friday for the global Youth Climate Strike aimed at addressing the increasingly dire environmental crisis. Young activists in over 100 countries worldwide are participating to demand immediate and long-term solutions to the growing threat of climate change. Legislators in many nations have yet to take serious measures to prevent the escalating ecological crisis, but the young activists on strike today hope they can force a conversation about climate change back on the table.
The idea for the Youth Climate Strike came from the August 2018 actions of Swedish teenager Greta Thunberg, who spent several weeks sitting outside of parliament in central Stockholm handing out leaflets. The sign that Thunberg during her protest read, "I am doing this because you adults are shitting on my future." The 16-year-old says she aimed to send a message: Politicians need to prioritize global warming legislation and treat the crisis with urgency.
Since Thunberg made waves with her solo protest, the movement has grown exponentially. António Guterres, Secretary General of the United Nations, called for a summit of world leaders to address climate change in response to the mass demands. In a statement published inThe Guardian, Guterres says he understands the responsibility legislators have to young people. "My generation has failed to respond properly to the dramatic challenge of climate change. This is deeply felt by young people. No wonder they are angry."
The official Youth Climate Strike website calls for radical legislative action to combat climate change, citing the Green New Deal as one of many tangible proposals. Introduced by Rep. Alexandria Ocasio-Cortez, D-N.Y., and Sen. Ed Markey, D-Mass., the Green New Deal is a set of proposed economic stimulus programs in the United States that aims to address climate change and economic inequality.
The proposal is not a quick fix for the unfolding ecological crisis, but rather a framework for a long-term approach to addressing the issue. The massive legislative undertaking includes tasks such as "building or upgrading to energy-efficient, distributed, and 'smart' power grids" and working to ensure affordable access to electricity so as not to offload the costs of fighting climate change onto marginalized communities. It also highlights the benefits for the broad working class, suggesting collaborations with farmers and ranchers in the United States to "eliminate pollution and greenhouse gas emissions from the agricultural sector as much as is technologically feasible."
The ambitious program is predicted to cost trillions dollars, but as an investment in future generations, it's a price many say is worth it. "It just sucks," said Veronica, one demonstrator at Chicago's global climate strike, "that we are going to be stuck cleaning up this mess." The teenager (who would only give her first name because she didn't want her parents to know she skipped school) said too many politicians don't understand the urgency behind global climate issues because it won't matter to them. "We are going to be the ones dealing with this long after these people are dead. We need solutions before it is too late."
While many young people are advocating for universal change around environmental resolutions, they also acknowledge that marginalized communities, people of color, and low-income neighborhoods are disproportionately impacted by pollution and other climate issues. A recent study by the National Academy of Sciences revealed that there is massive pollution inequity for Black and Latino communities in the United States. "In my neighborhood [Little Village] they are trying to build a warehouse that is just going to bring more pollution," Veronica said. "We could be spending that money on schools and community resources instead."
The young striker referred to the protest of a warehouse that was first proposed in 2018. Hilco Global presented plans for a one-million-square-foot warehouse on Chicago's south west side neighborhood, on the former Crawford Coal Power Plant site at 34th St. & Pulaski Rd. Despite protest from community members, including Little Village Environmental Justice Organization, outgoing Ald. Ricardo Muñoz has continued to push for its construction.
Friday's strike is expected to be the catalyst for a more expansive conversation around global climate change. Young activists are mobilizing and the movement for a greener planet continues to gain momentum. According to a UN IPCC Report released in October 2018, the decades of inaction up to now leave approximately 12 years to limit the devastating effects of global warming. It seems that young people are not only ready to tackle the crisis; they are ready to lead the movement for the development of a cleaner, better future.
And as for Greta Thunberg, the young woman who sparked the Youth Climate Strike movement? She's been nominated for the Nobel Peace Prize.