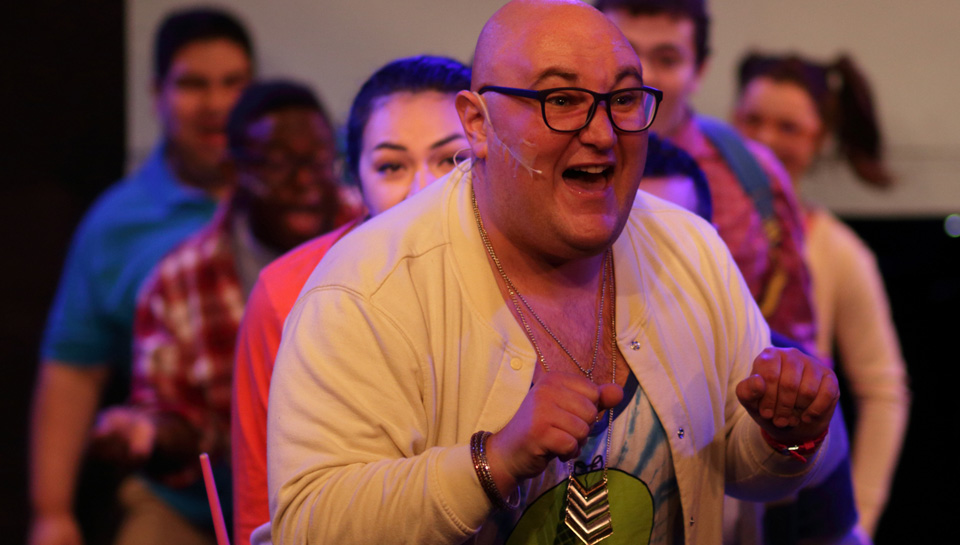 LOS ANGELES — Some might call it Utopia on Earth. Others would see a cosmic dystopia. Prejudice and disdain for the "other" are reversed in this alternate universe, a sprightly musical comedy set in mid-west America where homosexuality is the self-evident norm and heterosexuality is weird and offensive to public morals.
The show takes place at Heartsville High. A fairy (you may read that any and every way you wish) with a wand, the magical putto matchmaker Zanna (Jason Bornstein) brings together happy couples and fine-tunes their budding relationships like a real-life, in-person Ann Landers cum Dr. Phil. Sadly, like every theatrical pagliaccio, Zanna himself is all fabulous on the outside, forlorn on the inside. When will he ever find love's favor for himself?
All goes swimmingly until the football team's star quarterback Steve (Christopher Tiernan on Jan. 27)) and Kate (Jillian Easton), the captain of the Girls' Intramural Mechanical Bull-Riding Team, begin to discover their feelings for each other, to the horror of their classmates and the townspeople.
With a book, music, and lyrics by Tim Acito, and additional lyrics by Alexander Dinelaris, Zanna, Don't! was originally produced in New York. Now running in L.A. (but only through next weekend), the Chromolume Theatre at the Attic production features musical direction by Daniel Yokomizo, choreography by Michael Marchak, and direction and scenic design by Lauren J. Peters.
"Living in an alternate universe wouldn't make it easier," says Peters in a director's note, "if we all have the same judgmental way of thought. Stick up for what you believe and defend those who don't have anyone on their side. In the words of Ellen Degeneres, 'Be kind to one another.'"
The title of the musical is a takeoff on the Chinese city of Shangdu, the summer capital of Kublai Khan's Yuan Dynasty empire, more familiarly known as Xanadu from "Kubla Khan," a poem by Samuel Taylor Coleridge. In a later iteration it became the 1980 film Xanadu, starring Olivia Newton-John and Gene Kelly, which became a cult flop that in turn led to Xanadu the Broadway musical. Such is the historical musico-literary provenance of the topsy-turvy Zanna, Don't!
At Heartsville High, football is okay, but the real excitement is the chess tournament, which packs the bleachers with avid fans rooting for home champion Mike (Everjohn Feliciano). He almost breaks down when his love affair with Steve starts falling apart owing to the latter's awakening heterosexuality.
A parallel confusion occurs with Kate and her jealous lover Roberta (Vanessa Magula). Kate and Steve meet as the leads in the school play, which takes on the daring, groundbreaking issue of whether straight people should be allowed in the military. A soldier's chorus and dance routine is pure Village People (when will they ever be formally acknowledged for their part in overturning Don't Ask, Don't Tell?). The roles call for Steve and Kate to kiss (yecchh, how will they manage that, with their parents in the audience?!) and their worlds unexpectedly turn around. They have to develop a whole language of secret gestures to affirm their love in public, à la Bent, the well known play about German gay male lovers in the Holocaust.
In short, Zanna, Don't! calls for people to be tolerant and keep an open mind.
Musical numbers are varied and hold interest. "I Could Write Books" is the knock-out number closing Act I, sung by Mike. Act II picks up musically, with several memorable songs, such as the ensembles "Don't You Wish We Could Be in Love" and "Do You Know What It's Like," both led off by the Mike character. This is a high school musical, so of course it culminates with the senior prom, in the course of which the unreality of the central premise begins to unravel, and heteronormativity re-establishes its hegemony. It was all a Xanadu dream after all.
The singers are of varied levels of professionalism. The four romantic leads, Tiernan, Feliciano, Easton and Magula must be singled out as quite impressive, as well as Jason Bornstein as the wand-bearer. At times the balance between the small orchestra of piano/percussion and the singers was off, and the often enchanting lyrics got smothered. Marchak's dance staging is inventive and clever.
It's a fun show on a small stage, though almost obsessively focused on love and the tyranny of sexual uniformity, to the exclusion of other issues that might concern young (or any) people. The characters are less than fully drawn, falling into types that we met years ago in Archie and Veronica comics. While we're on the subject of bias, the casting for this production may have deliberately included some heavier-set performers, perhaps purposefully challenging our preconceptions of "acceptable" body size.
Zanna, Don't! plays on Friday and Saturday at 8 pm and Sunday at 7 pm through February 5. Tickets may be purchased online at www.crtheatre.com or by calling (323) 205-1617. Chromolume Theatre at the Attic is located at 5429 W. Washington Blvd. (between the 10 freeway and Hauser), in Los Angeles 90016. Ample street parking is available. For more information, visit www.crtheatre.com or call (323) 510-2688.