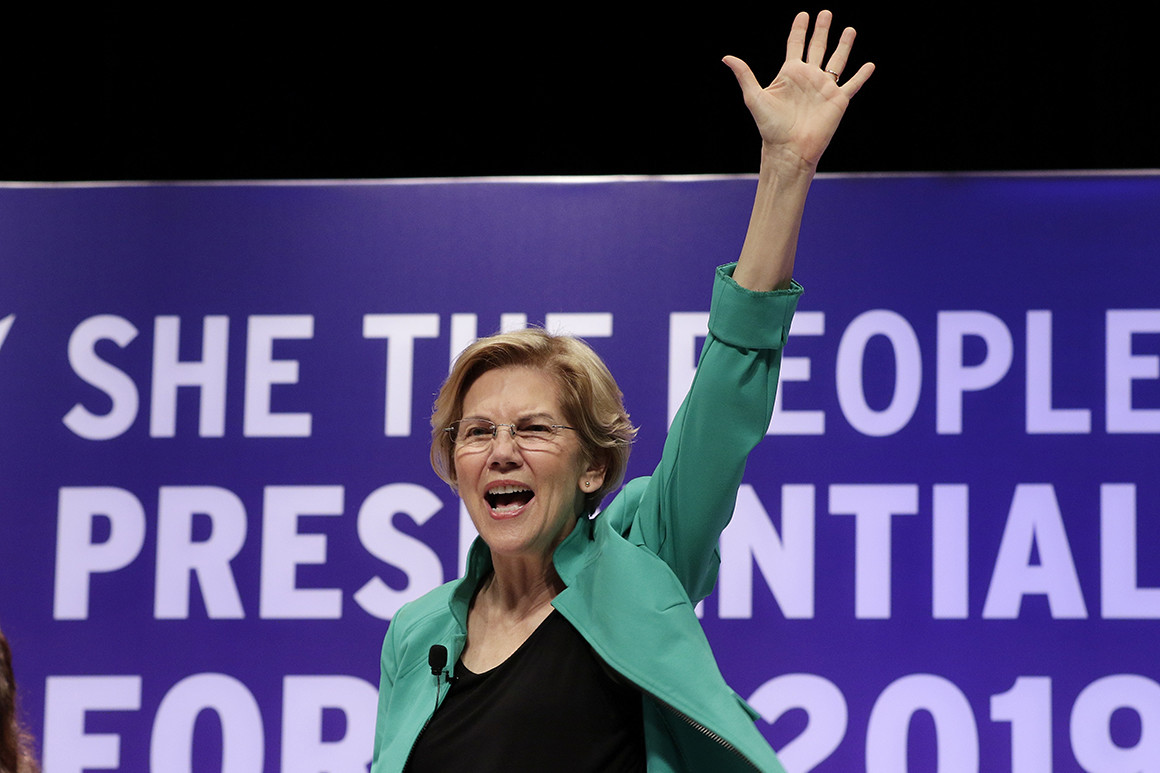 "You put us last on your list, we'll put you last on ours, because our votes matter." Those were the opening words of Rev. Leah Daughtry at the history-making She The People 2020 Presidential Forum on April 24 in Houston. It was the first event of its kind, organized by women of color leaders with a focus on women of color voters and their issues.
Sen. Cory Booker, former Secretary of Housing and Urban Development Julián Castro, Rep. Tulsi Gabbard, Sen. Kamala Harris, Sen. Amy Klobuchar, former Rep. Beto O'Rourke, Sen. Bernie Sanders, and Sen. Elizabeth Warren were all in attendance. A number of topics were tackled, including immigration, the environment, and systemic racial and gender oppression.
She the People founder Aimee Allison said hundreds of women of color from 28 states were in attendance. "With this forum, we women of color—Black, Indigenous, Asian American, Pacific Islander, Latinx, and Muslim—are kicking off the presidential season," she said in opening remarks. "Our hope is to start a conversation about which candidates stand with and for women of color and our communities. The candidate who does that best, and most consistently, will win the nomination and the White House in 2020."
The event was announced nearly a year ago at the first She The People Summit in 2018. That gathering of over 600 emphasized the need to acknowledge the immense strength of women of color, particularly Black women, as a crucial voting bloc and political force today.
Black women have one of the highest rates of voter turnout, with their percentage actually surpassing their share of the population in 2008 and 2012.
Yet, in the 2016 presidential elections, with the mainstream narrative centered on the need to appeal to white moderate swing voters, little attention was given to the issues concerning women of color—both by the candidates and in the media. This saw a decrease in Black women's turnout from 70 percent to 64 percent (a number which still outperformed all other voting groups).
The elections since 2016 have demonstrated that women of color are a key force propelling what many call the "blue wave" that has swept the country. Democrat Doug Jones' 2017 Senate victory in Alabama over Trump-backed Republican Roy Moore was one example. Black women gave 98% of their votes to Jones.
Women are the country's largest voting bloc and women of color are the fastest-growing segment of that group. According to American Progress, women of color represent 74% of the growth in eligible women voters since 2000—which translates into 12 million new voters.
History shows women of color, particularly Black women, show up at the polls, but when they are not fully engaged by candidates, their participation wanes. Addressing the issues that affect women of color, such as poverty, healthcare, and environment—issues that affect the working class as a whole—is crucial to winning elections.
The She the People Presidential Forum lifted up the voices of many such women. They took the mic, asking candidates questions on behalf of their communities. This was also a first, as the voices of working-class women of color are often not centered when contemplating the future of this nation.
On the issues: Environment
Sen. Cory Booker, who is also former mayor of Newark, New Jersey, focused many of his remarks on environmental justice. Highlighting the recent revelations of Newark's clean water issues, Booker explained, "As senator, I led the bill for environmental justice. People who live in communities like mine [have] environmental emergencies happening right now…."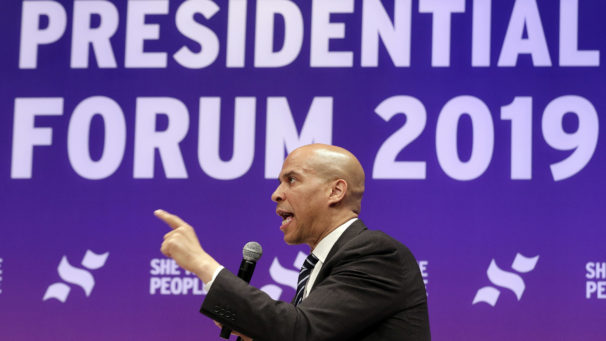 Connecting the issue of climate change to other societal ills, and answering whether he would use presidential national emergency powers related to it, Booker noted, "It is a national emergency now…the climate crisis is going to cause refugee crises, famines, and instability like nothing we have seen before within the next one to two decades." Booker concluded this challenge could be met through the normal policy process, however, and not through a legal declaration of a national emergency.
Sen. Bernie Sanders noted that when it comes to environmental issues, his campaign was at the forefront of pushing for climate change justice four years ago.
Wealth inequality
Former HUD Secretary Castro spoke on the gentrification in communities of color that's connected to the concentration of wealth and financial resources. "We need to make sure there is a greater supply of affordable housing, so people can afford to live in their own neighborhoods," he stated. The former Obama housing chief explained that there should be more accountability placed on Wall Street and the big banks regarding the 2008 recession and predatory lending practices.
While emphasizing the need for tuition-free college, a point Sanders took up as well, Castro went a step further, noting that he would push for free childcare services and pre-K as well. Castro also called for rewriting tax codes so that "work instead of wealth is rewarded and so everyone gets a first chance of not living in poverty."
O'Rourke noted that he supported the fight for an increase in the minimum wage, but that it is not enough. "We need an Equal Rights Amendment (ERA), especially for Black women and women of color," he said.
Health care
Sanders, Harris, and Warren all used the forum to stake out strong positions regarding health care. Sanders emphasized his campaign for Medicare for All, while Harris called for dealing with the untreated and undiagnosed trauma dealt with by people belonging to working poor communities and communities of color facing poverty and violence.
"[There's a] lack of public health resources in those communities. A lack of mental health resources," Harris said. The California senator said that as president she would ensure there are mental health care and drug treatment on demand.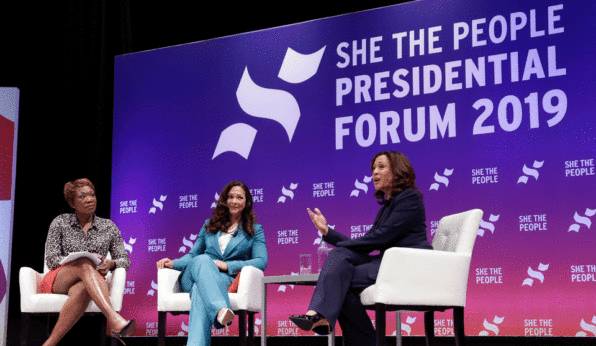 Warren spoke to the high mortality rates of women of color, specifically Black women, during pregnancy. "The United States has profoundly failed mothers and children," she said. Referencing studies showing the root cause of medical inequality is prejudice, Warren called for speaking to hospitals in the language they understand—money. She would push for hospitals to receive financial bonuses when mortality rates in pregnancy drop and impose penalties when they go up.
Voter suppression and Russian election interference
When asked if Russia's election interference is a threat to the voting rights of people of color, Rep. Tulsi Gabbard said the threat has to be taken seriously. She also made connections to the problem of voter suppression and inadequate provision of voting facilities, which she said could also impact the 2020 elections.
"Our [voting] system is vulnerable to those hacks and attacks today," she stated. Gabbard highlighted the 2017 Securing America's Elections Act that she introduced. It would provide a paper backup system to computer voting. 
Harris made the connection between Russian interference and racism. She explained that racial equality, once known as a civil rights issue, has become a national security issue, given that Russian interference exploited racism as a way to divide the public. "The power of the people is going to be critical in counteracting the inevitable efforts to manipulate this election."
Criminal justice reform
Harris also tackled the "war on drugs" and the criminalization of people of color. She advocated for the legalization of marijuana and called the "war on drugs" a failure. "What is essentially a public health issue became a criminal justice issue," she said. While noting the progress in the treatment of the opioid epidemic, Harris asked, "Where were they when it was the so-called 'crack epidemic'?"
Warren expressed a similar sentiment, stating that the U.S. criminal justice system has "a race problem." She said, "We can't pretend we have a race-neutral criminal justice system."
Klobuchar said "police departments need to reflect the communities they serve" and that officers must be held accountable when they break the law.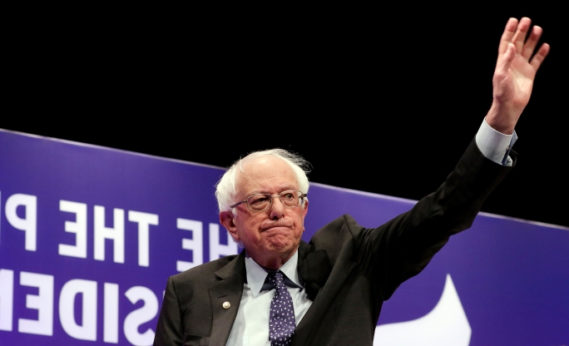 Speaking of change at the highest levels of the justice system, Sanders promised to nominate Supreme Court justices that are for people of color. He also proposed limited serving time for justices.
Foreign policy and immigration
Asked about what she would do as president regarding U.S. involvement in the Middle East, Gabbard responded, "I deployed twice to the Middle East, and lost too many of my friends in combat. Our country has unfortunately continued its policy of regime change wars in other countries around the world." She explained that this sort of foreign policy doesn't make the United States safer, but instead emboldens terrorist organizations.
On immigration, O'Rourke said he backs reform that provides a clearer path to citizenship for those that seek it. When asked directly if he would disband ICE (U.S. Immigration and Customs Enforcement), he responded that he does not favor abolishing the agency, but rather reforming it.
Sanders connected immigration to President Trump's tactic of scapegoating systemic problems on marginalized populations, such as undocumented workers. He assured that he would continue his fight for comprehensive immigration reform if elected.
Systemic racism and white supremacy
Taking on systemic racism, O'Rourke declared, "We have to overcome institutional racism in our democracy, especially in states that were once part of the Confederacy."
Sanders noted that he believed the fight for economic justice was inherently connected to justice for people of color. When pushed on the topic of how he would specifically combat the rise of hate crimes and domestic terrorism by white supremacists, Sanders spoke to what he called the demagogy of Trump and the appeal to bigotry. He attributed the increase in white supremacist attacks, at least partially, to the president's rhetoric.
Warren spoke to the fight for Indigenous rights and the crisis of missing and murdered Native American women in the United States. She said it was a priority to protect Indigenous women and to empower Indigenous communities.
What will be done for women of color and their communities?
The candidates were asked what they would do for women of color if they were to win the presidency. All kept with the theme of keeping inclusion at the forefront. Each explained how their actions would reflect their devotion to fighting for equality and true democracy. Yet, many of the candidates were sure to note that it wouldn't just be them in the forefront; they would push to bring women of color leaders into their administrations.
A stream of the entire three-hour forum can be found here.