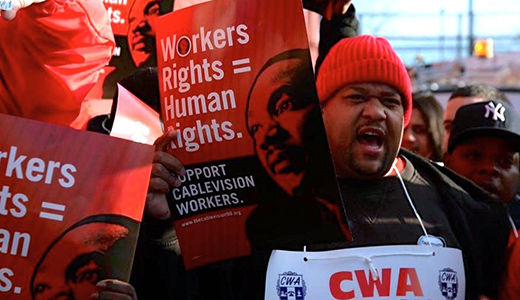 At a meeting held Saturday night, Feb. 14 at the headquarters of Communications Workers of America (CWA) Local 1109 in Brooklyn, Brooklyn Cablevision workers voted by a strong margin to ratify a historic two-year contract with the company. The 262 workers covered by the agreement, the only unionized workers in the Cablevision system, had voted to join CWA in January of 2012, and negotiations on this agreement began in late May, 2012.
The ratified contract goes into effect on Mar. 1, and includes the following provisions:
* Substantial wage increases that bring Brooklyn workers to 96 percent of wage parity with Cablevision workers throughout the rest of the company. This level of parity will be maintained throughout the life of the two-year agreement.
* Employees can be disciplined or discharged only for misconduct for "just cause."
* A three-step grievance and arbitration procedure, providing for independent arbitration of disputes arising under the contract.
* Workers will receive the same health and 401(k) pension benefits provided to Cablevision workers throughout the rest of the footprint.
* The right to post materials on a union bulletin board inside the Cablevision garages in Brooklyn.
"We are looking forward to opening a new page in our relationship with management," said Chris Shelton, the CWA National Vice President for CWA District One, which covers 140,000 members in the northeast. "Our members stuck together for 3 years and in the end, persuaded Cablevision that a fair deal acceptable to management and labor was possible. This is an historic achievement at Cablevision."
"CWA members are proud of what we achieved working together, and that's reflected in today's vote," said Tony Spina, president of CWA Local 1109. "While no contract is perfect, our members will receive solid raises, a strong benefits package, and a voice on the job. This agreement begins a new chapter in the Cablevision-CWA relationship."
"Many of us never thought we'd see this night come," said Rey Meyers, one of the leaders of the organizing and contract campaign at Cablevision. "Many workers had given up hope. But we stuck together through thick and thin, and we've won a contract that gives us the biggest raises we've ever gotten, and even more important, our dignity on the job. This is a great day for the Brooklyn Cablevision workers."
Needless to say, quite a few partners of voting union members were pouting about the Saturday night Valentine's Day timing of the meeting; hopefully there'll be a makeup dinner involved.
Photo: Cablevision 99 Facebook page