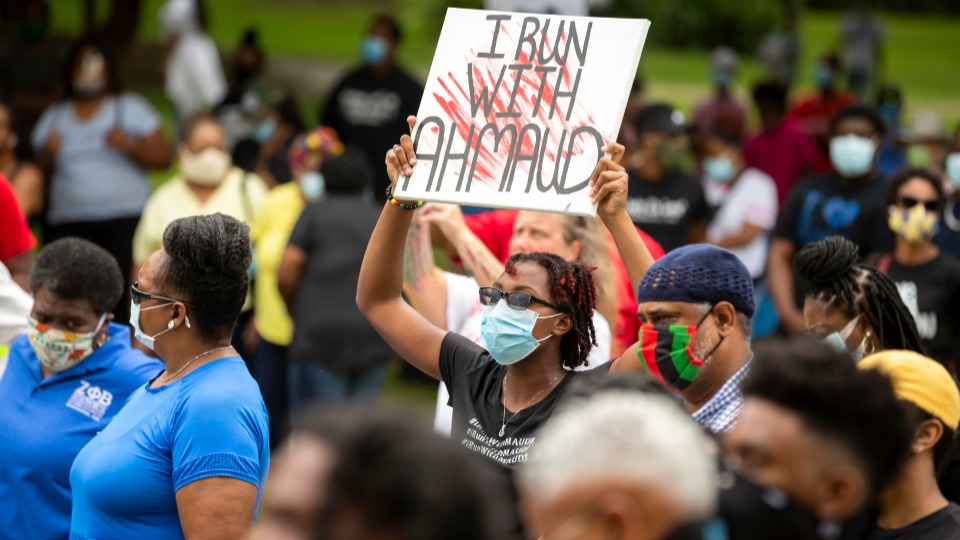 Earlier this month, hundreds of thousands rejoiced for true accountability as former cop Derek Chauvin was found guilty for the murder of George Floyd in Minneapolis. Now, the country's eyes have turned to another case where a Black man was most likely killed due to the color of his skin and the bias of those that attacked him. The Department of Justice (DOJ) announced this week that federal prosecutors have indicted three men accused of killing Ahmaud Arbery on attempted kidnapping and hate crime charges.
On Feb. 23, 2020, Arbery, a 25-year-old young man, was shot and killed while jogging after being pursued by three white men in Brunswick, Ga. For months after Arbery's death, no one was charged. Friends, family, and activists looked for answers, but they grew fearful that the COVID-19 pandemic ravaging the world would stifle the fight for justice. This past summer, despite health restrictions, hundreds of thousands of people went to the streets to demand accountability not only for Arbery, but for George Floyd, Breonna Taylor, and other Black people who were slain under suspicious conditions who had yet to be given consideration under the law.
This week, a small glimmer of hope may have returned in Arbery's case.
The three men charged, father and son Gregory and Travis McMichael, and William "Roddie" Bryan, Jr., claimed to be conducting a citizen's arrest of Arbery due to suspected burglary. Prosecutors said that while Arbery was jogging, the McMichaels "armed themselves with firearms, got into a truck, and chased Arbery through the public streets of the neighborhood while yelling at him, using their truck to cut off his route, and threatening him with firearms."
Bryan, who was allegedly driving the vehicle, hit Arbery with the truck. Camera footage from Bryan's own phone showed Arbery and Travis McMichael wrestling before three gunshots are heard. Arbery's t-shirt grows visibly bloody below his left rib cage right before he stumbles and falls in the middle of the road.
The three men maintain that they were acting in self-defense. Initially, following the incident, the McMichaels' lawyers said that the men were within their rights to go after Arbery with weapons because of Georgia's open carry laws and a state statute that says, "a private person may arrest an offender if the offense is committed in his presence or within his immediate knowledge."
The eight-page indictment by prosecutors paints a different picture.
Federal prosecutors assert that all three men "used force and threats of force to intimidate and interfere with Arbery's right to use a public street because of his race." The indictment states that the three men violated Arbery's right to use the public street because of the color of his skin. And that "all three defendants attempted to unlawfully seize and confine Arbery by chasing after him in their trucks in an attempt to restrain him, restrict his free movement, corral and detain him against his will, and prevent his escape."
The Arbery family attorney Ben Crump—who's also represented families in the George Floyd and Breonna Taylor cases—issued a statement following the indictment announcement praising the turn of events. "Today is yet another step in the right direction," he said. "This is an important milestone in America's uphill march toward racial justice, and we applaud the Justice Department for treating this heinous act for what it is—a purely evil, racially motivated hate crime," Crump concluded.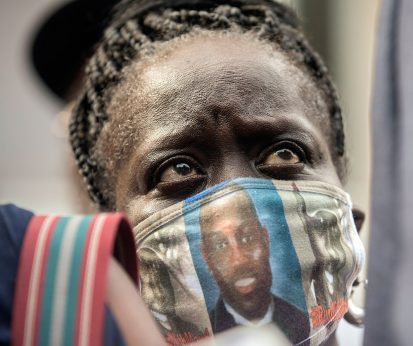 Arbery's mother, Wanda Cooper-Jones, told the press that "they did the investigation properly and they came out with those indictments. So, my family and I were pleased."
The McMichaels and Bryan have also been charged in a separate state proceeding with malice murder, felony murder, aggravated assault, false imprisonment, and criminal attempt to commit a felony, according to the official DOJ website.
A case like Arbery's is unfortunately not a new one. In tragic irony, the young man was shot and killed just days shy of the eighth anniversary of Trayvon Martin's murder. Martin, a Black teenager, was shot and killed in February 2012 in Florida by George Zimmerman, who claimed the young boy looked "suspicious." Zimmerman, just like the three men indicted in Arbery's murder, would claim he acted to prevent suspected robberies he thought Martin had a hand in.
Zimmerman, too, would cite self-defense.
Zimmerman, in an upsetting turn of events, was eventually acquitted. Since that time, strides have been made when it comes to combatting racial profiling and anti-Black hate crimes, but it is clear that systemic work still needs to be done.
Hashtags like "I Run With Ahmaud" and "Justice for Bre," along with mobilizations, have made it hard for the world to turn away from the demand for justice. Yet, reports have found that hate crimes in the United States rose to the highest level in more than a decade in 2019, with anti-Black hate crimes far out in the lead. Couple this with the disproportionate amount of police brutality and criminalization against Black people, and we can be certain that a few cases and indictments alone are only scratching at the surface of long-festering structural racism.
No trial date has been set by Georgia prosecutors, but the world is now watching.