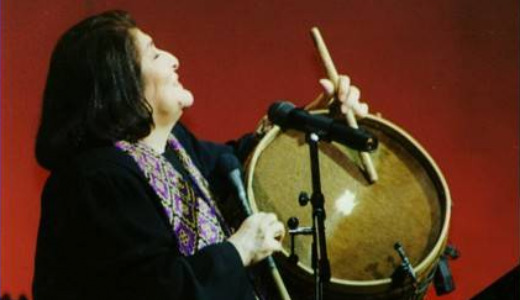 The world lost a great artist when Argentinian folksinger Mercedes Sosa passed away at 74 on Oct. 4. She was known the world over as "the voice of the voiceless," an artist of the people. Her nickname, La Negra, referred to her long jet-black hair. She was beloved the world over and owned the stage when she performed, often involving her large audiences in the performance of music glorifying left causes and people's struggles.
Haydée Mercedes Sosa was born in the northern region of Argentina to a working class family of French and Native Indian ancestry. She first performed at the age of 15 and recorded soon after. She was a vital component of the 1960s surge of interest in folk music, initiating the Nuevo Cancion movement in Argentina, similar to the Nuevo Trova movement in Cuba that was developed and led by Silvio Rodriguez and Pablo Milanes. These were songs that often delivered their messages of social justice and political and personal struggle in metaphoric style. Accompaniment was usually simple with a sole guitar or accordion, and the voice was plaintive and human. It struck a chord with the working class and Sosa became a heroine to millions of people.
She wrote and sang solely in Spanish, but her music was known and loved in many countries. Sosa recorded 40 albums and received several Grammy awards and nominations, her latest for the collection "Corazon Libre" (Free Heart), which included a new rendition of her classic rallying cry for the working class, "Todo Cambia" (Everything Changes). Her song "Balderrama" was recently featured in Steven Soderbergh's epic film "Che."
In the late 1970s she was arrested and forced into exile in Spain. Her pianist and musical director, Popi Spatocco, said exile was exceedingly harsh for a woman who loved Argentina – "a human being created to make music." At the time of the Argentinean dictatorship, Spatocco said, "Mercedes was the underground reference point for a ton of people who weren't allowed to express their own ideas and convictions."
Her triumphant return in 1982 came just days before the fall of the military junta as a result of the Falklands War, and her next recordings became instant hits. The lyrics for "We're Still Singing," which she sang accompanied by the large Andean drum called the bombo, are prophetic: "I was killed a thousand times. I disappeared a thousand times, and here I am, risen from the dead. Here I am, out of the ruins the dictatorship left behind. We're still singing."
As she toured Latin America she began to include songs from other countries in her repertoire. "Gracias a la Vida," with lyrics by famed Chilean poet and singer Violeta Parra, became one of her signature songs:
Thanks to life, which has given me so much…
It has given the course of my tired feet.
With them I walked cities and puddles, valleys and deserts, mountains and plains
and the house of yours, your street and your yard.
Although she was deeply committed to progressive political causes, she was quoted as saying, "An artist isn't political in the party political sense – they have a constituency, which is their public – it is the poetry that matters most of all."
Her beautiful rich voice expressed the passion and struggle of her people and her audience identified not only with her songs but her real and sensitive performances.
In the '90s she became a UNESCO goodwill ambassador. Her travels and recordings often included other performers of the likes of Joan Baez, Silvio Rodriguez, Pablo Milanes and Brazilian Milton Nascimento.
After a series of falls she was forced to perform sitting, which never affected her performances. Her latest album, "Cantora," is currently nominated for three Latin Grammy awards. In an Associated Press interview she was quoted as saying, "I hope that this voice just accompanies me for as long as I can." She said she was grateful for all her fans, all the tributes, then quietly added, "I have so much to give thanks for."
Probably the greatest tribute you can give to this great people's artist is to seek out her music, listen to it if you haven't yet, and spread the word and keep her music and message alive.