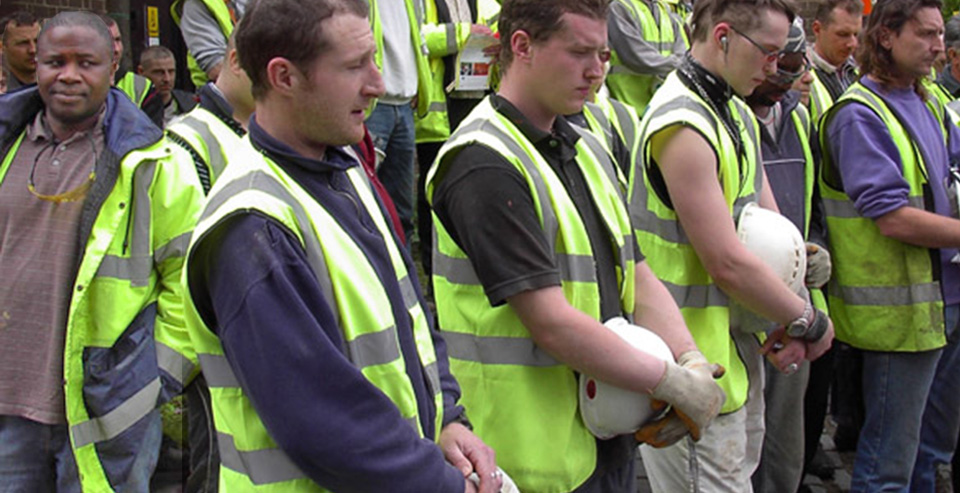 The AFL-CIO's annual report on workplace safety entitled "Death on the Job: The Toll of Neglect," was released on Wednesday, just two days before Workers Memorial Day. The painstakingly researched statistics it presents on workplace injuries, illness and death not only serve as a reflection on 2015 but as a reminder of all that workers have to lose under an administration determined to roll back workplace safety regulations.
In 2015, 4,836 workers died on the job in the United States resulting in a fatal injury rate of 3.4 per 100,000 workers (the same as in 2014). Even though that number is still too high, its down from 7.4 per 100,000 workers in 1980. Even sadder is the estimated 50,000-60,000 workers who died from chronic occupational diseases, amounting to 150 workers per day.
"Chronic occupational diseases receive less attention because most are not detected for years after workers are exposed to toxic chemicals, and occupational illnesses are often misdiagnosed and poorly tracked," reads the report.
All in all, 3.7 million workers across all sectors had work-related injuries and illnesses that were reported to employers. However, the AFL-CIO suspects that, "due to limitations in the current injury reporting system and widespread underreporting of workplace injuries," the number could be anywhere from two to three times greater, about 7.4 million to 11.1 million injuries and illnesses per year. They estimate the financial toll of these injuries and illnesses to be $250 billion to $360 billion per year.
The AFL-CIO credits the Obama administration with a "strong track record on worker safety and health," saying, "President Obama appointed dedicated pro-worker advocates to lead the Department of Labor programs and the job safety agencies."
Additionally, under the Obama administration, regulations were enacted to protect workers from silica dust and coal dust, improve the standards for confined space entry in construction, and increase OSHA penalties for violators.
However, with the election of President Donald Trump, all signs point to a full reversal on workplace safety policy.
On March 27, Trump showed the first sign of this new approach when he signed an executive order that rolled back President Obama's Fair Pay and Safe Workplaces Executive Order that required that any company bidding on a contract with the federal government worth $500,000 or more to disclose labor law violations over the last three years.
And that silica dust regulation mentioned earlier? Donald Trump's Occupational Safety and Health Administration is delaying the effective date of the regulation by three months. It is estimated that this decision could cost as many as 160 lives.
The confirmation of Judge Neil Gorsuch to the Supreme Court further illustrates how little the Trump administration cares about the lives of workers. One of Gorsuch's most criticized opinions from his time on the 10th circuit court of appeals involved his defense of the right of a corporation to fire a worker who, fearing for his life in the freezing cold, abandoned his cargo and drove his cab to warmth.
In a recent article by the president of United Steel Workers Leo Gerard, he laments the pitiful state of accountability for corporations when one of their employees dies as a result of their job.
"The only way to make workers' lives matter is to make prison a real possibility for CEOs and supervisors. Lethal greed must be tempered by frightening ramifications. Fines are no threat. Only prison is."
Further signaling the Trump administration's indifference to the lives of workers is the nomination of notorious union-buster Doug Seaton to the National Labor Relations Board. According to Politico, Seaton "makes his living, in part, by hiring himself out to managers on whose behalf he urges workers not to join unions."
Doug Seaton's name has since been withdrawn from consideration, but there's no reason to believe that his replacement will be any warmer toward workers.
As unions, combined with regulatory bodies such as OSHA (whose budget stands is on the chopping block), have resulted in a dramatic reduction in workplace injury and illness over the last 40 years, it's a foregone conclusion that Trump's commitment to profits over people will result in injury, illness and death on the job. The question for us is how much are we willing to tolerate?