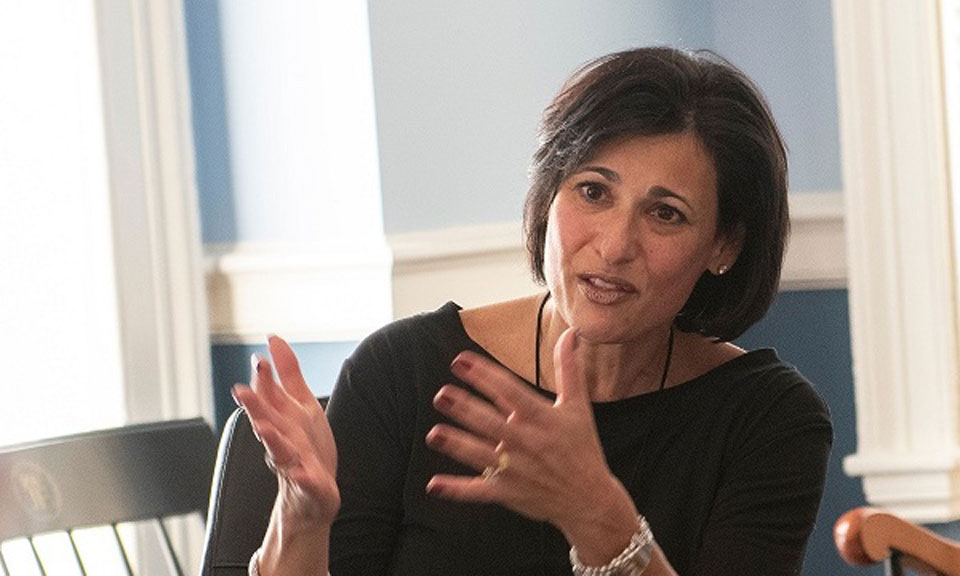 WASHINGTON—The nation's two big teachers unions are protesting Biden administration guidance which says students returning to reopened schools can sit only three feet from each other, not six, but only after schools take other measures to combat potential community spread of the coronavirus.
One protest came in a formal letter from Teachers (AFT) President Randi Weingarten to both Biden Education Secretary Michael Cardona and Dr. Rochelle Walensky, director of the Centers for Disease Control. AFT also voiced its concerns in a meeting with Education Department officials. Weingarten is a New York City civics teacher.
The other came in a long statement from the National Education Association, the nation's largest union, and its president, Becky Pringle, a Philadelphia science teacher. NEA has 3.2 million members.
Both questioned whether three feet was too little space within classrooms, as CDC now recommends. CDC says the space—physical distancing—should remain six feet elsewhere, including in school cafeterias, at sports events, in assemblies, hallways and school lobbies.
Neither Walensky nor Cardona immediately responded on their agencies' websites. Cardona is on a continuing school reopening tour nationwide. It took him to schools in Philadelphia and its suburbs on April 6. School principals and parents met with him.
The issue of reopening the schools affects virtually every family and teacher in the U.S., and not just at schools. The coronavirus pandemic forced schools to immediately shut down their buildings starting last March, a move first advocated by the third education union, the American Federation of School Administrators (AFSA).
The shutdowns in turn, forced quick turnarounds to distance learning via computers and zoom—and the revelation that students from low-income households lacked Internet access and equipment.
Districts scrambled, and spent money they suddenly didn't have, to provide iPads, tablets and find Wi-Fi "hot spots" for students. Local property tax revenues and state aid dried up when businesses closed down and people lost jobs in the coronavirus-caused depression.
The shutdowns also forced millions of parents, especially women, to leave the workforce to stay home to both care for their kids and to monitor their learning. And despite those efforts, surveys and teachers report students lost valuable lesson time and knowledge.
The letter from Weingarten and the statement from Pringle discuss those issues, but concentrate on school safety, for the students, the teachers and the staff. Their protests may be the first significant difference between the  unions and Biden's administration.
"We are not convinced the evidence supports changing physical distancing requirements at this time," wrote Weingarten, whose union has 1.7 million members. The studies the two agencies used for its new recommendations "do not identify the baseline mitigation strategies needed to support three feet of physical distancing.
"Moreover, they were not conducted in our nation's highest-density and least-resourced schools, which have poor ventilation, crowding and other structural challenges. "One thing the studies were clear on is the need for layered mitigation if there is a shift to reduce physical distancing," Weingarten continued.
After reviewing the research, AFT "conclude(s) any shift from six feet to three feet must be accompanied by, at a minimum, universal and correct masking, effective ventilation, thorough cleaning of buildings, regular Covid-19 [coronavirus] testing of teachers, staff and students, effective contact tracing and quarantine/isolation protocols and availability of vaccines to all people in schools who are eligible."
A review of CDC's new guidelines shows schools must meet most, if not all, of those requirements before they can safely reopen physically. But guidelines do not have force of law.
What about school buses?
Weingarten also raised practical considerations: What about school buses? If adults are supposed to stay six feet apart but the kids can be three feet, does that root the teacher to the front of the classroom? How about teachers' aides circling around to small groups, such as reading groups in elementary school classrooms? And what's the timeline?
In an NEA Today website article, Pringle raised the same concerns. And she challenged why CDC recommended removing the plastic shields now in place between student desks.
Pringle also asked what schools should do about defiant politicians, citing Gov. Greg Abbott, R-Texas, in particular. The right-winger ordered schools, and everything else, to go back to "normal" with no masks, no physical distancing, no PPE, no quarantines, and so on. Texas State Teachers Association President Ovidia Molina also protested.
"CDC changed one of the basic rules for how to ensure school safety without demonstrating certainty the change is justified by the science and can be implemented in a manner that does not detract from the larger long-term needs of students," Pringle said.
"In the face of new variants and a race to make vaccinations widely available, this is not the time to let down our guard. We must continue to prioritize vaccinations, wearing masks, hand washing, healthy school buildings and a system of testing, tracing, and quarantining."
Pringle also raised the lack of cash to make the schools safe as a problem: "Too many schools–especially those in large urban districts–still do not have the necessary resources to do everything right. Making matters potentially a lot worse, these districts could be in states led by politicians who have a long shameful record of downplaying the severity of the virus."
Added Molina: "We're concerned about the CDC's change from six to three feet for social distancing guidelines for public schools, especially in districts that removed masking requirements for students and employees. We agree with the CDC that students and school staff must be masked, and we call for Gov. Abbott to reinstate his mask mandate, at least for all public schools."
AFSA President Ernest Logan, a New York middle school principal whose 22,000-member union of principals, counselors and similar personnel was the first to call for nationwide closures, took a more positive tack. He praised his members for their contributions to AFSA's reopening guide published last July, including its safeguards—and said CDC's updated guidance follows all of them, while adding contact tracing.
He also lauded their lobbying in getting more money for anti-virus protections. The other two unions and their members also strenuously campaigned for the aid. The funds were in laws Congress passed last March and this March, though not in between.
A review of CDC's updated guidance lets the students separate themselves by three feet, but adds many cautions which much be in place before that occurs. They include deep de-sanitizing of schools, providing temperature checks and personal protective equipment, and, most importantly, monitoring conditions in the surrounding community.
In so many words, CDC says that if the community virus infection rate is still high—shown by weekly case rates, hospitalizations and other data—in areas around schools, the schools should stay shut and distance learning, not classroom learning, should continue.
Biden, whose wife, Dr. Jill Biden, a community college professor, is an NEA member, has made reopening the nation's schools within 100 days of his Jan. 20 inauguration a goal. But reopening before that where the virus is still raging, in states such as Texas and cities such as Miami, have led to conflicts between teachers and officials.
Union surveys overwhelmingly show teachers, too, want to return to classrooms. But, one, by Education Minnesota last year, showed many are also scared to do so. The joint AFT-NEA affiliate's survey of 9,500 teachers and other school personnel found 29% of teachers planned to leave the profession and 49% preferred distance learning.  And even with all the safeguards, two-thirds were scared to go back.