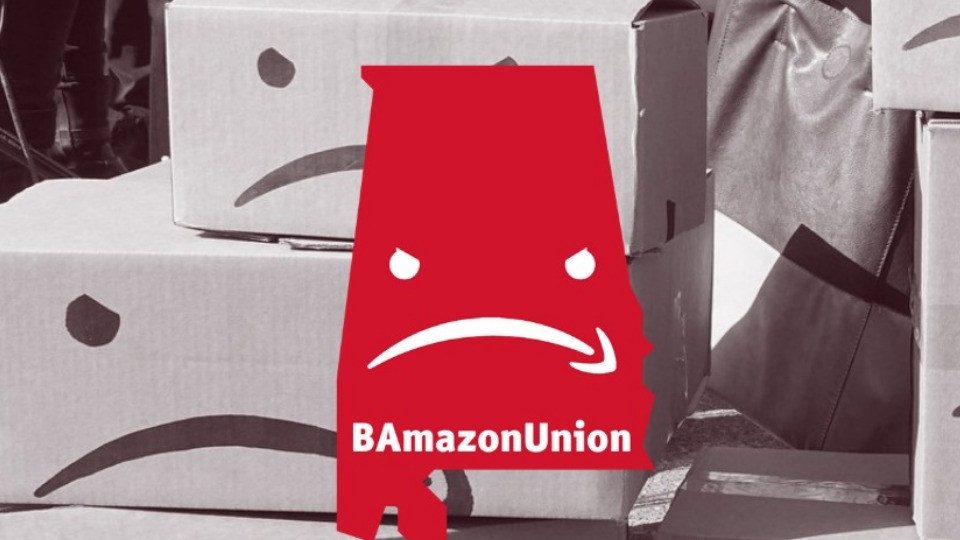 BESSEMER, Ala. (PAI)—The battle over unionizing the big Amazon warehouse in Bessemer, Ala., continued as the Retail, Wholesale, and Department Store Union announced last week that it would officially file labor law-breaking charges against the monster retailer and package firm, following RWDSU's election loss in the plant there.
If the National Labor Relations Board agrees RWDSU's charges are valid, its Birmingham, Ala., regional office, or the full board, could throw out the vote and order a rerun, among other remedies. But under current law, that process could take years.
Meanwhile, other union leaders and activists, led by AFL-CIO President Richard Trumka, said labor's organizing drives nationwide—especially to breakthrough in the union-hostile South—would continue and accelerate.
And the Bessemer outcome provides yet more evidence for the need for comprehensive labor law reform, embodied in the Protect The Right To Organize (PRO) Act, Trumka said.
"Working people shouldn't have to walk the gauntlet to form a union," he told a video press conference. "And when we pass the PRO Act, they won't have to."
Some 3,041 workers, out of 5,876 eligible, voted. RWDSU lost 738-1,978, with another 505 ballots challenged. Those ballots won't change the outcome and won't be opened by the NLRB.
"Look, this is not the outcome any of us hoped for. And trust me, I know it hurts," said Trumka after the results were announced in the afternoon of April 9. "But make no mistake, you won the moment you decided to take on Amazon. Our fight for justice and dignity, and safety endures. To put it more plainly, we're not going anywhere.
"When the most powerful company in the world started to bully you and intimidate you, it would have been easy to cave or compromise. But you chose to double down, not back down … And America is on your side.
"More than three-fourths of Americans supported this organizing drive," Trumka said. That strong support included Democratic President Joe Biden. "You changed minds about unions and captured the heart of a nation."
RWDSU President Stuart Appelbaum, who will formally file the charges, reinforced that.
The campaign, he said, brought the abominable working conditions at Amazon and other firms to nationwide and worldwide notice and raised the profile of unions as a tool and a solution for workers to fight back. That includes workers and drivers at Amazon warehouses elsewhere, news reports add. Appelbaum said 1,000 other Amazon workers called his union asking about how to organize.
But the reports, compiled by Vox, also pointed out some of those Amazon workers are looking for alternative ways to organize and defend themselves against corporate predators, criminality, and greed, outside of traditional unionization campaigns.
In the immediate future, RWDSU will charge Amazon with creating an "atmosphere of confusion, coercion, and/or fear of reprisals and thus interfered with the employees' freedom of choice," the union said.
Appelbaum was blunter. Amazon's law-breaking, he said, "corrupted" the election.
"The RWDSU will present evidence to" NLRB's regional director in Birmingham "supporting an unfair labor practices (ULP) complaint against Amazon for unlawfully interfering with the protected right of employees to engage in union activity," the union stated. ULP is the formal legal name for labor law-breaking.
"Amazon left no stone unturned in its efforts to gaslight its own employees. We won't let Amazon's lies, deception, and illegal activities go unchallenged, which is why we are formally filing charges against all of the egregious and blatantly illegal actions taken by Amazon during the union vote," Appelbaum said in part.
"They required all employees to attend lecture after lecture, filled with mistruths and lies, where workers had to listen to the company demand they oppose the union. That's why they flooded the internet, the airwaves, and social media with ads spreading misinformation.
"That's why they brought in dozens of outsiders and union-busters to walk the floor of the warehouse. That's why they bombarded people with signs throughout the facility"—including in the bathrooms—"and with text messages and calls at home. And that's why they have been lying about union dues in a right-to-work state." He called it all "despicable."
"Worst yet, even though the NLRB definitively denied Amazon's request for a dropbox on the warehouse property, Amazon felt it was above the law and worked with the Postal Service anyway to install one. They did this because it provided a clear ability to intimidate workers." Amazon planned to put a camera at that site to photograph voters, but the NLRB vetoed that scheme. An Amazon tent with the company logo shielded the box.
On its website, USPS—run by Trump Postmaster General Louis DeJoy—did not explain why it agreed to Amazon's demand for a postal box there in the middle of a coronavirus pandemic. Local officials in Bessemer also never said why they agreed to Amazon's demand to shorten traffic light cycles at the warehouse's main gate to reduce the time available for pro-RWDSU backers to approach workers in their cars.
Other commenters, Trumka included, said the vote again pointed up the need for Congress to approve the PRO Act, the most comprehensive pro-worker rewrite of federal labor law since the original National Labor Relations Act of 1935.
The Democratic-run House voted for it, but a GOP-right wing Senate filibuster, backed by corporate interests, looms as a blockade. The PRO Act would outlaw most if not all of Amazon's law-breaking and other corporate-erected blockades to unions, too.
An AFL-CIO fact sheet revealed some of the contrasts between what the Bessemer workers and union organizers went through—tactics which corporations and hired law firms aka union-busters use nationwide—and what would happen if the PRO Act had been in force.
For example, workers illegally fired for organizing, which Amazon has done elsewhere, now get only net back pay if and when courts uphold NLRB orders to rehire them, a process that could take years. Under the PRO Act, firms would face fines of up to $50,000, or $100,000 for repeat offenders, for each labor law violation. The PRO Act would also let the NLRB immediately reinstate them, rather than waiting for the legal system to order their return.
Under the Act's terms, company officers and directors "may be held personally liable under certain circumstances, such as if they knew about violations and failed to prevent them," the fact sheet adds. Amazon founder and current CEO Jeff Bezos would thus see his fortune eaten into. Bezos is the richest man in the U.S.
Bessemer "workers reported that if people spoke up or countered Amazon's anti-union propaganda, they would be called by management to the front of the room" at the captive audience meetings, "photographed and dismissed," the fact sheet added.
"Amazon flooded the plant with managers and anti-union consultants to interrogate workers one on one about their support for the union. Key to Amazon's rhetoric was the implied threat that if the workers formed a union, Amazon might refuse any improvements in bargaining, making the whole effort futile and costly."
All those tactics—except the meetings themselves—are now illegal under labor law, but penalties are light. Typically, the law-breaking firm must post a notice acknowledging it broke labor law and promising not to do so again, and no more. The NLRB does not monitor whether firms keep those promises, counting on workers and unions to do that. There are no penalties against the union-busters, and one news report said Amazon spent $10,000 a day on them.
The PRO Act would add bigger fines and let workers and unions sue if the NLRB doesn't enforce the law. It also would outlaw the captive audience meetings. And it would force the union-busters to disclose who paid them and how much. Unions now must do so, making public their spending on everything from paper clips to personal paychecks.
The Bessemer workers and RWDSU's campaign to unionize them "shined a light on what working people are enduring: Unrelenting demands and quotas, being measured every second, and their work lives dictated by an application or an algorithm," said AFL-CIO Secretary-Treasurer Liz Shuler. "It's dehumanizing. The fight to fairly and freely join a union is not over. It's just beginning."