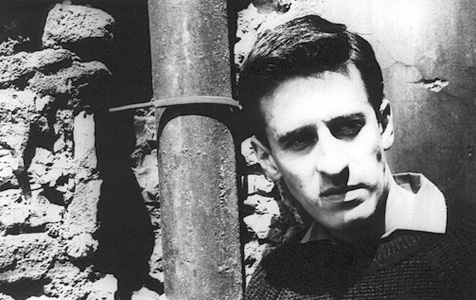 "The poet – above all the communist poet – will have to articulate all of life: the proletarian struggle, the beauty of the cathedrals left us by the Spanish Colony, the wonder of the sexual act, the prophecies of the fruitful future that the great signs of the day proclaim to us."
– Roque Dalton
Earlier this year, El Salvador declared May 14, 2013, "National Poetry Day" in honor of Roque Dalton. Dalton has long been recognized as one of the finest poets of the 20th century in Latin America, and the government's recognition of him validates his importance. But Dalton – as shown by the quote above – was not just a poet: he was a revolutionary poet.
Born in 1935, the illegitimate son of a wealthy American landowner and a Salvadoran nurse, Dalton had felt like an outsider from his childhood because of the circumstances of his birth. His treatment by the other students at the Jesuit school he attended reinforced this, and he grew to resent the class-based prejudices of his teachers.
After two years at universities in Chile and El Salvador, Dalton attended the Moscow Youth Festival and soon joined the Salvadoran Communist Party. His political activity attracted the attention of the government and he was arrested numerous times, just barely escaping a firing squad when a coup d'état occurred the night before. Dalton fled to Mexico where he lived until 1961. In 1961 he went to Cuba, where he wrote poetry and where most of his collections were eventually published. The next several years were spent in Prague working as a writer for the journal of the international Communist movement, The International Review: Problems of Peace and Socialism.
Returning to Cuba in 1967, Dalton worked for Radio Havana and Prensa Latina, all the while writing and publishing his poetry. But he longed to return to his native country, and in 1973 he entered El Salvador in disguise, and having had plastic surgery to change his appearance so that he could join the armed struggle there. Tragically, in 1975 he was executed by an ultra-left faction of his fellow guerrillas who mistakenly believed he was working for the CIA.
His legacy is his poetry, which ranges from anger at capitalist oppression and the struggle for a better world to the most tender love lyrics. In "You and Gold and What Awaits You," Dalton contrasts the current reality of life under capitalism with the promise of a communist future:
In capitalism it's a lie to say:
"Take care, you're worth your weight in gold."
Because in capitalism only the owners
of gold are worth their weight in gold.
In the construction of socialism
one no longer lies and it can be said:
"You're worth more than gold, but
it's necessary to take care of
the gold of social property,
Foreign exchange is important."
Only in communism can it be said:
"You're worth what you're worth.
Gold has nothing to do with what you're worth."
In communism gold only has value
through the use workers and citizens
give it,
for example in dentistry
in decoration
or in adorning the necks
or ears of girls.
(From "Poemas Clandestinos/Clandestine Poems," Solidarity Publications, 1984, translated by Jack Hirschman)
Dalton also writes about the pain of human love and longing in a number of poems, including "Hating Love":
I don't believe in angels
but the moon is now dead for me.
The last glass of wine is gone
before the thirst I'm suffering from.
The blue grass lost its way
running away from your sails.
The butterfly setting her color
on fire was made of ashes.
The morning fires off
dewdrops and silent birds.
I feel ashamed of being naked
and as vulnerable as a child.
Without your hands my heart
is the enemy in my chest.
(From "Small Hours of the Night: Selected Poems of Roque Dalton," edited and translated by Hardie St. Martin, Curbstone Press, 1996)
But love of all humanity is his greater love, and this is exemplified in what is perhaps Roque Dalton's greatest poem, "Like You":
I, like you,
love love, life, the sweet delight
of things, the blue
landscape of January days.
Also my blood bubbles over
laughing through my eyes
which have known the rush of tears.
I believe the world is beautiful,
that poetry is, like bread, for everyone.
And that my veins don't end in me
but in the unanimous blood
of those who struggle for life,
love,
things,
countryside and bread,
poetry for everyone.
(From "Poems," Curbstone Press, 1984, translated by Richard Schaaf)
Photo: Roque Dalton, 1966, in Prague. Roque Dalton Family Archive/Wikimedia Commons