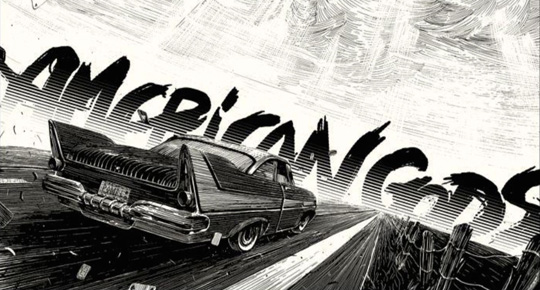 "American Gods" is coming to a television screen near you. The trailer for the much-anticipated live-action series based on the award winning novel by author Neil Gaiman premiered at San Diego Comic-Con on July 22 alongside a panel featuring the producers, director, cast, and Gaiman himself. The haunting, visually rich trailer gave diehard fans and newcomers to the story a glimpse of the world of "American Gods" brought to life.
Imagine a modern day reality where gods and deities come into being, and gain their power, based on what people worship. A world where supernatural personifications of the internet, capitalism, and media are newly formed gods hell-bent on taking power from the deities of earlier history who are based on ancient folklore from around the world. Imagine also that this wide array of supernatural beings is represented through diverse nationalities and races. This is the world of "American Gods" and the next potential television blockbuster. (story continues after video)
The "American Gods" panel was moderated by Yvette Nicole Brown ("The Odd Couple") and included cast members Ricky Whittle (Shadow Moon), Ian McShane (Mr. Wednesday), Pablo Schreiber (Mad Sweeney), Yetide Badaki (Bilquis), and Bruce Langley (Technical Boy), as well as executive producers, showrunners and writers Bryan Fuller and Michael Green, director and executive producer David Slade, and author and executive producer Neil Gaiman. Halfway through the panel it was revealed that Kristin Chenoweth ("Wicked") was added to the cast as the goddess Easter. The Emmy and Tony Award winning actress made a surprise appearance on stage just as her casting was announced.
The lively panel talked about wanting to stay true to the source material, while also bringing in new viewers and introducing them to the world. Gaiman explained that he was very much involved in the beginning process of the direction of the show.
The author revealed that, while he was flexible on some aspects of the adaptation, he was adamant about making sure the racial makeup of the characters was not changed in the casting process. As fans know, many of the characters in the novel are of various racial and cultural backgrounds, including Native American, African American, and African, making for a true reflection of what diversity and non-white centered narrative can look like.
Gaiman explained on the casting that, "there was no pushback [from Fuller and Green], there was nothing but absolute agreement, and that's the way that we've been casting it." He went on to reference the current racial tensions in the country along with the debate around Hollywood whitewashing, to emphasize the point on diverse casting by stating that it felt "much more important now" that they were staying true to the diversity of the characters than "a year ago, 18 months ago," or when they first began to think about an adaptation.
Executive producer Bryan Fuller, whose previous writing/directing credits include Dead Like Me, Wonderfalls, Pushing Daisies and Hannibal, explained how he hoped themes within American Gods helped to add to the conversation around the current state of the nation. Fuller explained, "There's an absence of love [in the country]. There's so much hate, and we're in trouble as a country. We have a Vice Presidential candidate [Mike Pence] who thinks gay people should go through shock therapy, and women should have funerals for their lost fetuses."
Director David Slade, whose previous credits include The Twilight Saga: Eclipse, confessed that he was bit intimidated when first tasked with bringing the bigger than life story to the small screen. Slade explained, "you're terrified, and you look at it and it's so big and massive that it can't be even approached," but went on to say he was happy with the project and that he was allowed to be "entirely weird and highly cinematic," with his directing.
Fuller and Green also assured the audience that if viewers hadn't read the book they wouldn't be completely in the dark. "However you come to this – TV first, book second; book first, TV second – you're in good hands," the producers agreed. Gaiman added that readers of the novel would have "surprises" and "things that will leave you puzzled."
The "American Gods" television series, produced by FremantleMedia North America, premieres on the STARZ cable network in 2017.