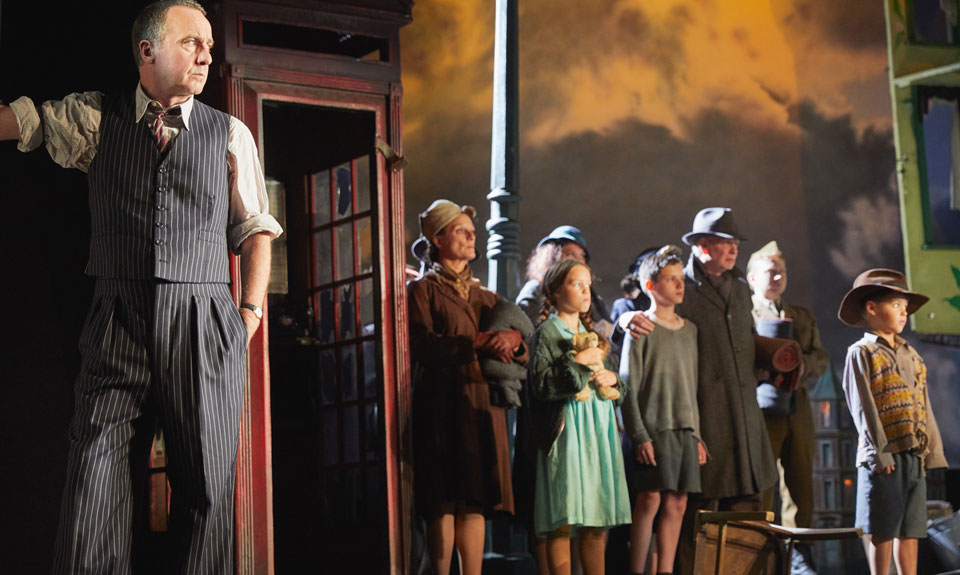 No, An Inspector Calls does not refer to the three most terrifying words Roger Stone, Donald Trump, his children, or other purported co-conspirators could hear, nor is the titular character supposed to be Special Counsel Robert Mueller. Rather, the eponymous inspector is spectrally named "Goole" (Liam Brennan) and the title refers to a British drama originally written in 1945 by J.B. Priestley that has been revived by the National Theatre of Great Britain in an award-winning production directed by the celebrated English helmer of stage and screen, Stephen Daldry.
An Inspector Calls is set in 1910 at Brumley, a fictitious industrial city in Yorkshire, England. Calls is genre defying, sort of as if a Christian medieval morality play meets a whodunit meets proletarian drama meets a far-out Outer Limits episode. However, whereas Britain's postwar cycle of hard-hitting Kitchen Sink plays prominently featured proletarian characters, with the exception of Inspector Goole, Calls' five other main human characters are all members of Britain's upper crust.
Nevertheless, although she is an offstage presence, Calls' proletarian protagonist is the young woman Eva Smith (and/or Daisy Renton). She and her fate are directly tied to actions by the quintet of bourgeoisie characters. Thus, like the Kitchen Sink dramas exemplified by John Osborne's 1950s Look Back in Anger, as well as proletarian dramas by Clifford Odets and Bertolt Brecht, class struggle is the central theme of Priestley's play (and Daldry's interpretation of it). Indeed, Calls was first produced in Moscow, the Soviet Union, in 1945 and presented a year later in Priestley's native UK.
Be that as it may, Priestley departs from socialist realist orthodoxy to imaginatively render what might be dubbed "Supernatural Realism" (which seems similar to "Magical Realism"). Part of this is embodied in  another kind of "character" that appears onstage—the posh house inhabited by the elite Birling (rhymes with "pound sterling"—which rhymes with Rod Serling) family. What befalls this house of upper class Brits is "Supernatural Realist" symbolism of class war and rather ingenuously rendered. One is tempted to say that designer Ian MacNeil should be credited as a member of the cast, not the crew, because the house he has wrought is a "co-star" doing some of this production's best "acting." Calls has evocative stagecraft and ambiance, including the best lamppost I've ever seen grace the boards.
Speaking of which, as the eponymous Inspector Goole, Liam Brennan—a 1987 grad of the Royal Scottish Academy of Music and Drama with an extensive background in Shakespearean and other plays on both sides of the proverbial "pond," as well as film acting credits – effectively imparts a spooky quality to his "ghoulish" interrogator. Brennan invests his inspector with an accent harkening from his Native Scotland, which enhances the edgy conflict between the presumably English Birlings and Goole, who comes from the land arguably subjugated to England since 1707. His Goole is a cross between Les Mis' relentless Inspector Javert and Charles Dickens' Ghost of Christmas past.
As the imperious matron of the Birlings who callously refused the unseen Eva Smith help from her not-so-charitable philanthropy and condescendingly criticizes Inspector Goole for not showing deference to his social "betters," Sybil Birling epitomizes class snobbery. Portrayed by British stage/screen actress Christine Kavanagh (who played Julia Lennon in the 2000 TV movie In His Life: The John Lennon Story), her Sybil is as petulantly entitled and deserving of scrutiny as that other elitist snob, Brett Kavanaugh.
Stephen Daldry, of course, was Oscar-nommed for directing 2000's Billy Elliot (which was full of class struggle) and directed 2002's The Hours and 2008's The Reader for the big screen, and Netflix's The Crown for the small screen (for which Daldry scored an Emmy and Golden Globe). He is also a noted stage director, first helming An Inspector Calls in 1992 (winning Olivier and Tony Awards for directing, while the show won for Best Revival of a Play in 1994) and bringing Billy Elliot the Musical to the stage in 2005 (for which he won another Best Direction Tony). Daldry's credits also include exec producing the 2012 Olympics' opening ceremony (although I don't know if he scored any gold medals?). The current iteration of Calls is on a multi-city U.S. tour.
I can understand why Priestley would write this play in 1945 and it debuted in the USSR: As the British emerged victoriously from World War II, defeating the fascists, having fought a "people's war," the masses wanted something to show for their six-year-long struggle. For the first time ever, Britain's Labour Party won the elections, formed a majority Labour government, and Clement Attlee replaced the conservative Winston Churchill as Prime Minister, enacting a series of socialistic reforms, including the much-vaunted National Health Service that challenged Britain's rigid class system. What I don't quite get is why Priestley would set his 1 hour, 45 minute play performed without an intermission in 1910?
Nevertheless, I relished this excursion into socialism via a supernatural pathway and highly recommend that theatergoers pay a call on and inspect this play. And hopefully soon our very own Inspector Goole will likewise call on Trump, Stone, and company and their house of cards will end up like the home in this highly inventive play about class, consciousness, and conscience.
An Inspector Calls  is being performed Tuesdays through Fridays at 7:30 p.m.; Saturdays at 2:00 p.m. and 7:30 p.m.; and Sundays at 2:00 p.m. and 7:00 p.m., through Feb. 10 in the Bram Goldsmith Theater, Wallis Annenberg Center for the Performing Arts, 9390 N. Santa Monica Blvd., Beverly Hills, CA 90210. For info: (310)746-4000; http://thewallis.org/inspector.   
L.A.-based film historian/reviewer Ed Rampell co-authored the third edition of "The Hawaii Movie and Television Book" available at: https://mutualpublishing.com/product/the-hawaii-movie-and-television-book/ .