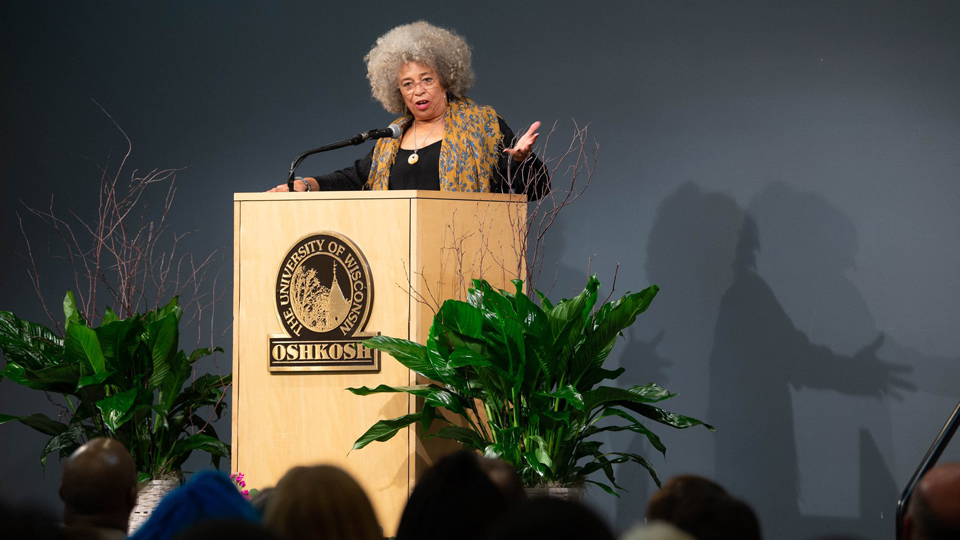 Esteemed activist Angela Davis was the keynote speaker for the Sisterhood student organization's No Shades, No Bounds event at University of Wisconsin – Oshkosh on February 28.
Davis, speaking to a packed crowd of more than 700 in Reeve Union, opened the evening by addressing the Canadian and Australian practice of acknowledging that public events are held on First Nations land. This practice involves honoring the ancestors of First Peoples who came before. Davis suggested that the University of Wisconsin – Oshkosh should incorporate this practice into its own events in regards the Menominee tribes of the Fox Valley region.
Expanding upon this point, Davis cited the long and cooperative history between Indigenous and Black communities over the 500-year history of North American colonization by Europeans. Both communities have suffered exploitation, brutal reprisal, and the precious struggle for freedom for over 25 generations. Today, Davis notes, this very struggle for genuine freedom for Indigenous and Black peoples continues, carrying on the traditions set forth by both native and Black uprisings in Hispaniola (modern Haiti) begun in the 1500s.
Davis cited the continued efforts and connection that the Black movement has to the Palestinian movement for statehood and equality. The common cause and experience between these historical struggles have united the Black and Palestinian communities globally, regardless of public outcry in the United States over such involvement. Davis noted that criticism of Israel, much less that of any state, is integral to people's liberation and civil rights movements. A critique of Israel, stated Davis, should not be conflated with anti-Semitism or a racist agenda. To dismiss all fair criticism as anti-Semitic would be to silence any productive discussion in regards to a free and independent Palestine.
Davis then moved on to address the issue for which she devoted the most time, that of gender violence and women's rights. Globally, there has been an upsurge in the prevalence of gender violence. Davis herself is not certain if civil rights movements are yet as accepting of the battle against gender violence in comparison to the struggle against racism. She noted that the idea of a "post-racial" era has proven incorrect, and institutional racism has been revealed as deeply rooted in various social apparatuses. As such, the focus on gender violence against women, especially women of color, has yet to emerge as a front-line issue.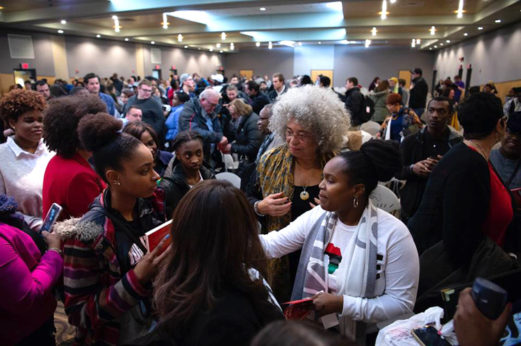 Davis noted that Black women have always been at the forefront of the battle against gender violence, with many years of activism and research going into restoring the "lost" histories of the women's struggle during the Civil Rights era. The historical sidelining of Rosa Parks, renowned investigator for the NAACP and the 1955 bus boycott, is now being increasingly remembered for her efforts with and co-founding of the Alabama Committee for Equal Justice. Davis also noted Parks work for the victims of a racist frame-up in the Scottsboro Case, and later the 1965 Selma-to-Montgomery marches for voting rights.
Davis also highlighted the recent Kurdish women's protests as a prime example of those fighting gender violence through radical action.
Continuing, Davis made the observation that people are not actively encouraged to take a nuanced view of gender violence. Often, affluent white women are given as the example of the "positive survivors" of gender violence in contrast to women of color. This has, culturally, racialized the very concept of "woman" in the public discourse. Davis stated that nobody matters less in American society than the young, Black woman. Whiteness is seen as the generalization, says Davis, while women of color are equated to marginalization. This is especially true in examples of disabled and trans women, resulting in dismissal or demeaning behaviors. In this struggle, it becomes ever more important to confront violence committed against the most vulnerable and marginalized groups.
Feminism, notes Davis, is not a monolithic entity. It is diverse, wide-ranging, and often with divided opinions along class and racial lines. Davis promotes the view of "abolitionist feminism," citing the need for feminists to fight hard against racial discrimination and sexual violence.
Men have an important role in this struggle if they are to truly be allies in this fight. Men, Davis states, have a duty to confront gender violence and expressions of misogyny. To ignore boasting of sexual predation, remarks of chauvinism, and other forms of blatant gender disparity in daily life is to silently condone the behavior, and men must be proactive in their efforts.
Davis touched upon how the prison industrial complex has served not only to enforce institutional racism, but the accepted gender binary norms. The struggle for gender equality, gender diversity, and LGBTQ rights has been championed by prisoners identifying as trans.
Concluding, Davis observed that Americans are encouraged to be provincial in thought. Our society does not reward a global view, both in regards to our national policy and individual perspectives. Americans, said Davis, need to expand their vision and join international causes. Americans need to become aware and involved in the global struggles for gender equality, the fight against racism, institutional violence, and the rights of LGBTQ peoples. Americans can and will benefit by taking interest and action in the global battles for environment, social justice, and the freedoms of oppressed peoples.