WASHINGTON—Bob Mokos is a gun owner, a veteran, a Twin Cities resident and a Chicago native. He even took some gun safety courses with the National Rifle Association—the now-notorious gun lobby—long ago, when it was known for that, and not for its radical right extremist positions.
But now, wearing a button in memory of his sister, Diane, a top nurse at Cook County General Hospital who was murdered in Chicago, Mokos is speaking out against the NRA and for curbing the epidemic of gun violence that's hit the U.S. in the 33 years since her killing. And more than 1,000 other people joined him in front of the U.S. Supreme Court for the same cause on Dec. 2.
"Enough is enough!" was a frequent chant. Frequent signs implored "Protect our kids," and others featured the gun lobby's initials inside the universal red-circle-and-slash "no entry" road sign.
The demonstrators massed outside the court, defying drizzle which later turned to sleet, to send a message to the justices inside and to Congress across the street that huge majorities of the U.S. people have had it up to here with rampant gun violence.
They demand new laws and a court ruling that would let state and local governments curb the murders, domestic shootings and potential for more massacres such as those in Sandy Hook Elementary School in Connecticut and at Marjory Stoneman Douglas High School and the Pulse nightclub, both in Florida.
Inside, the High Court, the scene was different.
There, the notorious gun lobby pushed a case challenging the rights of states, cities, villages, and towns nationwide to regulate where people could use and carry firearms. Many of those governments are regulating guns because Congress hasn't. The House was beholden to the NRA until this past November's election, and the GOP majority in the Senate is still under its sway.
One such anti-gun law was in New York City. Its local law said people could possess guns only either at home, due to a 5-4 High Court ruling a decade ago, along partisan lines, or at rifle ranges. The NRA promptly conjured up a case challenging that law, and New York repealed it. But the gun lobby kept going anyway and the justices tackled the issue as December opened.
Demonstrators massed on the sidewalk in front of the court to make clear the U.S. wants tighter gun regulation and not – as the NRA demands – none at all.
Mokos, a member of the Everytown Survivor Network, was one of them.
"A hundred people a day lose their lives to gun violence," Mokos, one of a parade of speakers, said. "That's equal to four Sandy Hooks," he added, referring to the massacre of 20 elementary school children and six of their teachers in Connecticut.
"As a gun owner, I can emphatically proclaim the NRA no longer represents my views." And, turning the gun lobby's constitutional citation back upon itself, he added: "'A well-regulated militia' – the first half of the Constitution's Second Amendment – "does not mean an unregulated armed populace."
Other speakers were equally emphatic, including Teachers President Randi Weingarten, one of the most-outspoken union leaders for curbing gun violence. Her union lost members in both Sandy Hook and at the Douglas High School massacre on Valentine's Day 2018.
"When young people say, 'We have gone too far with gun violence. Isn't it time to act?" she said. The crowd roared back, "Yes!"
Titania Williams of Milwaukee – daughter of two law-enforcement officers, spoke for the student-led March For Our Lives movement, one of five groups organizing the demonstration outside the court. The Douglas students started March For Our Lives, which combined anti-gun violence advocacy with successful "register and vote" messages. Williams had the most pointed answer to the NRA's citation of the constitutional "right to bear arms."
"We have the right not to be shot!" she exclaimed. The crowd cheered.
"The NRA wants the Supreme Court to rule every person has the right to carry a concealed weapon into a school, a church or a shopping center," said Rep. Anthony Brown, D-Md., whose sister was gunned down in Montgomery County a decade ago. "These (anti-gun) laws are at risk."
"We need to rise up against the NRA, whose agenda has landed here this morning. No matter what Supreme Court justices or members of Congress say, we will stand up against gun violence."
Several of the speakers were survivors. "My stepfather shot me" at age 13 "in the back with a 30.06-gauge shotgun," one woman told the crowd. This year, she helped convince the Vermont legislature to pass and the GOP governor to sign, anti-gun measures. Though she was shot years ago, "pieces of shrapnel still surface" from within her body.
Other speakers noted gun-wielders single out particular groups for mass shootings: African-Americans, school kids, women – in domestic violence – and LGTBQ people. Two cited the Pulse nightclub shooting in Orlando, Fla., a massacre targeting gays. The gunman killed 49 and wounded 53 others.
Some, including Weingarten, made the link between the right-wing NRA and right-wingers in Congress, state capitals and the Oval Office.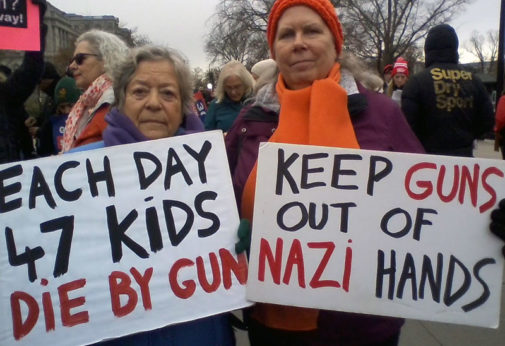 Kris Gregory, a grey-haired gun violence prevention activist from the D.C. suburb of Falls Church, Va., carried a sign proclaiming "Keep guns out of Nazi hands." She said it's a direct reference to the gun-wielding Nazis and their riot over keeping a Confederate statue in Charlottesville, Va., in 2017. While many of those Nazis toted weapons, one plowed his car into a crowd of counter-protesters there, killing Heather Heyer and injuring at least 19 more.
"We are working for sensible gun laws" in Virginia "and also worked hard to elect" state legislators to pass them, Gregory said, as her companion, Cecile Roy, carrying another hand-lettered sign, "Each day, 47 kids die by gun," listened. Gun violence foes, angered by yet another massacre in the Old Dominion just before Election Day 2019, used that issue to oust pro-gun lawmakers and turn the Virginia legislature "blue." The new Democratic majority plans new anti-gun laws, said state Rep. Ken Plum, D-Reston, who also attended.
The crowd and the speakers also had to deal with a small group of gun lobby supporters, who tried to disrupt the speeches – and even interrupted a moment of silence for gun victims — with bullhorn chants. "This is what democracy looks like!" the crowd roared back. Weingarten, a New York City middle school civics teacher, offered her own putdown of the gun lobby backers.
"I'm a school teacher. I know how to deal with disruptive children," she commented.