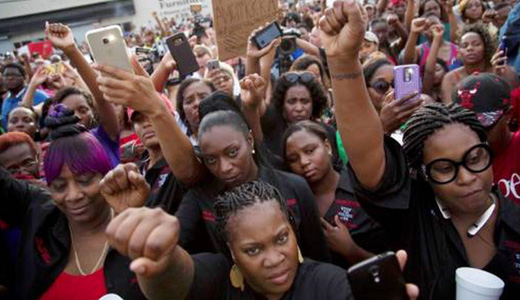 As I woke up, I grabbed my remote only to be awakened by the sounds of my television blaring out a report of two Black men shot and killed in the past two days by white police officers, both shootings captured on video for the world to see.
Soon after, my mind started backtracking to 19 years ago when a dear friend of mine named Malik Jones was tragically shot and killed by an East Haven police officer after a high-speed chase into New Haven. Like the recent similar two incidents in Minnesota and Baton Rouge, his killing and the recent other homicides brought me back to the main reason why many young Black and Brown men such as myself feel like animals being hunted in our neighborhoods by police. This week's targets were Philando Castile and Alton Sterling, two innocent unarmed Black men/fathers who were violently slain.
This is something we deal with constantly at the hands of America's police forces, only to become another trend or hashtag on social media sites.
But these losses torment our communities and families in this surreal nightmare that is affecting men of color throughout the country. One of the youngest of the police's victims was only 12, and the oldest is 65; more than 100 of these men were unarmed when confronted by law enforcement.
And just like Michael Brown, Eric Garner, or Sean Bell, living in America today as a black man and being pulled over, harassed or profiled by police in our communities, is something we encounter or witness frequently.
I remember my grandmother sitting me down and giving me several speeches about "The Man" or "Mr. Charlie" (her code name for the police) and how I need to be "very very respectful" and "careful when dealing with them kind of folk," something that crosses my mind as I see more and more police in my neighborhood, or find myself passing my grandmother's advice to my younger black peers as she did so to me.
The recent police harassment and killings are leading to civil unrest, which is long-term evidence of anger and frustration built up from concerned Black and Brown young men and women and families who feel "targeted" or "profiled" while living in these communities. Police racially and systematically profile them based on the neighborhoods they are raised in, or corner or stoop they stand on.
These encounters with police who do not have an understanding or relationship with the communities they police, leaves a deep scar in the minds of the people in the neighborhoods they police, leaving feelings of distrust and hatred. Police are under-trained and given badges and weapons then sworn to protect and serve us, not to kill, harm or fear us. Their use of unlimited excessive force, even when it is clearly recorded on video camera, usually ends up getting dismissed. The officers end up acquitted of charges, or put on paid leave and not held liable for their actions or offenses. This only furthers the gap between us and them.
Police training and police recruiting and management should be restructured and redefined into a more effective process. State, federal and local governments should be addressing and fixing the real issues our communities face such as crime, extreme poverty, lack of education, poor housing and high incarceration/employment rates. Instead, we are given the remedy of more police being sent in large numbers into our communities as a resolution to this destructive pattern which is now an deadly epidemic we're facing in are neighborhoods. Violent police now exist alongside the already-present plagues of drugs, gangs, and Black and Brown violence which are products of everyday capitalistic greed.
These communities where young men are being killed are our homes. They are environments were we live and raise our children daily. These environments we live in should feel protected by our law enforcement and not hunted.
Alongside my friend Malik, we remember countless innocent Black victims and families from Sean Bell's to Michael Brown's, and the countless vigils and memorials that came and went. Our broken communities are treated unfairly as these tragedies only seem to worsen or get highly publicized by the media then forgotten as time passes by, while society and the judicial system seems to only favor the officers. The level of terror we both live with must change, our fear of them, and their fear of us.
Photo: Democracy Now