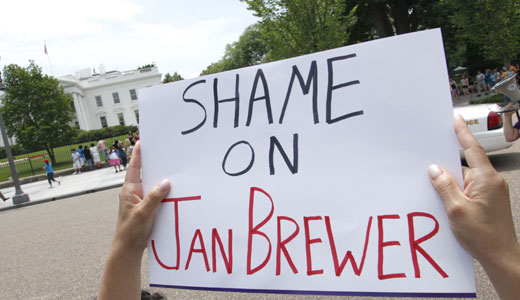 After a four-hour hearing, a committee of the Arizona House yesterday approved Republican Gov. Jan Brewer's plan to take away civil service protections from state workers and make them "at will" employees.
The approval came in the form of a six-three party line vote with Republicans in favor and Democrats against.
Speakers from the American Federation of State, County, and Municipal Employees, the AFL-CIO, and public safety unions urged members of the Employment and Regulatory Affairs Committee of the Arizona House to reject the measure.
When they finished, their arguments were countered by a line-up of people from the Chamber of Commerce and the Goldwater Institute, which has supported almost every attack on public workers in Arizona.
Rep. Daniel Patterson, a Democrat, noted that every bit of evidence cited in the committee's final report in favor of the legislation to strip civil service protections from workers came from a single 2010 Goldwater Institute pamphlet on the need for personell reform.
Also under discussion in the Arizona legislature is a plan to put forward a ballot initiative that would allow employers to pay workers under 20 years of age substantially less than the state's minimum wage. Now it's $7.65 an hour, but the new initiative, if approved by voters, would allow businesses to pay teens and young adults as little as $4.65 an hour.
Proponents argue that it would only involve people working less than 20 hours a week for a period of 90 days or less, and that the current minimum wage law discourages job creation.
The Republicans argue that young people who work part time usually live at home or are otherwise supported by parents, and therefore don't really need the income.
Young people and their families argue that more often than not every working member's income is needed just to keep many families afloat these days.
The matter is even more outrageous, they note, since part time work is now often the only work available.
"What happened to equal pay for equal work?" asks Wyatt Manoil online. Manoil is a college student who works part time to help pay his living expenses at school. "I'm barely making it as it is. I don't even think I could afford to work if that's all I was making."
Voters overwhelmingly approved a ballot initiative in 2006 that raised Arizona's minimum higher than the federal rate and indexed it to inflation, despite heavy opposition from the restaurant and other industries.
Photo: Pablo Martinez Monsivais/AP