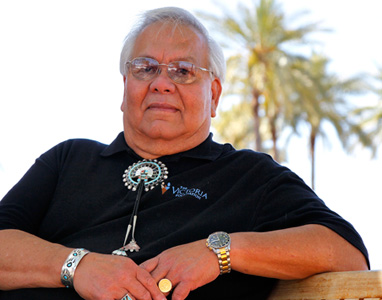 Religious leaders, immigrant and labor rights advocates are preparing for the April 25 Supreme Court hearing on Arizona's infamous law, SB 1070. Cardinal Roger Mahoney is joining Arizonans affected by the law in a Washington D.C. press conference on the steps of the U.S. Supreme Court followed by a "prayerful Jericho Walk" and rally.
Arizonans Jim Shee, Dulce Matuz, Danny Ortega and Dr. Warren Stewart are among the speakers.
In April 2010, Arizona Governor Jan Brewer signed into law SB 1070, which, among other things, authorizes state and local law enforcement to stop or arrest anyone they believe to be in the country illegally, opening the door to official – and unconstitutional – racial profiling of Mexican and Latino citizens and legal residents. The law also makes it a state crime to look for work if you are undocumented, and allows for warrantless arrests and deportations.
Immigration procedures and laws fall under the jurisdiction of the federal government only, argues the Obama administration. The federal government won its case against the implementation of several of the worst statutes in SB 1070 in front of the 9th Circuit Court last summer.
Arizona appealed, and the Supreme Court agreed to hear the politically charged case, Arizona v. United States, during this election year. A decision is expected in summer and is sure to have an affect on the presidential race. As will the other politically charged case before the court – health care reform. This Supreme Court is considered to be one of the most reactionary courts in recent history with four ideologically committed ultra-right justices and one just less so, making up the majority.
Labor unions have filed two separate "friend of the court" or amicus briefs in favor of the federal government's positions, criticizing both racial profiling dangers and the criminalization of job seekers without any consequences for unscrupulous employers who lure immigrants as a source of cheaper labor. Unions in both the AFL-CIO and Change to Win say immigration is strictly a federal matter, which is the crux of the Obama administration's main argument.
Arizona, on the other hand, argues its law is complimentary with federal law and they were forced to take matters into their own hands because of lack of federal action at the border, setting up a states'-rights-versus-federal-authority argument reminiscent of events and cases throughout U.S. history, especially concerning slavery, racism and civil rights.
In general, conservatives side with states' rights. A quick look at the list of amicus briefs filed supporting Arizona bears this out. The list includes the notorious militia group, the Minutemen, Republican-led states and a number of other various and sundry right-wing groups and think tanks.
Five Republican-led states – Alabama, Georgia, Indiana, South Carolina and Utah – have adopted variations on Arizona's law. Democrats in Congress are preparing a bill to block these state laws if the high court rules in favor of Arizona.
Many Arizonans take issue with their state's elected leadership and say SB 1070 has led to a less safe Arizona at a huge cost to tax payers.
Seventy-five year old Jim Shee is a plaintiff in the case and says he has been a victim of repeated racial profiling as a consequence of SB 1070.
A lifelong Arizona resident Shee is of Chinese and Spanish descent and was confronted twice by police asking to see his "papers."
"I'm not blond-haired and blue-eyed. My grandkids aren't blond-haired and blue-eyed. I don't want to see this happening to them," Shee told the media.
Dr. Warren Stewart, senior pastor at a Baptist church in Phoenix, is a recognized African American leader who was a driving force in moving the state to finally recognize the federal Martin Luther King Jr. Holiday. Stewart has been outspoken opponent of SB 1070, saying it has "awakened the 21st century civil rights movement."
"This is the most important immigration case in a generation," Stewart said in USA Today.
President of the Arizona DREAM Act Coalition and One of Time Magazine's 100 Most Influential People, Dulce Matuz, said the issue of immigration can't be one of enforcement only, nor one of blanket "amnesty."
"We need to find common ground on the immigration question and the conversation shouldn't be 'let's deport them all.' It's not feasible or practical, but at the same time I understand we can't say let's legalize everyone either," Matuz said in an interview last fall.
Matuz will be at the Supreme Court tomorrow.
Photo: Jim Shee will be attending the US Supreme Court's hearing on Arizona's immigration law, SB1070, on April 24. Shee says he was racially profiled because of the controversial law. Matt York/AP