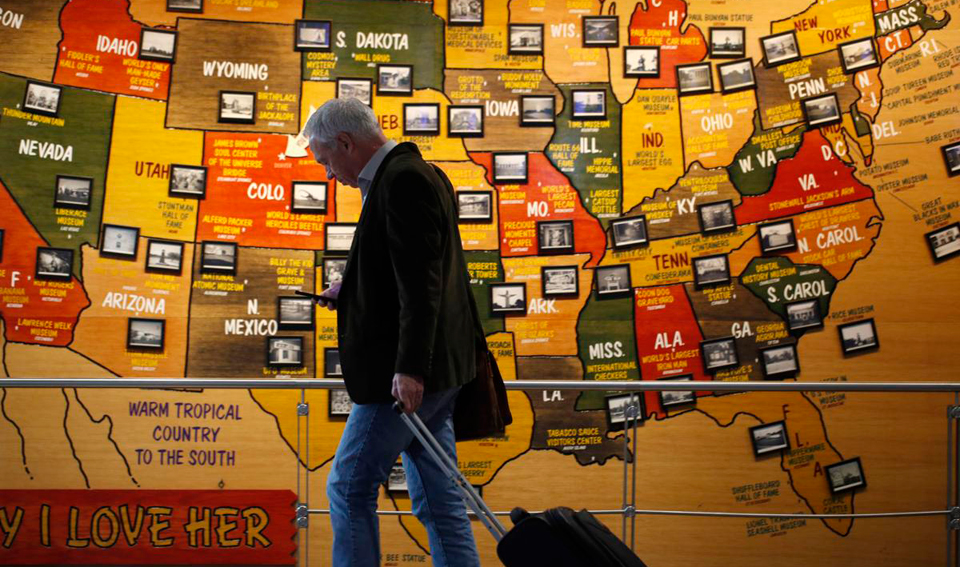 In denial, Donald Trump continues to insist that America go back to work at the very moment that the U.S. tops the world in the number of coronavirus infections.
He is hot to trot on doing what he calls a "county by county risk assessment" to determine allegedly "unaffected areas of the country" that can loosen social distancing policies. The problem with that approach, health officials say almost unanimously, is that there is woefully inadequate testing to be able to identify or classify counties that way. And even when there is, no plan exists for how county to county traffic could or would be controlled.
Health officials warned last night and this morning that within the U.S. there are disturbing signs that the horror unfolding in New York is about to be visited upon Chicago, Detroit, and other cities and counties. Dr. Deborah Birx, coordinator of the president's coronavirus task force, talked about the danger to Detroit and Chicago and surrounding counties at yesterday's briefing by the task force.
New Orleans, which has been totally ignored at those task force briefings, is now experiencing the fastest spread of the virus anywhere in the world.
Meanwhile, echoing Trump's inaction, is the governor of Mississippi, which is right next door to hard-hit Louisiana. The Mississippi governor has said, "Mississippi is not China" and has actually overturned stay-at-home orders in individual cities and towns in his state.
In the small Arkansas town of Greers Ferry, 34 people who attended a children's event at an Assembly of God church contracted the virus, with one of those already dead.
The latest reports on how the virus is tightening its hold on the planet as a whole came as the House gets ready today to approve a $2.2 trillion dollar emergency aid bill.
As the House got ready for that vote, reports coming from around the world show that the number of infections is skyrocketing, including in countries from which we have not gotten much information until now. Russia, Indonesia, and South Africa are now reporting more than 1,000 infections each. The South African government has locked down the entire country.
Particularly worrisome in this regard are remarks yesterday by Dr. Anthony Fauci, the leading health expert on the U.S. response team. He noted that southern hemisphere countries where there have been less infections are now approaching their winter season and are seeing a surge in cases. The implication is that even if the virus is brought under control in the U.S. in the summer, it could come back with a vengeance next fall and winter. This makes the struggle to develop a vaccine even more important, Fauci said.
Also worrisome are reports that countries that have been able to cap the infection rate for now, including China and Singapore, are having to close their borders because they are seeing new cases related to people coming in from outside.
It all goes to show there is much to learn about this virus and the last person who is likely to have figured everything out is Donald Trump.
Doctors are horrified at remarks by Trump last night that he doesn't believe that "a hospital that normally only needs two ventilators suddenly needs thousands." The president, said, "I don't believe it."
Doctors are already reporting they have to deny access to ventilators to very sick patients in order to try to save those who are less sick. Doctors note that sharing of a ventilator by two patients, which the president has also suggested, can increase the possibility of death for both patients.
On the world front, meanwhile, India has locked down its entire country and, in an example to the world, has launched the biggest feeding program ever embarked upon. Millions are being fed through a massive and unprecedented government-run food distribution program.
Reports coming in from overseas show that in many countries young people, in addition to the older people, are vulnerable to the virus. There is an AP report that in France, a 16-year-old student became the youngest person in the country to die from the virus. Her sister said she was admitted to hospital on Monday after developing a "slight cough" last week, and she died on Tuesday in Paris.
"We must stop believing that this only affects the elderly," said the sister. "No one is invincible against this mutant virus."
In France, some 29,000 are infected with more than 1,600 dead. Death rates are hard to determine in part because of inadequate testing, but they seem to range between 1% and 8%, depending upon the country filing the reports.
The U.S. reported today more than 85,000 infections, at least 3,000 more than in China. The U.S., Italy, and China account for almost half the world's infections.
Boris Johnson, the Prime Minister of the U.K., has tested positive for the coronavirus, making him the third world leader now leading their countries from quarantine. The others are Canadian Prime Minister Justin Trudeau and German Chancellor Angela Merkel, both of whom are in voluntary quarantine because they have been in contact with infected people, not because they are confirmed positive.
Health experts have warned that all the official figures are probably very low. Dr. Ezekiel Emanuel, a top health advisor to the Obama administration, has said that the figures likely represent only one-tenth of those actually infected ten days ago. That figure, he said, has as much as doubled every few days since then. The best experts can do is guess about the real figures in the U.S. because of the inadequate testing.
In Spain, the official number of cases increased by 7,800 today to a total of 64,059. There were a total of 4,858 deaths, 769 more than yesterday. Spain is second behind Italy in Europe and fourth in the world in the number of infections.
The worldwide death toll climbed to more than 24,000, according to Johns Hopkins University. Some 124,000 people have recovered, about half of those recoveries in China.
There were 100 deaths in one day in New York state, the epicenter of the outbreak in the U.S. Gov. Cuomo said the number of deaths will continue to increase as critically ill patients succumb.
Cuomo said schools in his state will remain closed until at least April 15. When he first shut them, it was until April 1.
He says the apex of need in hospital capacity may be highest in 21 days, when they will need 140,000 beds. They now have only 40,000. Hospitals have been ordered to increase capacity by at least 50%. Four FEMA hospitals are under construction now, and Cuomo is asking Trump for four additional FEMA hospitals. The Army Corps of Engineers says all the proposed sites are feasible. All they need now is the green light from a president in denial.
A doctor at New York's Bronx Medical Center, Kamini Booday, spoke to MSNBC reporters this morning, describing some of the deaths now occurring in New York hospitals. "They die alone, in isolation," she said on the phone. "They can't have a relative or a loved one in with them, comforting them. And I cry and their loved ones cry when we have to tell them over the phone what happened."
A large refrigerated semi-truck sits outside Elmhurst Hospital in Queens, New York, because there is not enough room in the hospital morgue for the bodies of those who have succumbed to the virus.
Washington, D.C., reports 267 people infected and has been placed under a state of emergency.
In India, the massive feeding program aims to reach some 800 million people affected by the lockdown. In that country, millions have suddenly lost their jobs because of the pandemic. It is estimated that more than 750 million people in the country survive on their daily wages—buy their food each day with what they earned that same day. A government feeding program is the only way they'll be able to survive.
In China, which had last week been reporting almost no new cases, there are now reports of 55 new ones, explaining the decision to close up borders. China is barring most foreigners from coming into the country.
Chinese leader Xi Jinping told Donald Trump in a phone call that China "understands the United States' current predicament over the COVID-19 outbreak and stands ready to provide support within its capacity."