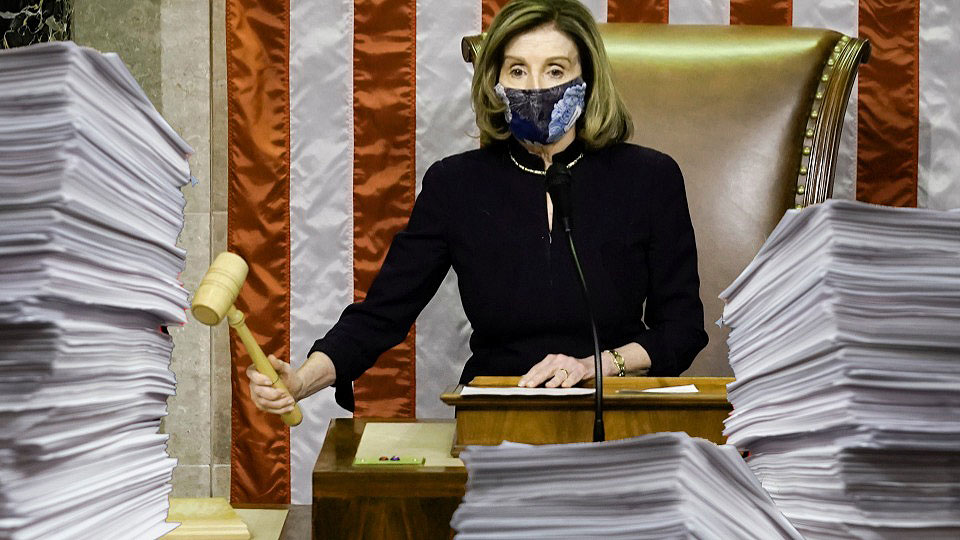 WASHINGTON—Worker rights. The right to vote. Free and open elections. Partial controls on who can buy guns. And of course, the $1.9 trillion American Rescue Act. All that is on the congressional plate this week. There will be two big-deal votes in the House alone.
One comes March 9 on Democratic President Joe Biden's rescue act. The other will be on the Protect the Right to Organize (PRO) Act, HR842, which is organized labor's #2 legislative priority—behind Biden's bill—this year. And closing gun sale loopholes will hit the House floor, too.
The PRO Act would outlaw scabs and closed-door anti-union management harangue meetings and make it easier to organize and win union elections. It would increase fines to $50,000 per labor law-breaking offense (and $100,000 for repeat offenders), mandate first-contract arbitration if the two sides can't agree, and legalize card-check recognition, among other pro-worker measures. And it would force union-busters to disclose their activities, clients, and how much they got paid.
"When managers bully us out of exercising our most basic freedoms, they deny us our best shot at winning the fundamental dignity, security, and respect we're owed. It's time to put an end to it," AFL-CIO President Richard Trumka said in arguing for HR842.
"President Biden campaigned on a promise to be a friend to the labor movement. He has proven he's willing to speak out and stand with us. Now it's time to follow words with action. To convert the spirit of the president's message into the letter of the law, we must pass the PRO Act."
Meanwhile, HR1, the We The People Act—the comprehensive free and open elections bill—passed the House in the first week of March. But in case it gets marooned by the Senate GOP, the Congressional Black Caucus plans to introduce stand-alone legislation, named for the late civil rights leader, Rep. John Lewis, D-Ga., to restore enforcement teeth to the federal Voting Rights Act.
But Biden's rescue bill comes first, and everything else trails behind.
Lifeline for an economy in trouble
After a 24-hour vote-a-rama over March 5-6, senators approved the rescue plan by a party-line 50-49 vote, with all 48 Democrats and both independents voting for it and 49 Republicans voting "no." Sen. Dan Sullivan, R-Alaska, was absent.
But there are some big changes in Biden's economic rescue plan. The biggest was when the Senate parliamentarian stripped the increase in the federal minimum wage to $15/hour by 2025 because it supposedly flunked parliamentary rules for budget bills. The changes sent the rescue plan back for the second House vote.
Biden wants the measure on his desk as soon as possible, as it faces a March 14 deadline when weekly supplemental federal jobless benefits, which sustain at least 11 million people, run out.
"This nation has suffered too much for much too long," Biden told reporters after the Senate vote. "And everything in this package is designed to relieve the suffering and to meet the most urgent needs of the nation and put us in a better position to prevail."
Senate Budget Committee Chairman Bernie Sanders, Ind-Vt., tried to get the minimum wage hike back into Biden's bill, but lost, 42-58. Sen. Angus King, Ind-Maine, and seven Democrats joined all 50 Republicans in voting Sanders's try down.
Foes of Sanders' move included both Democratic senators from New Hampshire and from Delaware and "moderates" Krysten Sinema, D-Ariz., and Joe Manchin, D-W. Va., along with Sen. Jon Tester, D-Mont., who represents what is now a deep red state.
Service Employees President Mary Kay Henry blasted the Democrats, and King, who opposed raising the minimum wage, though she did not withdraw the union's support for the rescue legislation overall.
"A Senate of many millionaires voted to keep 32M in poverty when they opposed @SenSanders' amendment. Working people elected this administration & Congress to #RaiseTheWage to $15. We will hold accountable those who hold us back, regardless of party," she warned.
Another change was to cut the federal jobless benefits from the $400 weekly the Democratic-run House approved down to $300 and to extend them to just after Labor Day, rather than the end of September. Otherwise, they expire on March 14, leaving 11 million workers—including gig economy workers, "independent contractors," and performing arts workers—with nothing at all.
And the measure still keeps the $1,400 checks for adults but phases them out for individuals making more than $80,000 a year or couples making more than $160,000.
Why it's a must-pass
The Senate version of Biden's bill also includes a wide range of pro-worker provisions, including more money for mass transit, a resumed subsidy for airlines contingent on keeping the workers on the job, money to help schools reopen safely despite the ongoing coronavirus pandemic, money for more coronavirus vaccine development and distribution, and billions to help hard-pressed state and local governments continue key services, such as jobless benefit centers.
But those changes sent the Biden economic rescue plan back to the House for another vote, scheduled for March 9, without the minimum wage hike.
"Congress has not raised the minimum wage since 2007," Sanders told his colleagues before his restoration went down the drain. "The result is half of our people are now living paycheck to paycheck, and many, in fact, are working for wages that are much too low in order to take care of their families. The American people in poll after poll and state after state understand we have to raise that minimum wage to a living wage of 15 bucks an hour."
Still, even without the minimum wage hike, Sanders called the American Rescue Act "the most consequential and significant legislation for working families Congress has debated for many, many decades." Families "want their government to hear their pain and come to their aid, and that is not too much to ask," he said.
It's also important to restore trust in government, he warned. Since the government has been more responsive, for decades, to capitalist and corporate interests, "maybe 30 to 40% of Americans—have literally given up on democracy. They are moving toward authoritarianism."
"They are hurting. Their kids are hurting. Their parents are hurting. They look to Washington for help in their democratic society, and they don't see Washington responding.
"What they see year after year are policies which make the very, very rich richer, which enable large, profitable corporations to not pay a nickel in taxes, but for them, they face eviction. They face hunger. They don't have healthcare. They can't afford to send their kids to college." The rescue plan includes an eviction moratorium and more money for SNAP, also known as food stamps, and for meals in schools, including in the summer.
"They are asking: Does anybody—anybody—in Washington care about their lives?… This is not just a health care bill. It is not just an economic bill…This is a bill which will answer a profound question: Are we living in a democratic society, where the U.S. Congress will respond to the needs of working families rather than just the wealthy and large corporations and their lobbyists?"
Union leaders offered more pragmatic reasons for backing Biden's bill.
Teamsters President Jim Hoffa noted the measure helps restore solvency to financially troubled multi-employer pension plans, which never really recovered after the 2008 Wall Street-caused Great Recession. Hoffa said the rescue plan's provisions "ensure the retirements of more than one million American retirees and workers are protected.
"For more than two decades, Teamster members, retirees, and officials have worked tirelessly to make sure the hard-earned retirements of its members are protected," Hoffa said. He predicted it could cover up to 50 Teamster joint-employer plans, including its largest, the Central States Pension Fund. Hoffa said the federal funds, contingent on keeping current retirees fully funded, would be grants from the Treasury. They're actually long-term low-interest loans, the measure says.
"This plan is quite literally a lifeline for an economy that desperately needs one," Teachers (AFT) President Randi Weingarten said of the economic aid bill. "Since the beginning of the pandemic, we have lost more than half a million jobs in public education and more than 100,000 jobs in healthcare. This is what governments looks like when it takes swift action to care for us all."
"The bill provides $170 billion in dedicated funding to advance the process of safely returning to in-person instruction at K-12 school buildings," the National Education Association, the nation's largest union, said. It also doles out funds to colleges for "institutional and student support to address the health, safety, and financial challenges created by COVID-19," the official name for the coronavirus.
The NEA also lauded senators for keeping $350 billion in state and local aid in the measure, despite GOP screams. Doing so "will help avoid further layoffs of educators and other essential public servants," the union noted.
"The bill will extend our Payroll Support Program (PSP) through Sept. 30, which keeps us connected to our jobs and healthcare," the Association of Flight Attendants/CWA said of the airline subsidies. "It also includes $1,400 survival checks, child tax credits, unemployment, and more relief for all Americans.
"Call your Representative and tell them to vote YES one final time on the American Rescue Plan! HOUSE: 888-907-9365."
The Senate GOP tried to derail the rescue plan on the pretext that the economy is recovering, ignoring the millions of still-jobless people, most of them in the lowest-paying industries such as bars and restaurants. Republicans also claimed that billions in rescue funds approved last year have yet to be spent.
But they had specific kvetches, too, which Sen. Lindsey Graham, R-S.C., the top Budget Committee Republican, enumerated: $20 million for preserving Native American languages, $135 million for the National Endowment for the Arts, $135 million for the National Endowment for Humanities—both longtime right-wing bugaboos—and $200 million for the institute that aids libraries and museums.
Same objection from Graham, different targets: "PPP (payment protection plan) loans for labor unions, paid leave fund for federal employees, an $86 billion bailout for union pensions," his lie about the multi-employer plans. "What has that got to do with COVID? Nothing."
Labor's next priority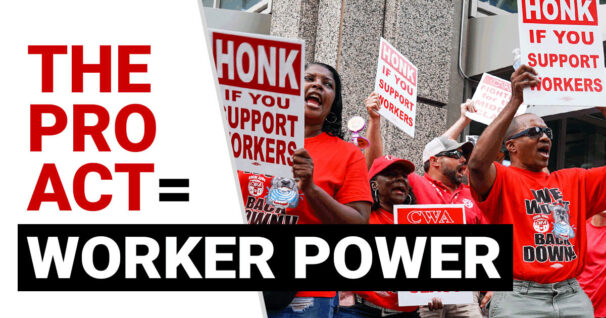 Then comes the PRO Act.
"The wealthy and powerful have controlled the economy in their favor for too long while working people have been losing ground," says Art Pulaski, Executive Secretary-Treasurer of the California Labor Federation, urging his members in a months-long mobilization to get lawmakers to pass it.
"For decades we have had to work much harder, put in longer hours, and take on more jobs just to try to keep up. At the same time, the rich and powerful got much, much richer off the fruits of our labor.
"When super-wealthy gig corporations spent almost a quarter-of-a-billion dollars to pass Prop 22 last year, hundreds of thousands of Californians instantly lost their hopes for a decent job…The PRO Act would simply reestablish the rights of gig workers and many others to create a union for themselves in order to negotiate for decent wages and employee protections."
"As the coronavirus crisis continues into 2021 and deadly workplace risks remain, there has never been a more important time to give workers more voice and power," the School Administrators, a 22,000-member union for principals, school counselors, and their colleagues adds.
"For years, policymakers, lobbyists, and CEOs have stopped at nothing to keep worker power at bay…2020 underscored something else, too—how urgently we need labor law reform."