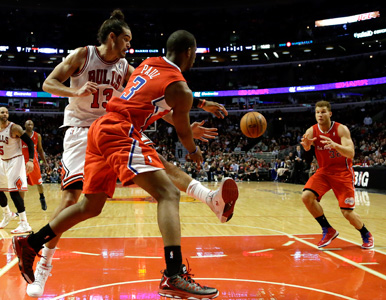 Most people celebrate Black History Month in February. Donald Sterling celebrates it in March … for some reason.
Donald Sterling is the owner of a National Basketball Association Western Conference team the Los Angeles Clippers. The Clippers currently have a commanding first place lead in the Pacific Division. But Sterling has been mired in a number of controversies and scandals involving his basketball team and other profit-making ventures.
In December 2012, Sterling was the subject of a lawsuit by actress Robyn Cohen. Cohen, a tenant in an apartment complex owned by Sterling, said the complex had malfunctioning fire alarms that didn't work when the building went up in flames in 2009. When Cohen sought assistance from the building management to rectify the situation, the building manager told her that she would have to pay her next month's rent on the fire damaged apartment or face eviction. After moving out, she never received back her security deposit. During court hearings, Cohen's lawyers played a video of Donald Sterling being asked about the safety problems and his response: "So what?" The jury ultimately awarded Cohen $2.3 million in compensatory damages and $15 million in punitive damages.
However, this is not the first instance of Sterling's less than sterling real estate business practices. In 2003 and 2006, he faced housing discrimination lawsuits that alleged he refused to rent to African Americans and other minorities. In 2009, Sterling was forced to pay $2.725 million to settle a Department of Justice lawsuit alleging housing discrimination. According to testimony from property manager Sumner Davenport, Sterling wanted no African American tenants, Mexican American tenants, government housing recipient tenants or families with children. Sterling was quoted as making insulting racist characterizations of Black and Mexican American people. Repairs were often lacking and when one African American woman asked for compensation for water damage, Sterling allegedly told the property manager to "just evict the bitch."
In another instance, in 2006 Sterling pledged to build a $50 million homeless shelter in Los Angeles. It was widely advertised in major area media, but nothing happened to make the pronouncements a reality, one that would have helped the disadvantaged residents of the Clippers' hometown.
When it has come to his major business interest, running the Clippers, Sterling's practices have been similarly problematic.
Sterling has had a long history of keeping expenses to an absolute minimum. Whether that has meant undercutting the amount of player statistical totals, attempting to cut team budgets, refusing to add players to the roster in instances of player injuries or other actions, Sterling's activities have long come under fire due to the team's underperformance on the court for many years.
His desire to minimize costs even stretched to refusing to pay for cancer surgery for assistant coach Kim Hughes in 2004. Hughes found out the team insurance wouldn't cover the surgery because "they said if they did it for one person, they'd have to do for everybody else." Ultimately, the medical costs were paid by a number of Clippers players.
Seeking to keep profits flowing hasn't kept Sterling from directing the Clippers management to go after long-time fans. Darrell Bailey, better known as Clipper Darrell, has had season tickets for years and been one of the team's most faithful fans, especially throughout years where the Clippers had multiple losses and were rarely in title contention. However, once the team began to win regularly, the Clippers attacked one of their most identifiable superfans. They argued that his nickname was "inappropriate use of the Clippers name and trademark," and said, "He is not actually a fan of the Clippers, but a fan of what he can make off the Clippers." After a big outcry from the public and from Clippers players Chris Paul and Blake Griffin, the team management relented and a deal was struck with Clipper Darrell.
Space limitations inhibit me from going into more of Sterling's activities, which include verbally harassing then-Clippers player Baron Davis, being the subject of myriad sexual harassment claims, and making bigoted statements about women, allegedly having Clippers public relations staff scrubbing his Wikipedia page of these controversies and replacing it with his official NBA biography, and his racial ignorance/tone-deafness when he held a promotional "Celebrate Black History Month" event for a Clippers game on March 2, 2011.
Sport is and can be a very beautiful thing. However, it is incredibly ugly that owners such as Donald Sterling can latch themselves onto the games we enjoy and wreak so much social havoc. Let's remember, people can support and love the beauty of athletics without supporting and dignifying horrendous owners like Donald Sterling and his less than sterling activities.
Photo: Los Angeles Clippers guard Chris Paul (3) passes the ball to Blake Griffin past Chicago Bulls center Joakim Noah, Dec. 11, 2012, in Chicago. The Clippers won 94-89. Charles Rex Arbogast/AP