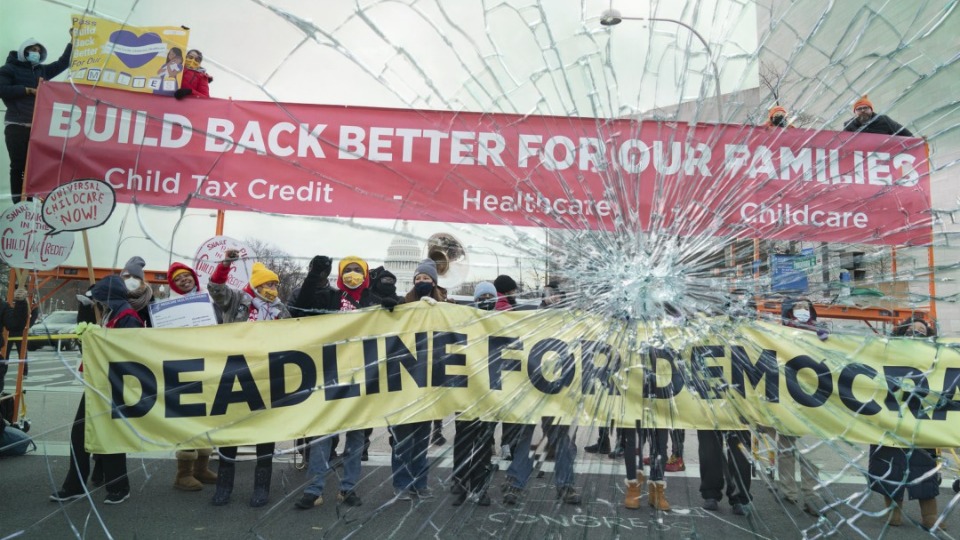 WASHINGTON—Democratic President Joe Biden concedes he'll have to break up his transformative Build Back Better legislation of social program improvements, climate change overhaul, and higher taxes on the rich to get popular pieces passed.
"It's clear to me that we are going to have to probably break it up," Biden said at his Jan. 19 press conference. "I'm confident we can get pieces, big chunks, of the Build Back Better law signed into law" before this November's elections, and cite them on the campaign trail, too.
That Biden concession leaves the nation's unions campaigning to defend pro-worker and progressive provisions, which could be kept or dumped. Other progressive groups are undertaking similar campaigns. So are workers' enemies, including corporations and the right wing, who oppose many of BBB's sections.
Nevertheless, union leaders still also push for Senate passage of the entire 10-year BBB plan, a $175 billion-per-year strengthening of the nation's social safety net and upping the commitment to a carbon-neutral economy in the near future, and enacting pro-worker reforms.
"As we look to the future, our sights are set on passing the Build Back Better Act, reforming America's outdated labor laws, and protecting our basic rights and freedoms. Our job is far from over, and we're ready to continue making progress for all working people in this country," the AFL-CIO said in a statement.
BBB's passage would affect almost everyone in the U.S., due to its plans to lower the cost of prescription drugs, restore a monthly child care tax credit which was terminated on Dec. 31, 2021, extend early education to 3- and 4-year-olds, and promote climate-change measures, such as electric vehicle production—including a double tax credit for buying union-made EVs.
But in statements the AFL-CIO compiled, several leaders, notably AFSCME President Lee Saunders, concede the measure will have to be broken into separate pieces.
"The administration, together with its allies, must now focus its energies on passing key components of the Build Back Better Agenda, transforming millions of lives by lowering prescription drug costs and making child care more affordable, among many other things," Saunders said in an excerpt the fed cited.
"One of the most urgent needs for the Biden-Harris administration is to move the #BuildBackBetter agenda forward," added Unite Here President D Taylor.
"This includes pushing for its full passage as one package, or breaking it up so we can have folks on the record on every issue. Working people need to see their elected leaders fighting to get something done—and calling the question on the issues that matter—so we can hold these politicians accountable in November."
Breaking BBB up could attract potential Republican votes for provisions such as the child care tax credit, which are widely popular, or attract votes from the two dissenting Senate Democrats, West Virginia's Joe Manchin and Arizona's Kyrsten Sinema. Manchin, Biden said, likes the pre-K education money. That's a top cause for the nation's teachers unions.
If Manchin and Sinema join the other 46 Democrats and both independents on any votes on separate BBB pieces, there would be a 50-50 partisan tie in the Senate. Under rules barring filibusters against "reconciliation" bills—which is what BBB technically is—Vice President Kamala Harris could cast tie-breaking votes.
Biden has several top priorities he wants to keep, despite GOP blockades. They include child care tax credits, elder care aid—including raising the minimum wage for elder, child, and home care workers to $15 an hour—lowering the costs of prescription drugs, and the clean energy changes. News reports say the equivalent of two years of free community college tuition for all high school grads is gone.
And still up in the air is one key pro-labor section: Large increases in the fines and the reach of the National Labor Relations Act. It would expand the range of labor law-breaking the NLRA covers, such as imposing fines for bosses convening "captive audience" meetings, and expand the universe of who can get fined, to include CEOs, corporate boards, and top executives.
The late AFL-CIO President Richard Trumka grouped those hikes in fines, taken from labor's #1 legislative priority, the Protect the Right to Organize (PRO) Act, as tax hikes, thus meeting reconciliation's technical requirements.
Whether those PRO Act sections will pass muster is unknown. The AFL-CIO told Press Associates the Senate parliamentarian could reject them as "policy changes masquerading as a tax bill."
The parliamentarian, an unelected officer, used the same reason to block both an increase in the minimum wage and comprehensive immigration reform from a prior reconciliation bill.
But senators could in turn overrule the parliamentarian—though they did not do so when Senate Budget Committee Chairman Bernie Sanders, Ind-Vt., tried last year to reinstate the minimum wage hike, to $15/hour. He lost, due to seven Democratic defections, including Manchin and Sinema, plus Sen. Angus King, Ind-Maine.
Other key sections of interest to workers and unions include tax credits for purchase of electric vehicles, with a double tax credit if the vehicle is union-built. Electric vehicles, and money for their charging stations, are a key component of Biden's clean energy plan.
Lowering the prices of prescription drugs and reinstating and extending the child care tax credit are also important to workers and their families, and to Biden, too.
"Many families…if they have children and they're working full-time, pay up to $14,000 a year for childcare in big cities, less than that in smaller ones. My plan cuts that in half," the president said. "That will not only be a gamechanger for so many families' budgets, but it will mean so much for the nearly two million women who've left the workforce during the pandemic because of things like childcare.
His Build Back Better plan would also cut the price of prescription drugs. Insulin that today costs some people as much as $1,000 a month today, for instance, will cost no more than $35 a month, according to Biden.
He says it can all be done "without raising a single penny in taxes on people making under $400,000 a year" or raising the deficit. By getting more people into the workforce and generating tax revenue, the president says the plan actually cuts the deficit and boosts the economy.
"The American people overwhelmingly agree with me on prescription drugs. They overwhelmingly agree with me on the cost of education. They overwhelmingly agree with me on early education" and on childcare, he said.
He said that BBB supporters "have to make the case what we're for and what the other team is not for," meaning Republicans, holdout Democrats, and their corporate backers.
"I don't think there's anything unrealistic about what we're asking," Biden said.