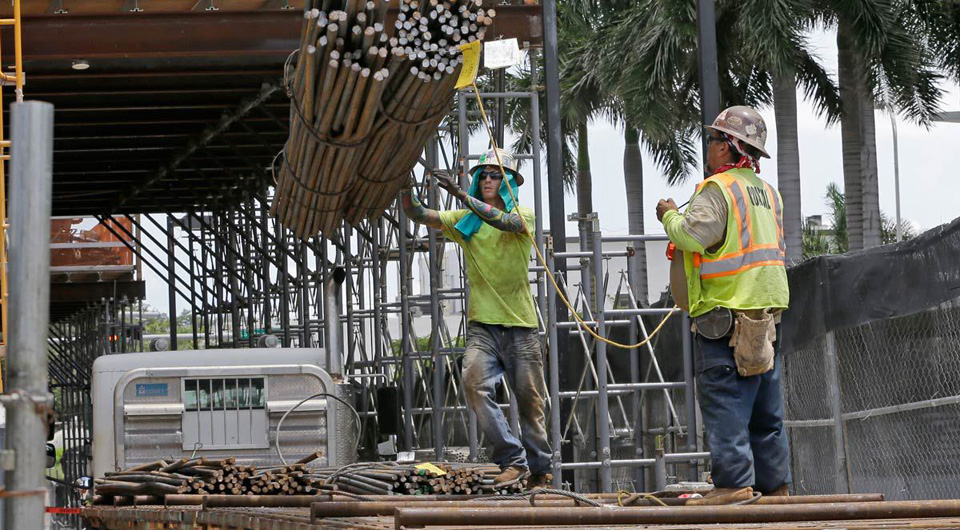 WASHINGTON)—By a 183-242 vote, the GOP-run U.S. House defeated the latest Republican assault on the Davis-Bacon Act and its legal prevailing wages for construction workers who toil on federally funded projects. Fifty-one Republicans joined all voting Democrats in backing Davis-Bacon. The other 183 Republicans voted to cut workers' wages.
And  in an indication that even Davis-Bacon foes realize their fight is uphill, Rep. Paul Gosar, R-Az., tried to weaken Davis-Bacon – by lowering the wage base – rather than kill it altogether. But nobody was fooled.
Gosar's amendment to weaken Davis-Bacon "would hurt the local economy, devalue workers' pay, and take a very important tool out of the toolbox for Republicans, Democrats, and Americans," said Rep. David Norcross, D-N.J., an Electrical Worker and former Building Trades Council president in southern New Jersey. He led the debate against Gosar's move.
"The prevailing wage is based on surveys of local wages and benefits, not whether there is a union or not," Norcross added. "It keeps the community vibrant, and it takes into account those things that happened" there. " So when you hear the term 'if it ain't broke, don't fix it,'' this is a classic example."
Besides, "This is about cutting wages in your local community." He asked colleagues "Why would you ever want to go back and say, 'I want to hurt the people I represent?'"
The 86-year-old Davis-Bacon Act mandates that locally prevailing wages, determined by the Labor Department, go to construction workers – union and non-union – toiling on federally funded projects such as highways, bridges, airports and subway systems.
For years, construction unions have successfully defended Davis-Bacon against assaults by the anti-worker anti-union Associated Builders and Contractors and its congressional Republican allies, even though two House Republicans pushed Davis-Bacon through in 1931. That scenario occurred again on July 14 during debate on the defense bill.
The fight may not be over, though. Rabid right-wing Rep. Steve King, R-Ia., who has championed outright Davis-Bacon repeal in past years, may try to insert that into other bills.
"Once again, an overwhelming bi-partisan majority…heeded the common-sense calls from our unions and our contractor/employer partners and rejected an attempt to weaken the Davis-Bacon Act, which ensures the protection of local community wage and benefit standards on federally-funded construction projects," North America's Building Trades Unions – the old AFL-CIO Building and Construction Trades Department – said after the vote.
"The significance of this vote lies in the fact that, on a consistent basis, a large bi-partisan majority intuitively recognizes the Davis-Bacon Act provides value by ensuring federally funded construction work is performed safely and efficiently, while preserving pathways to the middle class for America's construction workforce through formal apprenticeship education and training."
Otherwise, workers and employers would be "undermined by 'low road' contractors that seek competitive advantage through the deployment of a low-wage, low skill, easily exploited workforce," the NABTU said.