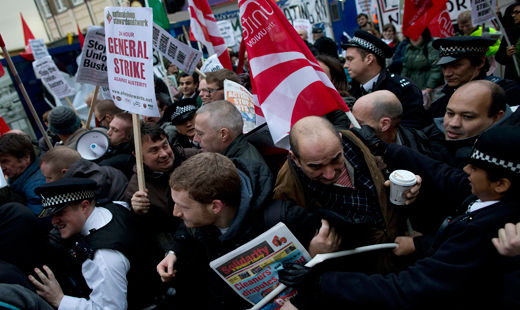 LONDON – The British Trades Union Congress, the umbrella organization for that nation's unions, will push for a specific pay cap for Britain's executive class.
In a decision reported by Sam Pizzigati, editor of the journal on wealth and influence Too Much, the TUC declared no corporate executive – not just the CEO-should earn more than 20 times what an average worker at that official's firm gets.
And the TUC will put its money where its mouth is. Union pension funds hold shares worth more than $1.5 billion in United Kingdom-based firms, and will vote those shares against any corporate pay plans that exceed that ratio. The votes will start at the 350 largest British-based firms, TUC says.
Like the U.S., Britain has a wide and growing gap between the rich and the rest of the country, although its executive pay-worker pay ratio does not approach the 300 to one or higher margin of the U.S.
"We are going to use the power of our pension funds to make a difference," Trades Union Congress General Secretary Frances O'Grady said.
The TUC has the power to make the move because new British law mandates shareholder approval for any executive pay plans that corporate boards present. In the U.S. banking reform act passed after the Great Recession hit, shareholders also have a "say on pay," but U.S. boards – often composed of other CEOs – can ignore it.
In the United Kingdom, Pizzigati reports, the boards won't be able to thumb their noses at the shareholders.
"British unions will apply the 20-to-1 ratio at first to the gap between executive and average or median worker pay. They hope eventually to apply the ratio to the gap that divides top executives and their company's lowest-paid workers," Pizzigati reports.
"As union investors," TUC's new guidelines pronounce, "we support the creation of a more equal society and are committed to taking the impact on wider inequality into account in our consideration of executive pay."
Photo: Protesters flood the streets in London in a demonstration against austerity measures in Britain. Matt Dunham/AP