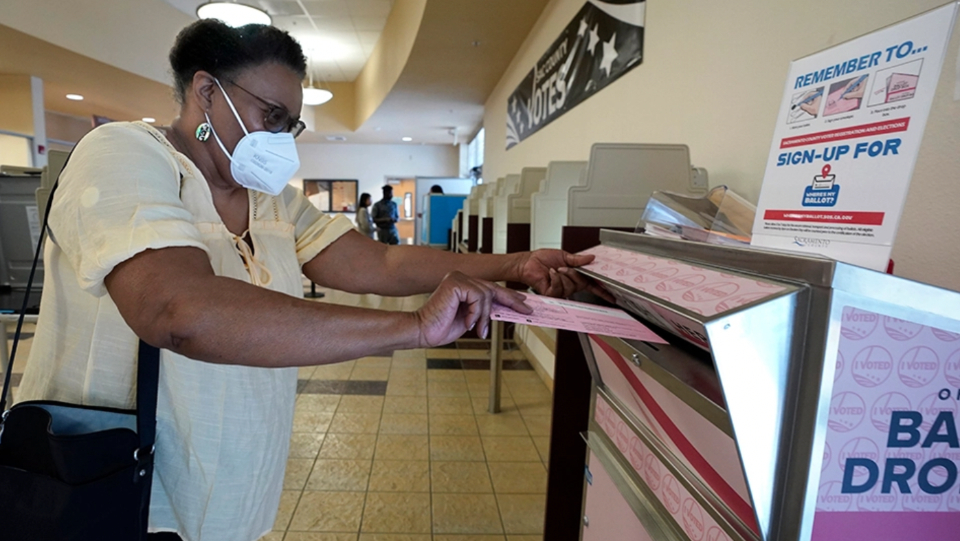 LOS ANGELES—What are the challenges and decisions facing voters in California on November 8th and in the ballots that are being mailed in already?

For many statewide, county and local offices, this year is no "midterm," but the official quadrennial general election. This is the first installment in a two-part series on how the midterms are shaping up in the state. In this part, I'll take on the statewide races and concentrate on L.A., the nation's largest county (by population), and the national's second-largest city, for the local races.

In part two, tomorrow, we'll take up the various measures and propositions that on the ballot. My sources are the L.A. County Federation of Labor, the California Labor Federation, the Los Angeles Times, L.A. Progressive, Equality California, and an avalanche of mailers.
For U.S. Congress, most seats out of California's 52-strong bench are locked up in the D column, with a few that will certainly remain in R hands. But there are as many as 10 that are strongly contested—and which could make the difference nationally for keeping the House out of Republican control.
For example: CD 22 (Rudy Salas against incumbent David Valadao), CD 27 (Christy Smith vs. the incumbent MAGA Republican Mike Garcia), CD 40 (where Dr. Asif Mahmood is running against Young Kim, the incumbent reactionary Republican), CD 41 (where Will Rollins is trying to unseat longtime right-winger Ken Calvert), CD 45 (where Jay F. Chen is challenging Michelle Steel, another right-wing Republican), and CD 47 (where Katie Porter is unfortunately forced to fight to retain her seat owing to more Republican voters having been squeezed into her district after redistricting, though her victory will be all the sweeter for that).
The abortion issue will undoubtedly call out to many voters in these races.
For U.S. Senator, there are actually two races, one to complete Sen. Kamala Harris's full term that ends on Jan. 3, 2023, and a second for the full 2023-29 term. Both feature Gov. Newsom's appointee Sen. Alex Padilla and his Republican opponent Mark P. Meuser. It's safe to say the latter has no chance in hell of winning.
For the crucial Los Angeles mayor's race, the question really comes down to the legitimacy of a white multibillionaire developer, with no governance experience and who only joined the Democratic Party early this year in order to run in this race, spending $80 million to defeat the well-known, competent African-American political leader with not even a tenth of his spending, who came up from the community, Rep. Karen Bass.
His monetary investment amounts to $20 for every person in Los Angeles, far more if you count only voters. In these final weeks of the campaign, Rick Caruso has intensified his tornado of deceitful attack ads and mailers, aided by a 400-person paid canvassing team spreading misinformation and false promises. Polls are now close to tied in this race that logically, without Caruso's billions, should have been a shoo-in for Bass.
It doesn't help that between the two prominent L.A. City Council members who remain seated after the devastating release of a recording of their racist, homophobic, anti-Semitic conversation, Gil Cedillo has endorsed Caruso, and Kevin de León, who came in a distant third in the mayoral primary, has not endorsed at all (though what good his endorsement might do at this late date is open to question).
These failures—and I express only my own opinion here—are ultimately far more damaging to the Black-Latino partnership in this multiracial city than any words they may have spoken a year ago, revolting as they were. The fate of a whole city depends on that working-class alliance.
For Governor and in a number of other statewide contests, Democratic incumbents have a firm lead and are expected to coast back in. Their Republican opponents are struggling to get known, searching for a message that might appeal to California voters, working overtime to make mountains out of their Democratic opponents' slights and flaws, and either promoting their far-right MAGA nuttiness or, in the case of a few ostensibly "mainstream" Republicans, running away from the MAGA label as fast as they can.
Safe seats for Democrats include Governor Gavin Newsom, Eleni Kounalakis for Lt. Governor, Dr. Shirley Weber for Secretary of State, Tony Thurmond for Supt. of Public Instruction, Fiona Ma for Treasurer, and Ricardo Lara for Insurance Commissioner.
Rob Bonta was appointed Attorney General by Newsom to fill out the rest of Alex Padilla's term and is now running for a full term. His Republican opponent Nathan Hochman stands little chance of overturning him.
The well-liked Betty Yee is termed out as Controller. This is the only statewide race that is truly in play. Malia Cohen (D) faces Lanhee Chen (R) on Nov. 8th, and both have mounted vigorous campaigns. Many progressive voters will have trouble voting for a Republican, though Chen is about as attractive a one as possible. He has been a Stanford University professor and researcher at the conservative Hoover Institution. He was nominated by Pres. Obama and confirmed by the U.S. Senate in 2013 to serve as a member of the Social Security Advisory Board.
Sounding familiar Republican tropes, Chen says, "For too long, the Controller has been a Sacramento insider, valuing partisanship over competence," adding, "We need a check on the Sacramento politicians who spend first and ask questions later." He has secured the valuable L.A. Times endorsement, personally, I think, only because it makes them look just a teensy bit nonpartisan.
Cohen, an elected member of the California State Board of Equalization who has the California Labor Federation and the Democratic Party endorsement, says she would "ensure that addressing equity is a cornerstone priority of [my] office…. I think that we need to have more diversity, I think we need to have more conversations about equity, what that looks like in the distribution of tax dollars." Most California voters will instinctively vote for the better-known Democrat in this race—a Democrat has served as Controller in the state since 1975—but a victory for the better-funded Chen is conceivable.
The State Senate currently has 31 Democrats and 9 Republicans. Every two years, half of the Senate seats are up for election. In a quarter of this year's Senate elections, two Democrats emerged as the top primary winners and will compete against each other. In the other 15, a Democrat will face a Republican. In three of the five D-on-D races, the CFL has made endorsements: in SD 4 Tim Robertson, in SD 10 Aisha Wahab, and in SD 28 Lola Smallwood-Cuevas.
In the State Assembly, Democrats also command a supermajority of exactly three-fourths of the body, 60 to 20. That disparity will not likely be challenged. The CLF has singled out as "Legislative Labor Champions" three newcomers for open seats, Liz Ortega in AD 20, Jessica Self in AD 22, and Pilar Schiavo in AD 40.
Two seats on the powerful five-person Los Angeles County Board of Supervisors are in contention this cycle. In District 1, there is no reason not to re-elect Hilda Solis, Pres. Obama's pick to head the Department of Labor. District 3, where Sheila Kuehl is retiring, is a heated contest.
The County Fed endorses longtime legislator Bob Hertzberg, who also has the support of at least nine First Responder organizations, including police, L.A. Deputy Sheriffs and firefighters, an SEIU local, and three nurses' and medical unions. His promotional mailers stress his "top rating from Planned Parenthood" and a quote about gun control from the July 22 L.A. Times featuring the prominent Gothic type logo of the newspaper, which many voters will interpret as an endorsement.
But many leaders in the community have come out for the candidate Hertzberg is running against, West Hollywood City Councilmember and former mayor Lindsey Horvath. Horvath has, in fact, secured the L.A. Times endorsement as well as that of Planned Parenthood, the L.A. County Democratic Party, LiUNA, different AFSCME locals, a unit of SEIU, California Environmental Voters, the Sierra Club, the California Working Families Party, UTLA, NOW, Stonewall Democratic Club, and many more, including L.A. Mayor Garcetti and all four Democratic women on the present Board of Supervisors. Voters are encouraged to pursue their own further research on this critical vote.
For Los Angeles County Sheriff, progressives and many other voters in the county are fed up with incumbent Alex Villanueva, who won election four years ago posing as a progressive. He soon revealed himself to be anything but. "Former Long Beach Police Chief Robert Luna," says the L.A. Times in its endorsement of his opponent, "is an accomplished law enforcement professional of sound judgment, deep experience, and respect for the law," all the things Villanueva is not. The L.A. County Federation of Labor agrees.
The Nov. ballot include the names of four California Supreme Court justices. Retention elections are nonpartisan and there are no opponents. Voters just select "yes" or "no" for each name. There is no particular reason not to re-confirm Patricia Guerrero, Goodwin Liu, Martin J. Jenkins, and Joshua P. Groban.
In the election of L.A. County Superior Court justices, there is a quartet of women, a slate calling themselves the "Defenders of Justice," three of whom are public defenders who are almost never represented on the bench. They are Office 60: Anna Slotky, Office 67: Elizabeth Lashly-Haynes, Office 70: Holly L. Hancock, and Office 118: Carolyn Jiyoung Park. Progressives are also recommending Office 90: Melissa Lyons, and Office 151: Patrick Hare. The County Fed appears not to be so enamored of the quartet, however. For Office 60 it endorses Abby Baron, for Office 67 Fernanda Maria Barreto, and for Office 116 David Gelfound. Voters may need to do their own research on these seats.
For the Board of Equalization, a consensus of progressive recommendations concurs on Jose S. Altamarino for Office #1, Sally J. Lieber for Office #2, and Antonio Vasquez for Office #3.
The Los Angeles City Attorney race is a hot one, between Faisal M. Gill and Hydee Feldstein Soto. Gill came in first, with 24.2% of the vote in a crowded field for the primary, and Feldstein Soto trailed with 19.9%. She is favored by the L.A. Times, the L.A. Democratic Party, and Planned Parenthood, while Gill is endorsed by a number of unions, civic organization, L.A. Progressive, and a host of elected leaders, mostly identified with the left-progressive camp (such as Congressmembers Ami Bera, Ro Khanna, and Ilhan Omar).
The choice seems to come down to, as one respected election student put it, "a well-grounded and sensible person who wants to serve and has no ambition for higher office" (Soto), and a more far-seeing progressive in Gill who "has the right prescriptions to the inequalities facing Angelenos," in Minnesota Attorney General Keith Ellison's words.
The fight for Controller of the City of Los Angeles is also highly competitive, between lifelong politician Paul Koretz and a radical upstart, first-generation newcomer, Filipino-American Kenneth Mejia, who bested Koretz in the primary by a shocking almost 20-point spread (43.1% to 23.7%). The County Fed endorses its old friend, City Councilmember Koretz, and L.A. Progressive endorses Mejia—and so does the L.A. Times!
Koretz has been a mild-mannered, consistent progressive voice, a pro-labor political figure for decades. He has further endorsements from many of his colleagues in city and state government who know him well. The main criticism against him is that he just seems to term out of one position after another and is always seeking his next one.
Mejia is a firebrand, an erratic "loose cannon" in many people's eyes, who once, when he was an active Green, denounced Joe Biden as "a racist and a rapist." His supporters have raised loud protest in City Council sessions. In his new incarnation as a candidate—and he is a Certified Public Accountant, which would seem to suit him for the job—he has received impressive endorsements from officeholders, community activists, and organizations, and a couple of unions (ILWU and Public Defenders). This is another race where voters will have to do their homework to decide.
For Los Angeles City Council, Katy Young Yaroslavsky is widely favored in District 5, with endorsements from the County Fed, the L.A. Times, and L.A. Progressive. Her opponent, Sam Yebri, has police union endorsements and is supported by apartment owner organizations, which in a high-rent city like L.A. is definitely not a good indicator of being a sympathetic ear at City Hall.
In Dist. 11, Erin Darling, endorsed by the retiring Mike Bonin, is trending well against Traci Park, a hardliner on homeless removal who disses them both as being too liberal; in Dist. 13, Hugo Soto-Martinez, a leader of UNITE HERE Local 11 who was active with DSA and at least at one time said he is a police abolitionist, is trying to unseat incumbent Mitch O'Farrell—the L.A. Times endorsement calls on Soto-Martinez as "a new, smart voice to a City Council that desperately needs new voices. He's a longtime union leader skilled at forming coalitions and wading into tense situations to find common ground."
And in Dist. 15, the County Fed and the Times endorse Tim McOsker. In this race, new evidence came to light over longstanding wage claims against his opponent Danielle Sandoval, whom the Times had initially endorsed.
For the Los Angeles Board of Education, the County Fed, and the L.A. Times, endorse María Brenes in Dist. 2 and Kelly Gonez in Dist. 6.
For four seats on the Los Angeles Community College Board of Trustees, County Fed, the L.A. County Democratic Party, the L.A. Times and the Los Angeles College Faculty Guild Local 1521 endorse Steven Veres (Seat 2), Sara Hernandez (Seat 4), Gabriel Buelna (Seat 6), and Kelsey Iino (Seat 7).
See part 2 tomorrow for a rundown on the measures and propositions that will appear on the ballot.