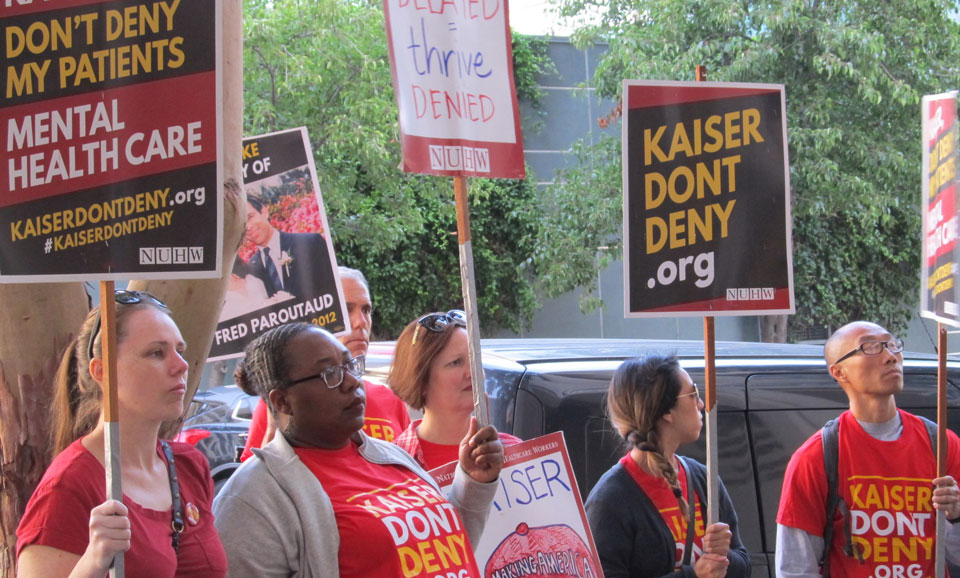 OAKLAND, Calif. – After almost 12 months without a contract, some 4,000 Kaiser Permanente mental health clinicians in California, and their union, the National Union of Healthcare Workers, are continuing to demand that the giant health care corporation establish the conditions the clinicians need to care for their patients in a timely and effective manner.
After starting their day Sept. 17 with a 6 a.m. picket line in front of Kaiser's Northern California Regional Headquarters here, dozens of psychologists and other clinicians were joined by patients, community and labor supporters who rallied to urge the giant health care corporation to provide its mental health patients the same prompt, quality care it provides those with physical complaints.
Mickey Fitzpatrick, a psychologist at Kaiser's facility in nearby Pleasanton and a member of NUHW's bargaining committee, outlined the problems he and his colleagues face. At Pleasanton and Kaiser's other northern California clinics, he said, schedules are routinely fully booked many weeks in advance, forcing patients to wait as long as six to eight weeks for a return appointment.
Fitzpatrick said he and his co-workers are so desperate to help their patients that they skip lunches, work overtime and cut short other essential functions in order to do the needed clinical work.
"Kaiser has $46 billion in cash and reserves," he said. "Yet it chronically understaffs its mental health clinics. Even when it tries to hire more therapists, it can't keep up with its growing membership and replace the therapists who are leaving in frustration because they can't provide the care they know their patients need."
Signs carried by rally participants told of the tragic consequences the delays have had for some patients.
Jennifer Shanoski, president of the Peralta Federation of Teachers and a teacher of chemistry at Oakland's Merritt College, told the crowd, "I've seen first-hand how mental health challenges can get in the way of learning, teaching, parenting, and simply living a decent life here in the San Francisco Bay Area. I've seen my students struggling with stressors – school, relationships, and survival in an economy so obviously geared for the super-wealthy."
Noting that nearly half of U.S. adults will seek mental health services at some time in their lives, she shared her own story of seeking care for herself and her young son, only to finally end up paying for private care because of Kaiser's delays.
"I know I'm fortunate because I could afford to pay those costs," Shanoski said. "Not everyone can, and no one should have to. And when people can't pay, that can lead to tragedy."
Laura Fischler, a social worker at Kaiser Pleasanton, spoke of the problems patients face when they try to use the telephone service Kaiser has introduced in an effort to cut wait times. One such client "disclosed to me that he had attempted to hang himself in his garage, and didn't feel comfortable telling the therapist on the phone about that," she said. "He had decided before meeting with me, that if it didn't go well, he knew where there was a gun in the house."
Every Kaiser therapist's biggest fear, she said, is that while coping with long wait times between therapy sessions, one of their patients will take a tragic action the therapist did not foresee.
Meanwhile, mental health staff at Kaiser's clinic in nearby Pleasanton were holding a one-day strike on behalf of their patients.
The mental health workers chose Sept. 17 for a day of action because, they said, Kaiser had given them an ultimatum: Either agree by that date to accept the same substandard contract that two months ago, 92 percent of them had voted to reject, or lose a 3 percent retroactive pay increase covering the year they have been working without a contract.
Kaiser had also rejected a counter-proposal from the mental health workers, to significantly reduce wait times by hiring additional full-time clinicians, to establish crisis services at every clinic, and give clinicians enough time to conduct critical patient care work including following up on referrals, responding to patients' calls and communicating with social service agencies.
In a statement Sept. 16, NUHW President Sal Rosselli called the health care giant's rejection of the union's offer "a blatant attempt to intimidate workers into ratifying a contract that doesn't go far enough to improve Kaiser's mental health care system," and "further evidence that executives at Kaiser's health plan and The Permanente Medical Group don't care about addressing the giant HMO's mental health crisis or respect their mental health clinicians."
It's already been a long road for the clinicians.
After working without a contract starting in October 2018, they held a week-long strike in December. In June they called off a threatened open-ended strike following progress in bargaining, and in response to California legislative leaders' urging both sides to return to the bargaining table.
In a survey their union conducted earlier this year, 71 percent of Kaiser clinicians said wait times for treatment appointments have grown longer over the past two years, and more than three-quarters said they must give patients return appointments further into the future than is clinically appropriate.