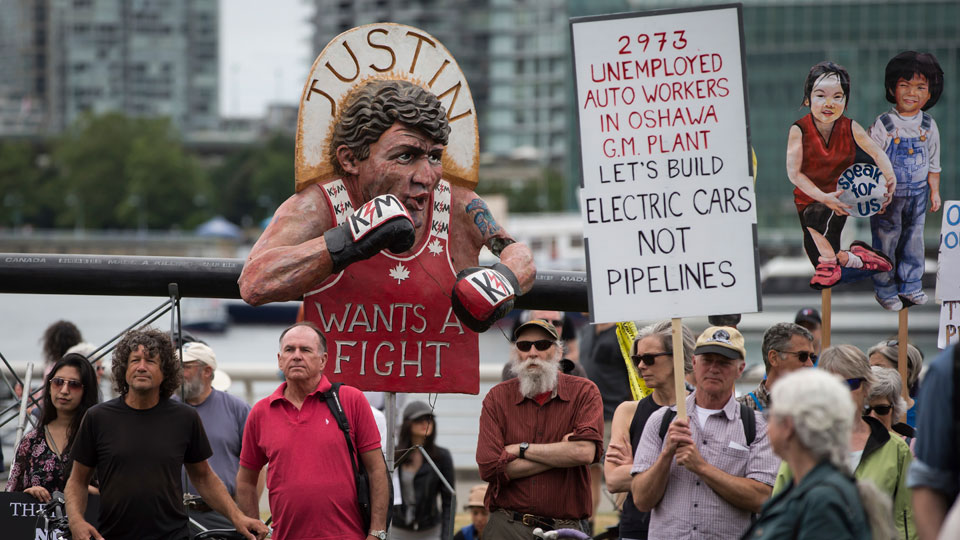 CHICAGO—Canadian Liberal Prime Minister Justin Trudeau's decision to build a controversial pipeline to transport Alberta's heavy, polluting tar sands oil to a port on the British Columbia coast is a top broken promise to the Canadian people, Communist Party of Canada leader Liz Rowley says.
It's also symbolic of many other broken promises by the ruling Liberals, she adds. And the party must answer for them in the run-up to this fall's nationwide parliamentary election.
Rowley went into the details of both the pipeline and the other promises—along with the Canadian CP's own platform—in an extensive interview with People's World on June 23 during the Communist Party USA's convention in Chicago. Rowley was one foreign guest during the 3-day conclave. Others came from Vietnam, Iran, Iraq, Venezuela, Puerto Rico, Japan, and Portugal.
Trudeau's government bought the pipeline right-of-way months ago, but lawsuits delayed its construction decision. The pipeline has drawn enormous opposition nationwide, including protests by the First Nations, environmentalists, the B.C. government, and the Communist Party.
"If you don't fight, you're going to lose everything," Rowley warns.
The pipeline is an environmental problem, but the oil it would transport is even more so: Alberta's heavy tar sands oil, along with the chemicals used to extract it, would add thousands of tons of annual emissions of greenhouse gases, which are responsible for global warming, to the atmosphere.
Alberta is so totally oil-dependent that many Canadians call it "Texas North," according to Rowley. It is run by a right-wing Tory (Conservative Party) government that strongly supports the pipeline to the B.C. coast.
The controversial Canadian pipeline has a U.S. angle, too. Environmentalist opposition and legal hang-ups threatened approval of the equally controversial Keystone XL pipeline from the Alberta-Montana border to Guthrie, Okla., and thence to U.S. Gulf Coast oil terminals.
Environmentalists, the CPUSA, and some U.S. unions—led by National Nurses United, the Steelworkers, and the Amalgamated Transit Union—opposed Keystone for the same reasons involving the negative environmental impact of extracting the tar sands oil.
Building trades unions, especially the Teamsters, the Laborers, the Operating Engineers, and three other unions who signed a project labor agreement for unionists to build Keystone strongly support its construction. They argue it would create thousands of construction jobs.
The unions which oppose Keystone retorted that retrofitting the nation's homes, schools, public buildings, and infrastructure could create many more jobs than pipeline construction would. Democratic President Barack Obama rejected Keystone XL's Montana-Oklahoma leg. Republican President Donald Trump reversed Obama's decision and approved Keystone. Environmentalists are fighting that decision in court.
But the environmentalist, CPUSA, and U.S. labor opposition to Keystone led its sponsor, TransCanada, to threaten to build a pipeline to the B.C. coast to transport the tar sands oil to tankers which would take it to Asia. That's the pipeline Trudeau's government approved.
"There's been massive opposition to the government's decision, and it'll hit them (the Liberals) in the election this fall," Rowley says. "There is really wide public sentiment that it's a bad idea."
"The pipeline is the big issue" in this fall's voting, she adds. "Indigenous people have had big protests" against it "and there will be more," Rowley predicts. There needs to be "unity of all progressive forces" on the issue.
Unfortunately, Rowley says, the Canadian labor movement is split. She says some Canadian union leaders are too conciliatory. "And there are strike struggles in local workplaces, but they're missing the (national) coordination necessary to win." And while many unions side with the CP, some among Canada's First Nations, the Greens, and other progressives have thrown in their lot with Trudeau and the Liberals.
They support the Liberals, she said, on everything from the pipeline to the jobs-destroying U.S.-Mexico-Canada Agreement, the successor to NAFTA. Trump negotiated the USMCA with the other two nations, though tens of thousands of Canadians say he jammed it down their throats.
The CP opposes the so-called "free trade" pact, too, Rowley adds. Just after it was negotiated, Chrysler announced a third shift layoff in its Windsor, Ont., plant, while GM is closing its Oshawa, Ont., plant, the most-efficient in its system.
The moves slam southern Ontario, the heart of Canada's auto industry, and Unifor, the union of Canada's auto workers. Those jobs, like others under NAFTA, are moving to Mexico. "If you're going to pay $2 an hour in Mexico, you're not going to pay $30 an hour in Canada," Rowley comments. "And Oshawa had a truck plant, too, 10 years ago," before NAFTA killed those jobs.
"Our view is the Canadian government should intervene" before the latest auto moves. If it takes over the plants, it should retrofit them so workers can make electric cars and similar non-polluting vehicles.
Besides opposing the pipeline, the Canadian party's platform of "putting people and nature before profits" includes: A 32-hour week for 40-hours worth of pay, disarmament and a 75% percent cut in Canada's military budget, and guaranteed income and pensions for fossil fuel plant workers who would lose their jobs in conversion to a green economy.
Other Canadian CP platform planks call for developing "secondary manufacturing" in non-greenhouse-gas-producing industries, enacting legislation to mandate advance notice and help for workers suffering plant closures, and an end to mass layoffs.
It also wants to re-regulate Canada's financial sector, which a prior Tory government deregulated. Further, it advocates the reversal of decreases in the corporate tax rate, enactment of an estate tax, and elimination of provisions that let corporations get away with mediation and small fines for outrageous legal violations. "If you're a big corporation, instead of going to jail, you can ask for a fine and that's it," Rowley exclaims.
Her party advocates changing the system of electing members of parliament to a combination of MPs from a nationwide party list and MPs from single districts, called "ridings" in Canada. The Canadian CP will field candidates in 30 ridings, mostly in and around major cities such as Toronto and Vancouver this fall.
One overriding issue among the details, however, is Canadian over-dependence on the U.S. economy and multi-nationals—such as the Detroit 3 auto makers—for trade and jobs. "Our economy is skewed because we're next door to U.S. imperialism" and to U.S. politics, Rowley says.
"And they view us as a source for raw materials" such as aluminum and steel for cars and softwood lumber for homes—a source of trade tension between the two nations' governments—"and a market for finished products."
While Trudeau's government broke many promises to women, workers, First Nations, and environmentalists, the alternative—the Tories—would be worse.
Rowley says the Canadian equivalent of the U.S. "tea party," which co-opted and now runs the GOP, has taken over what used to be known as the Progressive Conservative Party. "The Conservatives are very anti-immigrant, anti-woman, and anti-Muslim," Rowley explained. "Part of this is driven by developments here" in the U.S. "A lot of those little fascist groups came out of the woodwork" in Canada, too," she notes.
Meanwhile, the country's social democratic party, the NDP, has been floundering since the death of popular leader Jack Layton in 2011. The labor-backed party has been characterized by wavering policies in the recent period, something that led to it losing official opposition status in the 2015 election. It bled many voters to either the Liberals or smaller parties. One of the latter, the Canadian Greens, Rowley adds, are "a mixed bag": Good on environmental issues, such as opposing the pipeline, but sketchy on others.