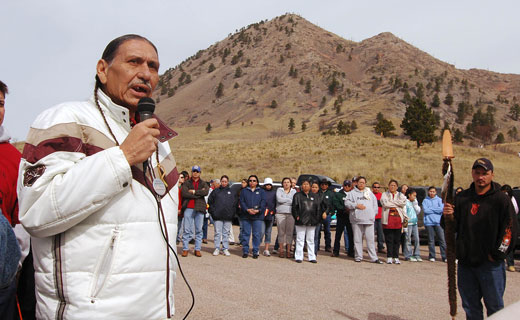 As a fighter for Native American rights for the last 40 plus years, Carter Camp stood tall to all who knew him or knew of him. In Indian Country his name was a household word to all those committed to "The Cause. " His role in the movement for American Indian rights was truly selfless and heroic.
After decades of struggle, Camp died Dec. 27, 2013 on tribal land in White Eagle, Okla. He was 72.
Carter Camp was a Ponca tribal member and a national leader of the American Indian Movement (AIM) in the late 1960s. The movement, which began in order to protest the ongoing disgraceful treatment of American Indians and federal government refusal to honor its treaties with Native nations, took direct action to focus national attention on Native American issues. Camp joined AIM when it was founded in 1968 and organized over 30 AIM chapters in Oklahoma and Texas.
Camp took a leading part in the protests of the time, including the Trail of Broken Treaties in 1972 to demand enforcement of the treaties by the U.S. government. This resulted in a takeover of the Bureau of Indian Affair in Washington, D.C. The very next year Camp and fellow AIM leaders Russell Means and Dennis Banks were involved in organizing the Wounded Knee occupation in South Dakota. Camp led the first group of warriors into Wounded Knee. This was an honor in itself – the honor of being chosen to go first. The Native freedom fighters were besieged for 71 days by federal forces – the FBI, federal marshals – and by government-organized paramilitary gangs, armed to the teeth, including the use of armored personnel carriers ( APCs). This protest resulted in loss of life on both sides, both Native and non-Native. Camp was chosen war chief in charge of defenses for the movement.
After the tumultuous AIM years Camp remained involved in Native issues and environmental justice causes. In 2009 he was a participant in the highly praised PBS series "American Experience: We Shall Remain – Wounded Knee."
About a year ago Camp was told he had only a few months to live because he had cancer that had metastasized to his lungs, kidney and liver. But, a warrior to the end, he led the opening ceremony in March 2013 of the first Great Plains Tar Sands Resistance Camp near Ponca City, Okla. This was in opposition to the proposed Keystone XL pipeline, which he vehemently opposed. The Keystone project would transport toxic Canadian tar sands oil through the Great Plains to Oklahoma and on to the Gulf Coast. Camp also led protests against waste dumps on Indian lands.
For over 20 years he was an organizer and active participant in the yearly sacred Sun Dance on the Rosebud Indian Reservation, with Leonard Crow Dog, also a Wounded Knee veteran. Camp also organized protests against the Lewis and Clark re-enactment in 2004. He said the re-enactment of the Lewis and Clark Discovery Expedition was re-enacting the genocide of native American people. The protest charged that Lewis and Clark opened the door to the slaughter of Native people. Camp called the re-enactment part of the "American Lie." Protesters gave the Expedition a symbolic smallpox blanket. Camp also led protests in 2006 against a proposed biker bar at Bear Butte, a sacred site near Sturgis, S.D.
Camp came from a working class background. His father, Woodrow Camp, was a staunch trade union activist. Following in his footsteps, Carter worked as an electrician in a factory in Los Angeles and served as a shop steward for the International Brotherhood of Electrical Workers (IBEW). He was later elected business agent for IBEW.
His lifelong struggle was as an uncompromising advocate for peace, freedom and social progress and in particular for the rights of his beloved and long oppressed Indian people.
Although I never met Carter personally, some years ago I received an email from him asking if he could use an article I had written on the inaccurate theatrical portrayal of a monstrous historic arch-enemy of Native people. I of course immediately replied he could use the column in any way he saw fit. I felt greatly humbled and honored at his request. He was one of my heroes.
Carter Camp let the world know that the spirit of Native American people was "unconquered." He walked on as valiant warrior and an elder statesman of the Native American Liberation Movement. His work must be carried on.
Photo: Carter Camp speaks to a group of American Indians and others protesting a proposed biker bar near Bear Butte, rear, a sacred site near Sturgis, S.D., April 4, 2006. AP/Doug Dreyer