LOS ANGELES, Calif.—The Skirball Cultural Center is currently hosting the most comprehensive museum presentation ever on the great American artist and political progressive Leonard Bernstein. It celebrates the centennial of his birth on August 25, 1918.
Leonard Bernstein at 100 is curated by the GRAMMY Museum, and this is the exhibition's West Coast debut. It is on view through September 2, 2018.
Global attention on the composer-conductor-educator has been spiked by the recent announcement that a forthcoming biopic on the maestro, The American, will feature the actor Jake Gyllenhaal as producer and star.
Through more than 150 objects—photographs, papers, scores, correspondence, costumes, furniture, and films, as well as interactive displays—the retrospective explores half a century of activity by the renowned American composer, conductor, pianist, and humanitarian, who dedicated his life to making classical music a vibrant part of American life. The exhibition does not shirk in touching on his role as an engaged citizen who lent his voice to many social justice causes.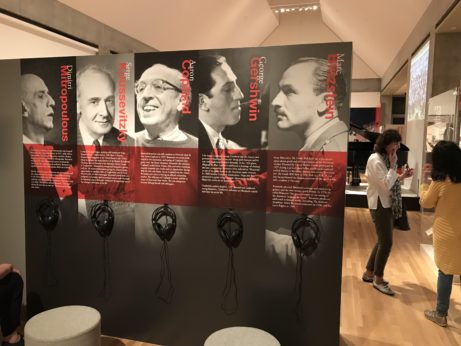 "As an institution committed to celebrating American democratic ideals and promoting social justice," says Robert Kirschner, Skirball museum director, "we are inspired by Bernstein as a cultural figure who used his prominence to advance intercultural understanding and the cause of equal rights for all Americans."
The sponsors apparently spared no expense in amassing and shipping scores of objects from every phase of Bernstein's life to display in Leonard Bernstein at 100. A few of these include his childhood piano, the desk on which he composed his most famous work, West Side Story, his undergraduate transcript from Harvard University (where I was surprised to see that he did not receive all A's, not even in his music courses), the program of Bernstein's first, unannounced appearance as 25-year-old conductor of the New York Philharmonic, reported the next day on the front page of the New York Times, costumes, posters and programs for his many musicals and his single film score for On the Waterfront, and much more.
One endearing exhibit is of a broken conducting baton. Bernstein's wood baton was offered to the up-and-coming young conductor Gustavo Dudamel for his appearance with the New York Phil on Dec. 4, 2007. In the last seconds of performing Prokofiev's Fifth Symphony he accidentally shattered it, as he recounts in an accompanying video. A display case shows the broken pieces.
Bernstein was born in Lawrence, Mass., to two Russian Jewish immigrants, Sam and Jennie. Sam was in the beauty and hair products business, and one of his futuristic permanent wave machines is on display here. At the local synagogue to which the family belonged, Lenny—as he would become universally known to family and admirers alike—was drawn to the cantor's liturgical music. Piano lessons followed, and in short course it became apparent that here was a highly gifted student capable of absorbing every musical lesson thrown at him.
As his 1939 graduation project from Harvard, Bernstein led from the piano a production of Marc Blitzstein's radical labor opera The Cradle Will Rock, which he had seen in New York. Blitzstein, a Communist Party member, became an important mentor to young Lenny, not only musically but also politically. For the next decade and more, as his renown grew, Bernstein's name appeared on mastheads of left-wing activist committees, many of them with clear links to the Communist Party. The FBI took note: On display is their hefty file on the socially conscious conductor-composer.
After World War II, before the Cold War settled in for good, but already as the blacklist was beginning, the Communist Party, through various mass organizations, helped to convene a 1949 Cultural and Scientific Conference for World Peace at the Waldorf Hotel in New York City. World-famous Soviet composer Dmitri Shostakovich attended. Life magazine published a two-page spread with photos, claiming 50 "Dupes and Fellow Travelers Dress Up Communist Fronts." Bernstein appeared among them. That issue of Life, open to those photos, is on display here. Bernstein had been active, with Blitzstein, Aaron Copland (another of his mentors and lifelong friends) and others in the short-lived post-war American-Soviet Music Society, which aimed to build on the wartime alliance for a future of peaceful coexistence and cultural exchange.
In 1953 the State Department refused Bernstein's passport application, citing suspected Communist ties. Bernstein at 100 cites a payment of $3500 in legal fees to get the ruling reversed, but the story is more complicated than that. High executives in the recording and concert promotion industry helped persuade the U.S. government that if Bernstein wrote a private "confession" of having been misled by his friends, he could be cleared and soon become an internationally recognized symbol of American prowess in the arts. The score to On the Waterfront, directed by HUAC songbird Elia Kazan and dealing with the subject of informers, was Bernstein's signal to the Commie-hunters that he had "reformed."
Not long after, Bernstein became musical director of the New York Philharmonic, the first American-born and -educated person in such a position, who went on to lead over one thousand concerts with the orchestra, the first conductor to do so. By the end of his career he also recorded over 800 albums with the New York Phil and many other orchestras.
The political reconciliation was confirmed very shortly, by a 1958 goodwill tour of the New York Phil to Latin America, partially funded by the State Dept. The following year, the Phil toured the USSR, also sponsored by the State Dept. Bernstein programmed Russian and American works, echoing the ideals of the defunct American-Soviet Music Society from a decade before, including the Shostakovich 7th Symphony ("Leningrad"), with the composer in the audience.
A household name
One of the many ways in which Bernstein changed the culture of music in America was through his televised Young People's Concerts with the New York Philharmonic. Aired on CBS from 1958 to 1972, these programs made Bernstein a household name and influenced an entire generation of young musicians and music lovers with his articulate though accessible and not dumbed-down presentation of complicated subjects. He demystified music with his nonjudgmental view of musical genres, underlining his belief that there are no superior forms of music. He would compare concert music to popular song (often singling out performers of color) to emphasize that there is better and worse music in every style and in every composer's output.
As the blacklist receded Bernstein returned to prominence as an activist, championing civil and human rights, using his musical genius and celebrity status to fight for worthy causes. He and his wife, the Chilean actress Felicia Montealegre, hosted a gathering at their prestigious Central Park West apartment, to raise money for the embattled Black Panther Party in 1970, a time when the BPP was nearly at war with the police in America. The event was picketed outside by the Jewish Defense League, who considered the Panthers to be anti-Zionist. For this Bernstein received much criticism, including an attack by the writer Tom Wolfe in his long article, "Radical Chic." On Jan. 19, 1973, he led "A Concert for Peace" at the Washington Cathedral, reminding the nation of the newly re-elected President Nixon's continuing war against Vietnam.
Apart from the momentary compromise in the early 1950s, Bernstein stood by his convictions until the end of his life, rarely caving to cautiousness. The awards and honors bestowed upon him over the years attest to this.
Although married to Montealegre, Bernstein clearly had an "understanding" with her whereby she accepted that he was bisexual and enjoyed sex with other men. They remained together for about 25 years, and had three children. He separated from her in 1976, however they briefly reunited before she died of cancer in 1978. From that point on Bernstein became an advocate for LGBT causes, and incorporated some of those concerns into such scores as Songfest: A Cycle of American Poems and his opera A Quiet Place.
In addition to the many objects, Leonard Bernstein at 100 includes a number of interactive exhibits. Visitors can listen to many of his works, and in a vocal booth you can sing the lead part in "America" from West Side Story. Also included are Bernstein home movies, interviews with contemporaries and colleagues, clips of his most noted stage works, segments from the Young People's Concerts, and performances with the New York Philharmonic.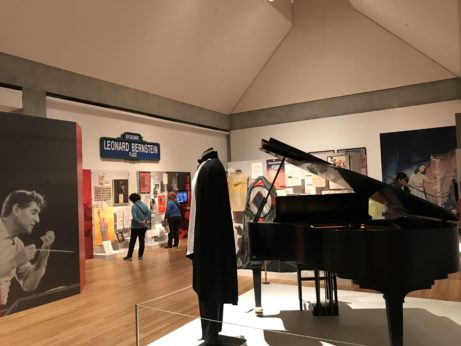 The exhibition also includes information about Bernstein's many connections with Los Angeles and its environs, beginning with his first appearance at the Hollywood Bowl in 1944, and extending to his being honored with a Lifetime Achievement GRAMMY Award at L.A.'s Shrine Auditorium in 1985.
In only one place I question the exhibition's claim. In speaking of Bernstein's 1989 Christmas "Freedom" concert in Berlin, when he led combined musical forces in the Beethoven 9th Symphony substituting the word "Freedom (Freiheit)" for the original "Joy (Freude)," the exhibition calls it "the international celebration of the reunification of East and West Germany," which is not exactly true. The Berlin Wall had come down, and that was the celebration, but formal reunification did not happen until Oct. 3, 1990. Less than two weeks later, on Oct. 14, Bernstein died at age 72.
Leonard Bernstein at 100 debuted in September 2017 at the Kennedy Center in Washington, D.C., then traveled to the New York Public Library for the Performing Arts. After the Skirball presentation, the exhibition will continue to travel throughout the United States for the following two years.
If you go, do yourself a favor and plan to spend another 30 minutes or so at the small Kehinde Wiley exhibition, which includes two paintings and a video. Wiley is the artist Barack Obama selected as his official portraitist. Wiley has traveled the globe searching out subjects in the African Diaspora, and his journey took him to Israel. The two young men he depicts in these magisterial portraits are from the Ethiopian Jewish community. The paintings celebrate their complex identities as Israeli, Jewish and African, transcending stereotypes of nationality and illuminating the multiculturalism that characterizes modern Israeli society.
The Skirball Cultural Center is located at 2701 N. Sepulveda Blvd., Los Angeles 90049. Museum hours are: Tues.–Fri., 12–5 pm; Sat. and Sun., 10 am–5 pm. Exhibitions are free to all visitors on Thursdays. For general information,  call (310) 440-4500 or visit skirball.org.