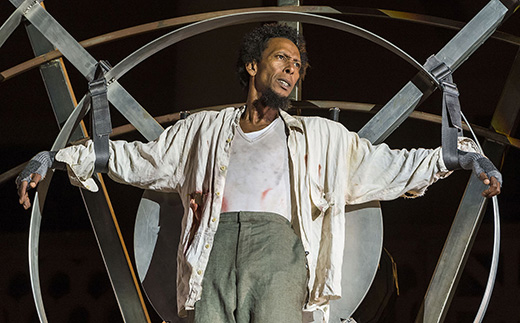 LOS ANGELES — Audiences have but rare opportunities to experience profoundly sublime works that dare to express "the big idea." The Getty Museum, CalArts Center for New Performance, and Trans Arts' co-production of Aeschylus' Prometheus Bound is this southern California theater season's exceptional undertaking of transcendent artistry with insight into and about the human condition and spirit.
This team has transposed a classic written at the dawn of drama into a 21st century context, rendering the ancient avant-garde with some high-tech stagecraft that Aeschylus – and even Zeus himself – would have marveled at. The production loses none of the flavor and potency of Aeschylus' tragedy, first performed around 450 B.C., but rather makes it a modern masterpiece to resonate for contemporary (amphi)theatergoers.
The title character, Prometheus, is one of the godlike Titans overthrown by the Olympian gods, led by their king, omnipotent Zeus. But Prometheus (meaning "foresight") is a trickster. Furthermore, he is exceedingly fond of us mere mortals, and through some sleight of hand bamboozles Zeus into accepting a sacrifice that favors the humans, whom Zeus contemptuously derides as "day-flies."
To make matters worse, Prometheus steals fire from the gods and gives it to humanity, therefore making civilization (not to mention haute cuisine) possible. As our hero says: "I knew when I transgressed nor will deny it/In helping Man, I brought my troubles on me." These "troubles" consist of being impaled by Zeus upon a faraway mountaintop as punishment.
Enter the aforementioned technical wizardry, with Prometheus being shackled to an ingeniously wrought 23-foot-high, 5-ton revolving wheel, the handiwork of scenic designer Efren Delgadillo, Jr.
This wheel of misfortune literally moves the drama forward. The protagonist's onstage movement is essential static. To be sure, the playwright's dialogue (newly translated by Joel Agee) remains among theater's most powerful, but how to deliver these lines without boring the audience to tears in a motionless drama? The wheel brilliantly solves that problem, by allowing the hero, tethered as he is to a rock face, to nevertheless move.
The Greek chorus, comprising 12 multicultural Amazonian dancing actresses, also help to dispel the stasis, using mountain climbing gear to scale and straddle the wheel.
A sort of Che Guevara of antiquity, Prometheus personifies eternal resistance to tyranny, the noble hero fighting racism, oppression, and injustice for the "beloved community" of liberation. In a canny bit of casting, our Getty Prometheus is the Black New York-based actor Ron Cephas Jones. With a strong background in the Shakespearian stage, Jones has also appeared in the new AMC cable TV series Low Winter Sun and the TV movie version of A Raisin in the Sun.
The righteous rage Jones roars as champion of downtrodden humanity rings true in our own age of mass global uprisings. He doesn't merely speak truth to power: He thunders it.
There was a direct connection between Greek theater and democracy. Of course, like our own blemished version of it, Greek democracy also included slavery, so it's no wonder that the theme of revolution rears up in Greek plays. Indeed, Aristophanes' Ecclesiazusae (Women in Parliament) is a comedy about a communist revolution led by women and written in 392 B.C. – a mere 2,240 years before The Communist Manifesto.
Space does not permit adequate acknowledgment of the rest of the 18-strong ensemble. The great circular contraption is, to be sure, a co-star, as is the Getty Villa's Greco-Roman architecture. Perched upon Malibu bluffs above the Pacific Ocean, the glorious 500-seat amphitheater is an ideal place to see Greek tragedy – under the stars, just as Grecian audiences did.
How did antiquity's audiences react to a drama, which daringly took their paramount god to task? Those interested in finding out more about Athenians' response to Aeschylus' "blasphemy" should attend classicist Mark Griffith's free lecture, "Defying Zeus to Help Humans: What Was Prometheus Thinking?" at 2 p.m., Sept. 21, at the Getty Villa's Auditorium.
But before doing so, have the foresight not to miss Prometheus Bound, a challenge to authority that remains as revolutionary today as it was almost 2,500 years ago. In the meantime, mark my words: The Promethean spirit of revolt is coming soon to a theater near you!
Prometheus Bound plays through Sept. 28 on Thursdays, Fridays and Saturdays at 8 p.m. at the Getty Villa, 17985 Pacific Coast Highway, Malibu. For more info: (310) 440-7300; www.getty.edu.
(Ed Rampell's interview with legendary Greek film director Costa-Gavras is in the September issue of The Progressive magazine.)
Photo: Actor Ron Cephas Jones stars in "Prometheus Bound." The Getty Trust