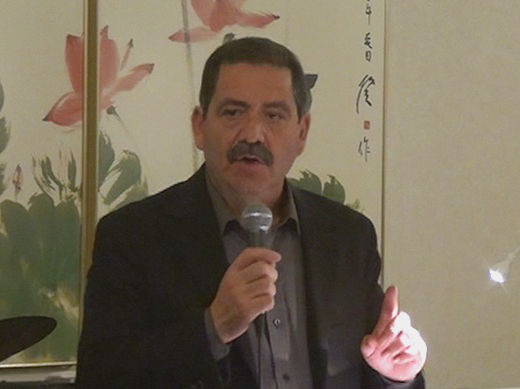 CHICAGO – Speaking at the People's World 28th annual gala here, Cook County Commissioner Jesus "Chuy" Garcia speculated that to help the re-election campaign of Mayor Rahm Emanuel, authorities suppressed a video tape showing a police officer murdering an African-American teenager over a year ago.
The youth, Laquan McDonald, was killed by Chicago Police Officer Jason Van Dyke, who at the time claimed McDonald was threatening him with a knife.
The incident occurred during the time Mayor Emanuel was running for re-election and was being challenged by Garcia and several others. The election was so close, the city held a run-off between Garcia and Emanuel.
Emanuel won.
However, polls show that if the video tape, made by a dashboard cam, had been released before the final vote, Emanuel might have lost.
The tape contradicted Van Dyke's story. It showed McDonald walking away when Van Dyke opened fire from some three feet away. He shot McDonald 16 times.
As a result of the tape being seen by the public, Van Dyke was charged with first degree murder and the Chicago police commissioner was fired.
Evidence indicates that Emanuel knew what was in the tape but aided a cover-up. The tape was released only after a massive campaign demanding that it be shown to the public.
At the People's World gala, Garcia said "It's very interesting to me that as more and more reporters begin to do their homework about the circumstances surrounding the video, it sure looks like it was concealed from the public because of its potential impact on, yes, Chicago politics."
Garcia continued, "I'm one that rarely looks back at what has happened, I do know that the people of Chicago feel that they were denied an opportunity to know and understand how this mayor functions and the extent to which he will stoop to protect his political hide and the status quo in Chicago."
Garcia said he thinks that the people of Chicago should have the right to recall Emanuel and to hold a new election.
He said "There ought to be a mechanism by which to say 'we take it back', we have buyers remorse, we were sold a bill of goods and all those goods turned out to be faulty, we want a refund".
Illinois State Representative LaShawn K. Ford has introduced a bill in the Illinois State House to recall Emanuel, a move that Garcia lauded to cheering participants in the gala.
Garcia said, "Ford who, by the way, did not endorse me in my Mayoral candidacy, has seen enough to move him to say that the people of Chicago have been defrauded.
The bill changes a 1941 law and creates a procedure for voters to demand Emmanuel's ouster.
According to an interview on CNN, Ford was reluctant to introduce the legislation, but did so in response to growing demonstrations in the streets of Chicago.
Within 24 hours of Garcia speaking at the gala, a Cook country judge acquitted a police officer who shoved his pistol down the throat of a detained man. The officer denied doing so, but DNA evidence proves he did.
As incidences of unpunished police misconduct continue to grow in number and gain exposure, so too will the demand for real reform. The call for a community board to oversee police activities is growing in Chicago.
Video by Earchiel Johnson, People's World, shows more of Garcia's remarks at the People's World fundraising gala.