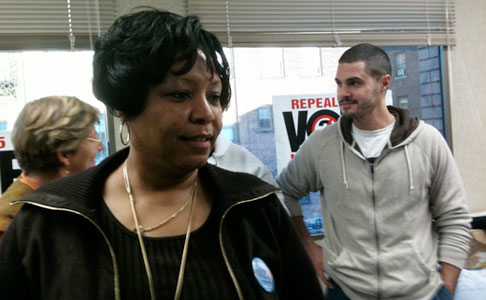 CLEVELAND – The civil rights movement and the labor movement have joined forces in a statewide campaign to get African-American voters to the polls Nov. 8, to restore union bargaining rights in Ohio by voting "No on Issue 2."
A "No" vote on Issue 2 is a vote to repeal SB-5, Republican Governor John Kasich's statute that strips public employees of their collective bargaining rights.
Davida Russell, vice president of the 38,000 member Ohio Association of Public School Employees – half their membership is African American – told the World the public school bus drivers and custodians in her union are knocking on doors and phone banking to repeal the union-busting law. OAPSE is affiliated with the American Federation of State County and Municipal Employees.
"SB-5 is hitting us harder than anyone else," she said. "It will put us on welfare. Our members, mostly single women, already work two or three jobs because their pay is so low."
She has been assigned to coordinate the drive in Cuyahoga County which includes Cleveland. "We have 400 of our members signed up to go out for the four day get-out-the-vote drive leading up to Nov. 8. All of them are African Americans. It's easy for them to identify with struggle. Struggle is the history of the African-American people."
A victory in repealing SB-5, she said, "will have a huge impact. It will spill over into the 2012 election, Presidential and Congressional elections next year. It will motivate us even more to remove the Republicans from Congress, to 'send the devils back to hell,' " she said with a chuckle.
A few minutes later, she joined AFSCME Sec.-Treasurer Lee Saunders in an impromptu rally in a conference room of the Cleveland AFL-CIO. Saunders fired up the crowd to hit the streets, get-out-the-vote to repeal SB-5 and deliver a swift kick to Gov. Kasich's hindside on Nov. 8.
Greg Moore, sent in by the NAACP Voter Fund, told the World "This is the strongest labor-civil rights partnership I've seen in a long time."
A victory in overturning SB-5 Nov. 8 "will send a signal to legislators who want to impose their anti-worker, anti-voting rights legislation on the nation that they do so at their peril," Moore said.
William H. Nix Sr., president of Amalgamated Transit Union Local 268, told the World that members of his union drove 39 buses to 30 Black churches during the month of October, transporting a total of 2,661 mostly African-American voters to the Cleveland Board of Elections to "Vote NO on Issue 2." "We were getting the souls to the polls, confronting evil, trying to get the billionaires to learn good," Nix said.
A recent Quinnipiac poll showed that 76 percent of African Americans favor repeal of the measure.
The GOP-dominated state government outlawed early voting at election boards scheduled for the last Sunday before the election. Thus, Sunday, Oct. 30, was the last Sunday that voters could cast their ballots early at the Board of Elections in Cleveland, although early voting will continue on weekdays through Friday, Nov. 4.
Nix said the labor movement redoubled its efforts to bus people to the polls for the Oct. 30 early voting.
"Voting is so important," Nix said. "This is a fight against corporate greed, against those who are trying to take away our collective bargaining rights. The Republicans want to balance the budget on the backs of America's working people. Its time for the millionaires and billionaires to pay taxes the way we do. We are the 99 percent and they don't want us to be heard."
Marian Garth-Saffold, chairperson of the Coalition of Black Trade Unionists (CBTU) in Cleveland and a veteran member of AFSCME, said the CBTU is part of the Ohio Unity Coalition that is working together to turn out the vote. "The Republicans are doing everything they can to keep people from voting," she charged.
For the first time in many election cycles, the Board of Elections has been forbidden to send out automatic applications for absentee ballots. "People weren't aware that those applications are no longer being mailed out automatically," Garth-Saffold said.
In previous election cycles, the application was sent out automatically with a "postage paid" envelope for people to send the application back in. The absentee ballot, itself, was also "postage paid." Now it also costs people 44 cents postage to send in the application and then another 64 cents postage to send in their ballot after they get it. Banning early voting the Sunday before the election is also designed to suppress votes, she said.
"Most of us started with low pay jobs like hospital workers and sanitation workers," she said. "They worked their way up through negotiations, through collective bargaining. That's why we are out educating voters, asking them if they voted early, asking them to get to the polls and 'Vote No on Issue 2."
Photo: Davida Russell, a leader of the GOTV campaign. Tim Wheeler/PW