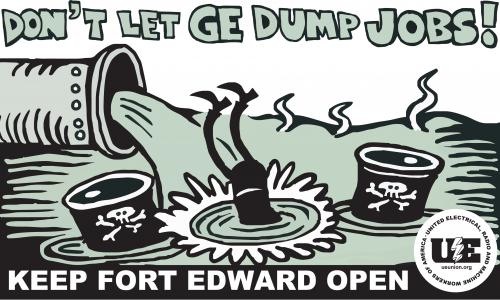 FORT EDWARD, N.Y. – General Electric recently announced that it slated the closure of its plant here and intends to move the remaining plant operations to an undisclosed site in Clearwater, Fla. GE's Fort Edward plant gained nefarious fame when company officials ordered the dumping of cancer-causing PCBs into the Hudson River, thus creating the largest Superfund cleanup site in the nation by area.
The intended closure triggered a 60-day bargaining period with the workers and their union, the United Electrical Workers. Union Representative Chris Townsend said, "We are one week away" from the end bargaining period on this intended closure. The union requested a 30-day extension. To date, GE has stalled providing requested information so that "we may engage in good-faith bargaining," Townsend said. As a result, the UE filed unfair labor practice charges with the National Labor Relations Board.
Political pressure to keep the plant open is growing. Democratic Senator Chuck Schumer recently went on the record in a communiqué:
"GE has made a poor decision regarding this plant, and I have told them so. The 200 men and women who work there have been turning out a quality product at this plant for decades-they deserve better, and GE should find a way to keep them working. Here or nearby. As the company continues to clean up the Hudson River, I urge them to recommit to the future of this plant and reconsider this announcement."
Schumer's remarks have been echoed by Fort Edward's Mayor Matt Traver, a Republican. Townsend says the community will be devastated if the plant closes. He urged all supporters of the campaign to view this as a "full blown community effort to save good paying jobs," rather than a partisan issue. Although Schumer and Traver have put 200 families ahead of party politics there needs to be a stronger insistence by the "entire" New York delegation of elected officials, according to Townsend.
GE's claim that this closure is necessary to cut costs runs contrary to the giant corporation's CEO, Jeff Immelt, who reported in GE's recent third-quarter earnings conference call "that business is good," and that "profits are up" in all sectors of the company.
As recently as last week the union offered to seek out an additional $25 million in additional public funding to finance machinery improvements, as well as offering to reduce the payroll by 20-hourly positions through early retirement incentives. Rank and file ratification and endorsement of the proposal is slated for this week. Company spokesperson Chris Home said, "Upon completion of the bargaining process, we will fully review and consider all information and proposals provided and we hope to make a decision shortly thereafter."
However, observers note, this is a seemingly steep price to pay to a company that has already received enormous public assistance from New York taxpayers, only to repay them with job cuts, relocated factories, devastated communities and a poisoned Hudson River. Not exactly a track record for a company to boast how it "brings good things to life."
For more information and updates on this campaign, please visit the UE website at http://www.ueunion.org.
Mr. Long is a freelance writer from the Hudson Valley Region of New York State.
Photo: via UE