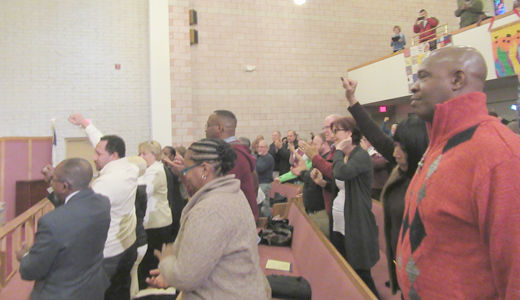 BLOOMFIELD, Conn. – On Jan. 16, a diverse group of labor, community, and civil rights organizations came together to pledge to continue Dr. King's fight to promote democracy, and to end racial and economic inequality.
The event, titled "A Celebration of Unity, Equality & Democracy," was held at the Bethel AME Church in Bloomfield, CT.
Participants came not only to celebrate the life of Dr. King, but also to commit to building a more just and inclusive society. The diverse group of people that attended pledged to work together and hold leaders accountable on five key themes. These included good jobs and fair wages; universal access to quality public education (preschool to graduate school); a vibrant and fairly funded public sector; racial, gender, and ethnic justice; and democracy in our state and in our workplaces.
Bilal Sekou, the chair of the good-governance group Common Cause Connecticut, served as the master of ceremonies for the event. He began by connecting Dr. Martin Luther King, Jr.'s vision of a just and equal society to the challenges facing the nation in 2016.
"In his Nobel Peace Prize acceptance speech in 1964, Dr. King said 'I have the audacity to believe that peoples everywhere can have three meals a day for their bodies, education and culture for their minds, and dignity, equality, and freedom for their spirits,'" said Sekou. "These days, we see the middle class shrinking, wages stagnating, voting rights under attack, and black and Latinos facing high unemployment and diminished economic opportunities. If we are to achieve Dr. King's audacious vision, people from all backgrounds need to unite together in a common struggle."
Yale University professor Jennifer Klein presented an overview of the struggles for economic and social justice that led to the 1963 march on Washington, the emergence of public sector unions and the empowerment of those on the lower rungs of the economic ladder. Each movement, she noted, worked collectively across class and racial lines, and each had a sense of urgency about their goals. She urged the audience to recommit to that sense of urgency.
The Reverend Scott Marks of the Connecticut Center for a New Economy and New Haven Rising delivered the keynote address. He brought the audience to its feet with his exhortations: "Community, clergy, labor – we have to come together. Together we stand. Together we win."
Among the statements of support issued for the event was a call for unity from New Haven Peoples Center Coordinator Joelle Fishman: "The celebration of Unity, Equality and Democracy uniting civil rights and labor in Connecticut is a beacon of hope for our state and nation," said Fishman. "We come together in the spirit of Dr. Martin Luther King, Jr.'s call for a 'radical revolution of values' to overcome 'the triple evils of poverty, racism and militarism.'"
"If we allow ourselves to be divided by racism, bigotry and fear," she added, "we will be in a race to the bottom. If we join together we can raise everyone up and build a just society that puts people before profits."
Dan Durant, a board member of the Greater Hartford NAACP, helped organize the event. "When Dr. Martin Luther King made common cause with the labor movement, he recognized that the fight for workers' rights and the fight for civil rights were one and the same," Durant concluded.
Endorsing organizations were diverse and ranged from civil rights organizations to labor federations and good governance groups, including the Greater Hartford NAACP, Connecticut AFL-CIO, the New Haven Peoples Center, the Connecticut Alliance for Retired Americans, Common Cause, and the Connecticut Women's Education and Legal Fund.
Photo: Audience responds at MLK Day "Celebration of Unity, Equality & Democracy." Win Heimer