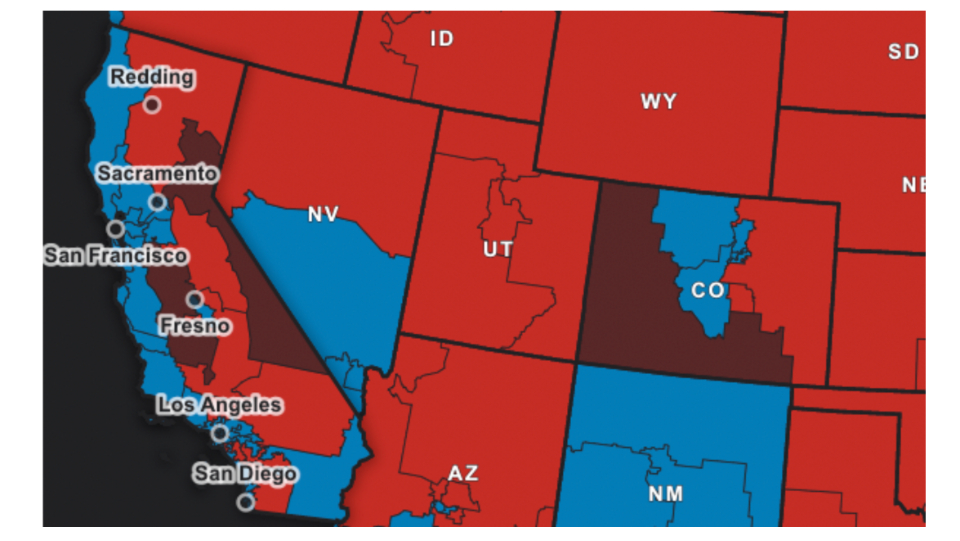 LOS ANGELES—A shroud of inevitability hung over the Congressional races this year, with Republicans fully expected to retake the House. The five seats Republicans needed to flip were easily assured by judges' decisions about redistricting in some cases, especially New York State: Yes, the Republican legislature-drawn new districts were unfair to minority voters, but it was too late to change the lines for 2022.
And then there was the gerrymandering: In Florida alone, Gov. Ron DeSantis managed to carve out as many as four new Republican districts in this cycle, establishing him—and decidedly not Donald Trump, most of whose endorsees lost—as the Republican hero of the day.
But the largest single cache of contested seats lay in the most populous state, California. Days after Election Day, as many as 10 seats (out of California's 52-strong bench) were still undecided. If more of them had gone into the D column, Biden's party might have been able to hold the House and confound the pundits and prognosticators.
As of this writing, most of these seats have been decided, a few others not yet, at least not officially. Let's review them in numerical order, which generally traces a line from north to south in California, and try to offer a preliminary assessment of what happened (or didn't).
CD 3 is one of the oddest-looking districts in the country. It narrowly hugs the California-Nevada state line for almost 450 miles from Plumas County in the Sierra Nevada in the north (just west of Reno, Nev.) all the way down to Death Valley in the Mojave Desert in the south. It is mostly rural with a Republican majority registration. This year's election was for an open seat, pitting Republican Assemblymember Kevin Kiley, endorsed by Trump, against a medical doctor and Navy vet, Kermit Jones. Officially the race not been called, but with a spread of six points, and the vote almost all counted, Kiley appears to have won.
In CD 9, a largely rural area centered by the city of Stockton, incumbent Democrat Josh Harder saved his seat from a spirited contest launched by Republican Tom Patti, a member of the San Joaquin County Board of Supervisors. Though believed to be a close match, Harder pulled ahead with 56.3% of the vote, winning reelection handily.
CD 13 sits in the Central Valley. In the past, Democrat Phil Arballo tried unsuccessfully to unseat local MAGA Devin Nunes, who resigned his seat in order to work for Donald Trump's media platforms, and he ran again in the June primary. But he was beaten out by Republican farm owner John Duarte and Democratic Assemblymember Adam Gray, who faced each other in November. The final count is not yet available, but at last report Gray had only 600 votes more than Duarte, placing him at 50.3% of the relatively low turnout vote over the 49.7% for Duarte.
In CD 22, state Assemblymember Rudy Salas faced the Republican incumbent David Valadao, who had to appeal to a new 45% of voters whom he had not represented in the old, pre-redistricted CD 21. Valadao was one of the 10 House Republicans who voted to impeach former Pres. Trump for inciting the Jan. 6th insurrection, and although he was not disowned by his party for it (which needed to protect his seat) his maverick vote may have served to convince independent voters in his district that he was at least not the worst of the worst. A so far incomplete count has Valadao pretty safely ahead, with 52.4%. Here, too, the turnout was disappointing.
CD 27 was a major loss. This is the district in northern Los Angeles County where in 2020 former state legislator Christy Smith lost by only 333 votes to the MAGA Republican Mike Garcia, a totally right-wing former Raytheon officer. Garcia had the benefit of incumbency, but Smith could have been expected to defeat him since the district had become more Democratic—Biden+12—through redistricting. In the aftermath of the election, Smith lashed out at the Democratic Party establishment, saying, "Our campaign got next to zero outside resources to fight this battle. In fact, I was fighting the institutional power of my own party from the outset of this race…. We didn't stand a chance." The heavily funded Garcia won by over eight points.
Other Democrats who lost were not so vocal in their resentment, but the party also did not make their campaigns a priority. National Democratic Party leaders are feeling the heat over this needless loss and a few others. Maddy Mundy, a spokesperson for the Democratic Congressional Campaign Committee, was quoted, "We had to make tough calls and fully invest in the candidates we believed could not only get close, but win difficult races in California and nationwide." Those choices may have been the most critical factors explaining how the House, by a painfully slim majority, turned Republican.
CD 40 featured a hopeful candidacy by pulmonologist Dr. Asif Mahmood, who went down to defeat. He was unable to upset Young Kim, the incumbent reactionary Republican. The GOP had a 4-point registration advantage, but in the wake of the Supreme Court's abortion decision and of the legislative hearings on January 6th, Democrats thought they might have a chance. Kim won 58.5% to 41.5%.
CD 41 truly showed the power of incumbency—and major Republican campaign dollars vs. meager-to-no support from the DP. Will Rollins tried to unseat longtime right-winger Ken Calvert, but fell short. Calvert squeaked by with 51.8% of the vote. A lifelong homophobe, and now running in a newly configured district that included the city of Palm Springs, largely populated by LGBTQ voters, he was forced to announce his evolution on same-gender marriage and other related issues. He will be watched much more closely in the next Congressional session. It would be no surprise if he faced a rematch with Rollins in two years.
In CD 45, incumbent Michelle Steel, another right-wing Republican who is of Korean background, savagely attacked Jay F. Chen, who's from a Taiwanese background, for being a communist sympathizer. So much for pan-Asian solidarity. Chen is a Navy reserve officer with an impeccable record.
Steel's campaign scandalously photoshopped images of Chen standing before a public school classroom decorated with every communist image and symbol one could imagine, a fantasy based on a school board vote more than 10 years ago to support a Chinese language and culture curriculum in his heavily Asian-American district. Steel aimed her campaign at the strong Vietnamese community, whose anti-communism is almost universal. Her crude package of lies was challenged, but it worked. She won with 53.8% of the vote.
CD 47 was probably the most watched seat in the state. With the loss of one Congressional seat based on the 2020 census, almost every district was redesigned. Nationally famous for her whiteboard and her intense, pointed questioning of corporate execs, Katie Porter was forced to fight to retain her seat in a new district with many more Republican voters. Two out of three voters in the new 47th had not been represented by her previously, so it was like reintroducing herself to an almost wholly new electorate.
Despite being one of the Democrats' most successful fundraisers, money does not always call the shots, and many staunch Republicans in her new district would oppose her no matter who ran on the GOP ticket. Analysts rightly called her race a tossup. Former state lawmaker and well-known leader of the Republican Party in Orange County, Scott Baugh, ran against her as a normative (non-MAGA) Republican, but he was caught short on his anti-abortion stance, a hot topic in this cycle after Dobbs. Though the final count has not yet been announced, Porter was sufficiently ahead, with 50.8% of the vote, and a close to 4,000-vote spread, that the race has been called for her, and Baugh has conceded.
Well known to followers of the 2022 election are the issues that confronted voters, and that the two major parties stressed. Generally speaking, the Republicans' focus on inflation and crime fell flat: Most voters did not blame Biden for them. Democrats relied on the abortion issue to call out to many voters, especially younger and women voters, and in addition had the democracy issue to cite: A vote for Republicans on any level, they claimed, was a vote for MAGA and fascism.
Another factor, cited by Christy Smith, was the strange calculus used for funding Democratic candidates—or not. In many of these races, voter turnout and motivation simply could not depend on the Democratic Party and its various organs. Independent actors had to help win these elections, be they women's or minority groups, environmental, social justice, etc. Perhaps a certain smugness about being Californians dampened these groups' participation, but campaign after campaign could have benefited from a much deeper commitment of funds, phonebanking, postcard writing, canvassing, rallies and other tactics. Progressives and others on the left in general did not correctly identify the centrality of these Congressional elections as necessary to maintaining a Democratic Congress. In some districts, turnout was too low to push the more progressive candidates over the line.
Still, if California did not flip any Republican seats, at the same time it did not see (at this writing) any of its Democratic incumbents go down, and that itself is an achievement.