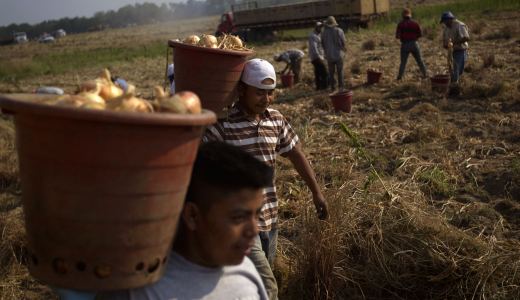 The GOP in Congress is pushing new laws that would force employers to check the immigration status of new hires. Democrats, who argue that the enforcement-only measures are hurtful and wrong, have instead pushed for laws that would combine enforcement with a path toward citizenship. Mandatory immigration checks by employers would hurt businesses, cost American jobs and have a tremendous effect on the agricultural industry, they argue.
House Judiciary Chair Lamar Smith, R-Texas, is spearheading an anti-immigrant measure that would require employers to use the Homeland Security Department's voluntary E-Verify program. E-Verify allows employers to screen hires' identification numbers against the Social Security Administration and DHS database to determine if they are in the country legally.
Leading experts on the matter and immigrant rights supporters said during a May 24 conference call that the costs, drawbacks and legal issues surrounding E-Verify's mandatory enforcement-only policy will have serious consequences.
Tyler Moran, policy director with the National Immigration Law Center, noted E-Verify, which was first introduced ten years ago, has been a central component of every immigration bill since 2005 and was supported both by Democrats and Republicans. But, she added, President Obama and most Democrats say an E-Verify law must include a program that aims to legalize the millions of undocumented workers essential to the American economy.
In 2008, Arizona became the first state to make E-Verify mandatory, says Moran. In fact, half of Arizona's employers are not using it, she said, adding that it's not rooting out immigrants, but it is costing taxpayers way too much.
Craig Regelbrugge, senior director of government relations with the American Nursery and Landscape Association, emphasized agricultural and seasonal workers will be hard hit under mandatory E-Verify. It will lead to unintended consequences: less overall production, fewer jobs, more reliance on exports and will drastically affect the industry that provides the foods we eat everyday, he said.
E-Verify routinely fails to detect good-faith documents and will ultimately screen out the most experienced farm workers, says Regelbrugge. "Over the years E-Verify has failed miserably."
Growers will not survive under E-Verify and will have to switch to lower-value crops or leave farming all together, notes Regelbrugge. "It will suck the economic life blood out of the agricultural industry and negatively affect those that work to feed us," he said.
Speakers explained how E-Verify has negatively impacted businesses, workers, communities and taxpayers in states like Arizona, Florida and Georgia. Activists, they said, should build alliances between business and immigrant rights groups to demand lawmakers oppose E-Verify and measures like it on a local, county, state and national level.
Marshall Fitz, director of immigration policy with the Center for American Progress, said part of the problem is the Obama administration lacks the necessary votes to pass immigration reforms in Congress.
"Immigration is not a black and white issue, and Republicans would like to convince us that the problem is an enforcement-only one," said Fitz. "But E-Verify is not a silver bullet and it actually creates more enforcement challenges than it proposes. It's unquestionably wrong and doomed to fail." It's also alienating the fastest growing voting bloc, Latinos, in the country, says Fitz.
Rep. Smith, the House judiciary committee chair, argues a mandatory E-Verify law would actually grow the economy and is supported by the business community. But this couldn't be further from the truth, speakers on the call said. They claim that under mandatory E-Verify, nearly 800,000 jobs could be lost, along with up to $17 billion dollars in tax revenue. Some 75,000 workers in agriculture and related jobs alone could be at risk in at least five states.
It's likely a mandatory E-Verify bill will pass in the Republican-dominated House later this year. But the measure could face strong resistance from Democrats that control the Senate. Senate Democrats are trying to gain support for the DREAM Act, after re-introducing it earlier this month.
President Obama recently made a speech in El Paso, Texas, renewing his call for overhauling the broken immigration system. He said he would only consider an E-Verify proposal if it included a legalization program that allows unauthorized workers to get right with the law. Republicans, on the other hand, are against any measure that supports a pathway to citizenship.
Photo: Fieldworkers pick onion bulbs on a Vidalia onion farm in Lyons, Ga. Concern that new legislation meant to bar undocumented immigrants from the workforce and giving local police increased enforcement powers could negatively affect the industry. (AP Photo/David Goldman)