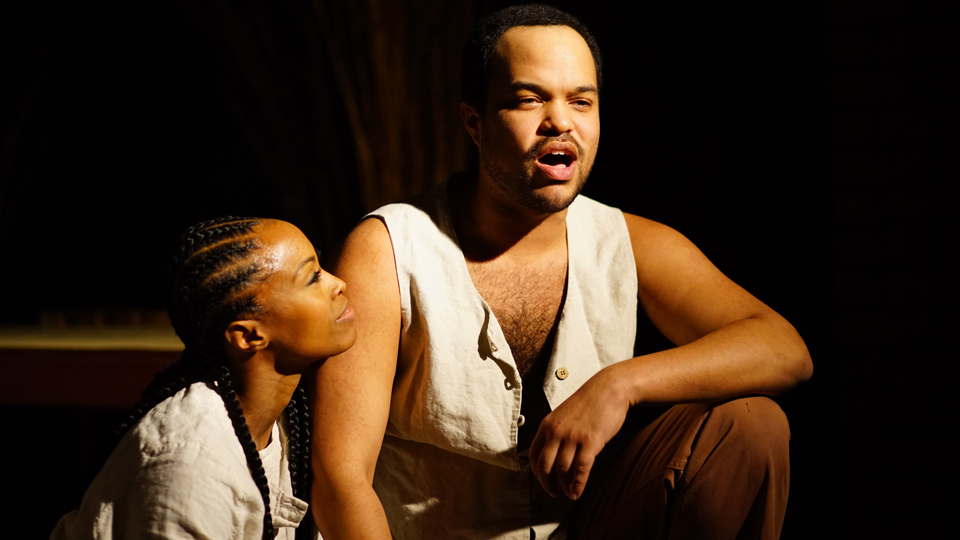 LOS ANGELES—If you're in or around L.A. and you like musical theatre and you appreciate some social messaging in it, then don't run (you might stumble) but do follow the drinking gourd to see Dessa Rose at the Chromolume Theatre at the Attic. There are only a few performances left: It closes February 25.
I had never even heard of this musical, but I always pay attention to what's happening at the Chromolume (named, in case you didn't know or didn't remember, for the light machine Georges Seurat's grandson unveils in Act 2 of Stephen Sondheim's Sunday in the Park with George). This company specializes in presenting overlooked gems of Broadway and off-Broadway, offering an opportunity to make the acquaintance of rarely performed work. In recent months I've seen Zanna Don't and Hello Again there.
When I saw that Dessa Rose had its book and lyrics by Lynn Ahrens and music by Stephen Flaherty, the pair that created the popular and highly successful Ragtime, I knew I had to check it out.
Now, the Chromolume is a 49-seat house with a stage that measures 23 x 15 feet. Several shows I've seen there have only approximated what Broadway audiences experienced. Scenery and costuming can be frankly a little funky, the performers of mixed skill levels, and the orchestra either a single piano or piano with traps and maybe a bass.
When we sat down (Feb. 9) I whispered to my companion, who had never been there before, "I don't promise anything."
So it was a complete and most rewarding surprise that the twelve cast members of Dessa Rose carried this show off with an almost shocking professionalism, which I know sounds like a left-handed compliment, but it is really good. Musical direction is by Daniel Yokomizo at the piano. The bass and percussion players rotate throughout the run.
Dessa Rose is based on the 1986 book of the same name by Sherley Anne Williams. The show received its New York premiere at Lincoln Center in 2005, and went on to less than a handful of other productions. (The Wikipedia entry on Williams does not even mention the musical!) It tells the unlikely but conceivable story of Dessa Rose, a young Black woman and runaway slave (Shaunté Tabb), and Ruth, a young white woman and abandoned mother (Abby Carlson), as they journey to freedom in the antebellum South. We see them in their respective social environments, and as they hesitatingly grow toward one another, both now as the narrative flows and in old age as each of them tells her version of the story to her grandchildren.
As a traditionally brought up young lady, Ruth only gradually comes to see the fraud that has been perpetrated on her, most particularly by her husband Bertie (Mikhail Roberts), who leaves her with a newborn and an unfinished home on a tract of rural acreage in South Carolina. When some Black people wander onto her land and ask if they can stick around and do some chores for her, she shrewdly neglects to ask whose "property" they are. She rather enjoys their company, and through them gaining a wider understanding of the world. Rose finds it a startling and embarrassing revelation that she never knew the real name (Dorcas) of the "Mammy" (Kymberly Stewart) who raised her.
Dessa Rose is quite the instinctive militant. I thought to myself, if ever the Marxist historian Herbert Aptheker were to have written the book for a musical, this is the kind of character he would have created. Known as a "devil woman," she takes guff from no one, but it's wholly comprehensible that she should be so angry and reactive. The terrible scars from her lashings are permanent reminders of her servitude. From a youthful romance with Kaine (Bradley Alan Turner) she also bears a fatherless child. The shared bond of solo parenthood is a powerful draw between the two women.
If Ragtime is framed in the setting years of the 19th century and the dawning years of the 20th, Dessa Rose is almost a prequel, taking both American history and music back another 50 years. We come to see that the shape-note hymns in the white churches are reinterpreted by the Blacks as the beginnings of spirituals and gospel. Interestingly, both of these side-by-side cultures feature songs about flying away—to salvation or freedom, take your pick. We also appreciate how singers embedded messages in their songs that were opaque to the white masters and luminous to the enslaved, even a minstrel number that outlines the escape scheme.
The main takeaway is the role strong women play in holding families and communities, and life itself, together. "We Are Descended (From a Long Tribe of Women") is a rousing choral number, one of several choral pieces in the score. Dessa Rose sings "Twelve Children," her melodic mnemonic device that helps her remember the names of all her older brothers and sisters, "lest the children pass from living memory." Storytelling in both song and word is a powerful part of the culture.
The show has many moments where we see people lying to save their skins, and supporting one another by speaking untruths. It's all well and good to preach against bearing "false witness," but if you can save your fellow human being from being whipped or sent back into slavery, then dissembling speech is by far the lesser sin. Ruth, too, uses her femininity and presumption of innocence to evade slavehunters. A natural empathy develops between these two oppressed peoples—Blacks and women—and they realize their only protection is themselves and each other.
Choreography for the show is by Michael Marchak, lighting design is by Jesse Baldridge, and costume design is by Kara McLeod. Overall direction (and scenic design) is by James Esposito. Just to arrange the large cast's comings and goings on that little stage is an accomplishment, but the potent content of this little-known work clearly brought out Esposito's best work.
Other members of the cast include Mykell Barlow, Ambrey Benson, Margaret Berkowitz, Claire Buchignani, Zach Campa, Matt Mancuso, and Ken Maurice Purnell.
The singing and acting are revelatory in a show that is itself a revelation. I hate to even speculate on the reasons Dessa Rose has been so little produced, but for those within reach, now's your chance.
Dessa Rose plays Fri. and Sat. at 8 pm and Sunday at 3 pm through February 25. Tickets may be purchased online or by telephone at (323) 205-1617. Chromolume Theatre at the Attic is located at 5429 W. Washington Blvd., Los Angeles 90016. For more information, visit the website or call (323) 510-2688.