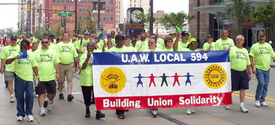 DETROIT — Among the many Labor Day parades and picnics across the country last week, this city's parade had a special edge.
While the morning editions of the Detroit Free Press and Detroit News carried editorials supporting anti-union "right-to-work" bills pending in the state Legislature, tens of thousands of trade unionists marching in the heart of Detroit served notice that the attack on labor rights will not go unanswered.
Members of UAW Local 600 all wore T-shirts emblazoned with the parade's theme: "Unions benefit all workers." Local 600 member Matt Jackson said unions help all workers because "unions fight for fair wages for everybody." Autoworkers are in negotiations with Ford, GM and Chrysler on a contract set to expire Sept. 14. Jackson's message to the companies was, "No pay cuts, keep my benefits."
Longtime observers said the march was more spirited than it's been in a long time. Adding to the beat were members of the American Federation of Musicians from the Detroit Symphony Orchestra, who marched in their full orchestra dress while five musicians from the Symphony's brass section stayed behind to entertain marchers as they walked by Orchestra Hall.
Rep. John Conyers (D-Mich.) marched with a national health care contingent whose signs, "Health care, not warfare," received applause all along the parade route. Asked what it will take to finally win national health care, Conyers said a Democratic president and Democratic Congress will be necessary but he emphasized, "This issue is nonpartisan. Good health care helps everyone regardless of party."
"Working people of this country have been ignored by the Bush regime for way too long, but we're coming back stronger than ever," Conyers declared.
Virginia Cantrell, president of the Detroit Federation of Teachers, said teachers, along with all other union members, need to understand that unions are under attack. Tracy Arnau, a teacher at Detroit's Cooley High School, said the teachers marching here on Labor Day showed the public that "we are organized labor, we do our job every single day."
Kerry Scott, a member of AFSCME Local 1259 at the Detroit Public Library, talked about the difficult conditions many in Detroit are forced into. "People are losing jobs, their homes and all of their possessions," he said. Like many in the parade, Scott placed the blame on President Bush, "He's no good, he's caused a war and we need to call him up on that," he said.
UAW Local 163 member Joe Smith, who works at GM's Romulus engine plant, had this to say about management: "They get their $10 million bonuses and we get laid off." Nearby, members of UAW Local 140 at Chrysler Group's Warren truck assembly plant were all wearing T-shirts reading, "We will strike if provoked." They said the message they were sending was simply, "We will do what is necessary to get a decent contract."
jrummel @pww.org