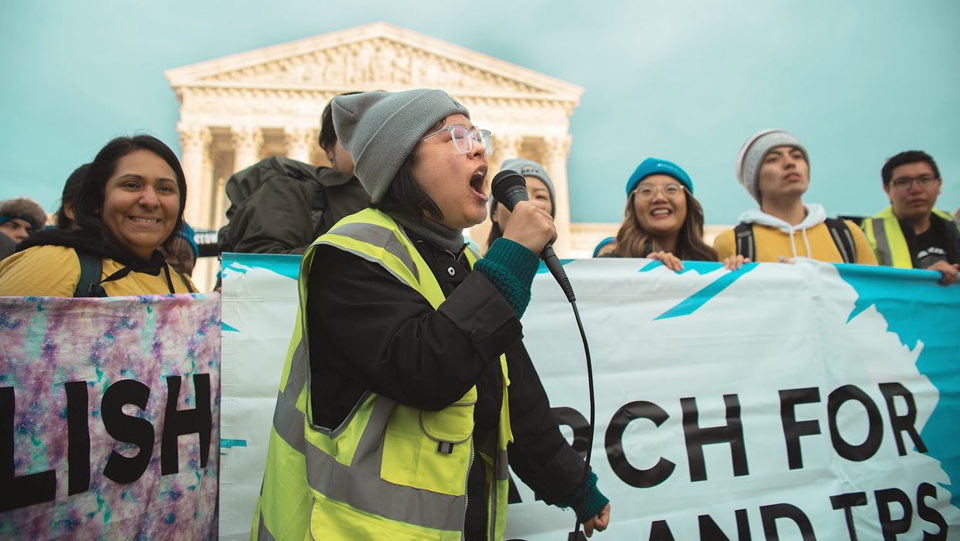 WASHINGTON—Declaring "Home is here!" and "We are people, too!" more than 1,000 Dreamers and their allies, including union allies, took their cause to the steps of the U.S. Supreme Court on Nov. 12.
As supporters of the Dreamers—some 800,000 undocumented people, now teenagers and adults, but brought to the U.S. as kids—massed in front of the tribunal, the nine High Court justices inside heard lawyers argue for an hour and a half over whether the Dreamers can still legally stay in the U.S., or not.
The Dreamers, including Hispanic-named people, Asian migrants, and refugees from war-torn and violence-torn Latin American, Caribbean, and African nations, want to stay. Republican President Donald Trump wants to throw them out.
In 2012, Democratic President Barack Obama decided the Dreamers could stay. Since the GOP-run Congress refused to do anything about the Dreamers, or any other undocumented people, Obama crafted the DACA (Deferred Action for Childhood Arrivals) program. He also crafted a program for undocumented parents of citizen kids, but GOP-named federal judges in deep-red Texas killed it.
DACA directed border officials not to arrest and deport Dreamers unless they have criminal records. It set up a system where the Dreamers, paying $495 yearly for documents, could come out of the shadows.
They'd get two-year renewable permits to live and work in the U.S. They could sign up for Social Security cards, join the military, go to school and college, or work. Some 91% do so, in occupations from housework to teaching to medicine. One even played in the NFL, and is now an Atlanta-area MD.
"With DACA, I was finally able to be somewhat normal and accepted," said Vicente Rodriguez, a guest teacher working with students with disabilities in the San Marino, Calif., Unified School District. The National Education Association member is one of 20,000 teachers nationwide who benefit from DACA. He still does, unless Trump wins.
Rodriguez, like other speakers, emphasized DACA meant he "could come out of the shadows and provide me a pathway of hope."
For all of the Dreamers in D.C., their signs repeated "Home is here!" in the U.S., and not the countries their parents fled, bringing their youngsters with them. In Sept. 2017, Trump dumped DACA, and two related programs for migrants and refugees, and planned to deport them all. Or so he thought.
Migrant rights groups, unions, more than a dozen states, more than 100 corporations—who would lose already trained workers—and dozens of universities all sued to keep the DACA recipients in the U.S. They won in lower courts and kept DACA going for the last two years, but Trump is trying to beat them in the Supreme Court, where GOP-named justices hold a 5-4 majority.
Outside that tribunal, the thousand-plus people, including several hundred who walked the 230 miles from the Statue of Liberty to the Supreme Court, made it clear they don't plan on going anywhere abroad—because abroad isn't home.
"I can see my career before me," Rodriguez declared. But when he gets his master's degree in 2021, "Will I still be able to teach?" he asked.
The Dreamers and their allies, including NEA, the Teachers, Service Employees Local 32BJ, the Chicago Teachers Union, and Hector Sanchez, executive director of Labor's Council for Latin American Advancement—all part of the D.C. rally—say "yes." Trump and his minions told the High Court, "no."
"Immigrant rights are not just a Latino issue, but an African issue, a Korean issue, and an American issue," explained Bambadjan Bamba, an actor in the made-for-TV movie Black Panther and a Cote D'Ivoire (Ivory Coast) native. That point came through another way: The D.C. demonstration included a march of Asian migrants, wielding a large banner written in Korean.
"Many people came here legally with their parents when they were a year old or two years old or 11 months old," Bamba said. But while his parents are now naturalized—they got political asylum—he isn't, because by the time they got their papers, his eligibility under their visas had expired.
"Because this country has a broken immigration system, I cannot legally reside here. I would love to be able to stand in line" to be legal, Bamba stated.
"DACA opened up many doors and opportunities," said Marcie Suarez, a youth organizer who works in New York City schools to develop good relationships between migrant families and school managers. "I could pursue a college degree, and get a paying job and contribute to society and speak on my own behalf," added Suarez, a member of union-backed Make The Road New York. She did all that.
"There are close to 25,000 U.S.-born children who have at least one parent who is a Dreamer," LCLAA posted on its website. "DACA recipients pay $5.7 billion in federal taxes, and $3.1 billion in state and local taxes, every year."
"Today @SCOTUS will consider this administration's decision to end DACA. Dreamers are an essential part of our communities, they are woven into the social and economic fabric of our nation! #HomeIsHere."
The justices are expected to rule by the end of June, right in the middle of next year's presidential election campaign, on whether Trump acted legally in trying to kill DACA. Lawyers for the Dreamers said he didn't—and that the program is legal, just like past waivers of prosecution of other migrants to the U.S. Trump's Justice Department lawyers said it's illegal.
But even when the justices rule, their decision may not be the end of the story. United We Dream, the main organization for the Dreamers, still pushes legislation to legalize all of them, and all other undocumented people, too. The Democratic-run House passed legalization of Dreamers in June, with active union support. Senate Majority Leader Mitch McConnell, R-Ky., refuses to consider it.
Juan Ortiz, who is going for his master's at the University of Arizona, and a woman colleague at the edge of the crowd held a bedsheet banner reminding everyone of another Trump anti-migrant action: Asesinados por la Patrolla Terza, their hand-drawn banner, festooned with faces and names, read. "Killed by the Border Patrol."