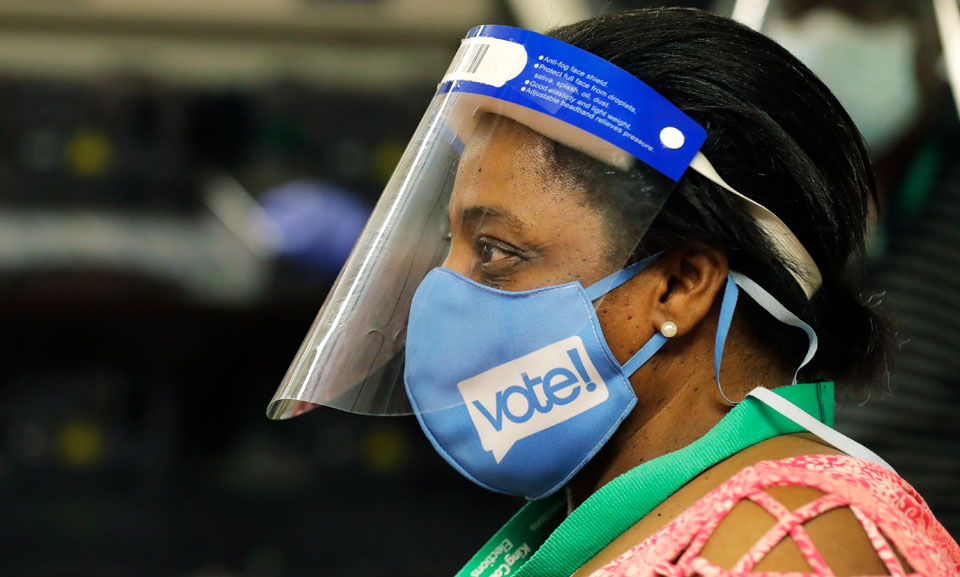 SEQUIM, Wash.—Washington state's voter turnout in the Aug. 4 primary broke records and the conventional wisdom is that it is good news for the Democrats. Yet warning bells are ringing because Republican turnout was unexpectedly high in rural areas of the state.
Statewide, 55%, or 4.6 million voters, filled out their ballots and mailed them in by the deadline, the highest voter participation in more than half a century. The efficiency of the all-mail balloting, postage paid by the state, was proven once again with no complaints of "ballot fraud."
It exposes Donald Trump's lie that mail voting is vulnerable to "voter fraud" as well as the baselessness of his attacks on the U.S. Postal Service, central to his scheme of stealing the 2020 election.
The total state Democratic margin was wide because of the overwhelming Democratic vote in urban centers like Seattle. Candidates like incumbent Gov. Jay Inslee and Attorney General Bob Ferguson, both Democrats running statewide, piled up majorities that make them favorites to win in November's general election.  But Democratic candidates down ballot in many rural areas were in trouble. Commentators like D.J. Wilson in Washington Wire and Henry Olsen in the Washington Post wrote that the unexpected Republican turnout runs counter to the prediction of a "Blue Wave" landslide for Democrats.
As expected, incumbent Democrat Rep. Derek Kilmer, 6th Congressional District, was the highest vote getter, even though his Democratic rival, Rebecca Parson, gave him a run for his money. Parson in her first run for elective office, a member of Democratic Socialists of America, campaigned for Medicare for All, the Green New Deal, and expansion of Social Security. She got more than 33,000 votes, over 13%. Kilmer will face the Republican in the Nov. 3 general election. He will need Parson's voters to win.
While observing social distancing and wearing face masks, Parson succeeded in reaching out to tens of thousands of voters. This reporter joined Zoom meetings of some of her young phone-bankers who made more than a quarter million phone calls. Parson assailed Kilmer for signing a letter by Republican Sen. Mitt Romney calling for creation of House-Senate "commissions" to plan sharp cutbacks in Social Security behind closed doors. When his constituents flooded his office with angry protests, Kilmer apologized and vowed never to vote to cut Social Security.
Kilmer, chair of the conservative New Democratic Caucus, habitually reaches so far across the aisle he sometimes tumbles into the Republican side. He co-sponsored with his Washington State colleague, Republican Rep. Jaime Herrera Beutler, a reincarnation of the Paycheck Protection Act loaded with giveaways to Wall Street. It went nowhere, but it was a lifeline Kilmer tossed to Herrera Beutler and an embarrassment to Carolyn Long, Herrera Beutler's Democratic opponent.
In the 2018 primary, Herrera Beutler mustered only 42.1% compared to Long's 35.3%. Herrera Beutler won re-election by 52.7% in 2018. But in this primary, Herrera Beutler won 59.3% to Long's 39.8%. Herrera Beutler has widened her primary lead over her Democratic challenger.
The Parson campaign also initiated socially distant street corner waves on the North Olympic Peninsula with thousands of motorists honking and waving. Hundreds of yard signs were planted on lawns of her supporters.
The voter turnout rate in Clallam County was even greater than the statewide, hitting 60%. In neighboring Jefferson County, Parson came in second. Since Washington's election law calls for a runoff in the general election between the two highest vote-getters, regardless of party, Parson would have been on the ballot in November if the rest of the district voted as Jefferson County did.
Incumbent Democrat Kim Schrier represents Washington's 8th Congressional District in the U.S. House. Her district reaches from the Seattle suburbs across the Cascade Mountains to Wenatchee. Voters had never elected a Democrat in the 8th until she won in 2018. The combined vote total for Schrier and the other Democrats vying for that seat was 47.45%. The combined total for all the Republicans running for that seat was 49.2%—nearly two percentage points higher. Her campaign is sounding warning bells.
What happened? Democrats were confident—or more accurately, overconfident—that Donald Trump's gross misleadership of the COVID-19 pandemic would translate into a flood of votes against the Republicans. Voters were also expected to blame Trump for the economic disaster. The protests against the police murder of George Floyd were expected to enlarge the Democratic vote. The "stay-at-home" order issued as COVID-19 spread sharply undercut the main campaign weapon of  Democratic candidates—door to door canvassing and mass rallies led by the labor movement.
In the age of COVID-19, voters are as unpredictable as the pandemic itself. It would be a deadly error to underestimate Donald Trump's success in whipping up racist and xenophobic hysteria.
Polls show Democrat Joe Biden with a more than 20-point lead over Donald Trump in Washington state. His choice of Sen. Kamala Harris as his running mate is sure to widen that lead.
But the only poll that matters is on Nov. 3. And the primary results here Aug. 4 show that nothing can be taken for granted. The challenge remains: Work hard to reach the voters on the basic issues like health care for all, no evictions or foreclosures, and protection of those unemployed by COVID-19. Convince voters to fill out their ballots by voting to remove Trump and his minions. Take the ballots to a dropbox if there is one. Or put a stamp on it and mail it—if there is still a Postal Service left to deliver it.