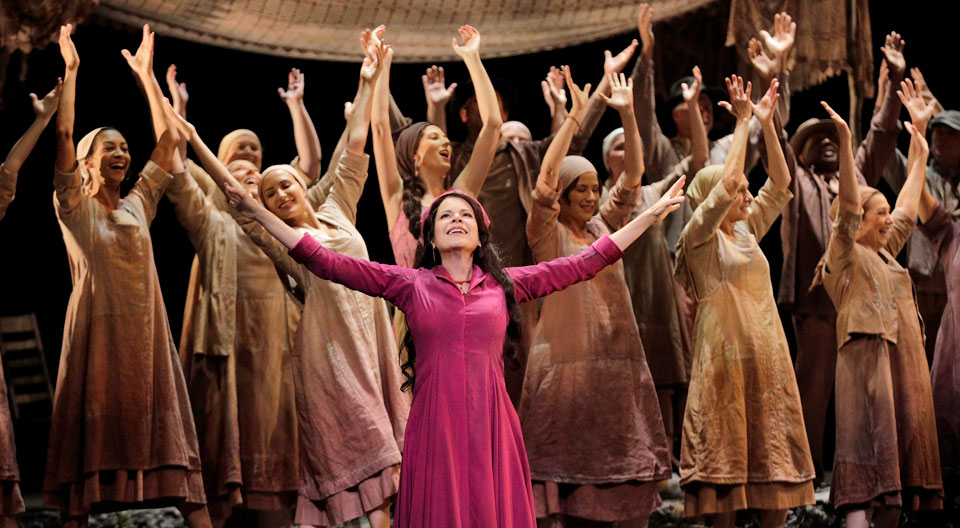 LOS ANGELES—Some who don't actually attend opera may be under the false impression that it is a stuffy art form. In fact, with its emphasis on music, lyrics, acting, dance, and staging, opera is often an extremely emotional mode of expression. And Manuel Penella's 1916 El Gato Montés (The Wildcat), a Spanish zarzuela, is arguably one of the most passionate works ever created for the musical stage. Consider its sizzling plot (which could provide the storyline for a telenovela):
Soleá (soprano Ana María Martínez) is a young "Gypsy" (now called Roma) romancing the matador Rafael Ruiz (tenor Arturo Chacón-Cruz). However, to make a long story short, Soleá is, like Mary MacGregor's 1976 song, "Torn Between Two Lovers." She's also been involved with the title character, an outlaw known as the Wildcat and depicted by baritone Plácido Domingo in his 151st stage role—for the first time playing the title role of El Gato Montés, aka Juanillo, although in 1994, when he was still performing tenor roles, he portrayed the bullfighter Rafael. LA Opera first presented this three-act opera in that year (here presented with only one intermission).
Soleá has divided loyalties as she must choose between her bandit or her bullfighter. What's a polyamorous girl to do?
Needless to say, sparks fly in this production directed by Jorge Torres. The passionate pyrotechnics are enhanced onstage by flamboyant flamenco dancing exuberantly choreographed by Cristina Hoyos and Jesús Ortega. The scenery and lighting designed by Francisco Leal and period costumes by Pedro Moreno also add to the show's earthy tonalities. The toreador's jousting with the bulls in the ring is imaginatively recreated, and the music by Penella, who also wrote the libretto, adds to the emotionally overwrought nature of this exceptionally melodramatic work. The music is in the idiom of zarzuela, the popular Spanish form of musical theater, and conducted by Spaniard Jordi Bernàcer. Grant Gershon directs the LA Opera Chorus in this live stage show with a cast of dozens. It's performed in the original Spanish.
In a shocking dream sequence, Soleá dances with a number of bare-chested men, which makes it clear why both the matador and the desperado desire her so much: Soleá is an extremely sexual woman. (Some may feel Penella is depicting tropes of the Roma, as well as of Latinx as stereotypical red hot lovers.)
The fiery Soleá's name seems to reference the sun, and with all this onstage heat El Gato Montés requires some comic relief, which amusingly comes in the form of the priest, Padre Antón (bass Rubén Amoretti). Mezzo-soprano Nancy Fabiola Herrera plays the Fortune Teller, while contralto Sharmay Musacchio is Frasquita, Rafael's mother (some may infer Freudian interpretations to their relationship).
Without divulging plot spoilers, given that since the depiction of the Biblical Jezebel, sexual women portrayed on the page, stage, screen, etc., must "pay" for the "crime" of being sensuous and—worse!—enjoying sex, the ultimate fate of the orgasmic Soleá is not too hard to guess. However El Gato Montés has unexpected twists and turns and perhaps Penella's point is that unrestrained sexuality wreaks havoc.
This provocative production about a ménage à trois is one of LA Opera's most outrageous undertakings. It's extremely exciting and great fun. Of course, it's also a sheer delight to see Plácido at 78 (!) step into the arena to essay yet another lead role as part of his remarkable repertoire. The Wildcat is a must-see for opera aficionados—and that's no bull!
El Gato Montés (The Wildcat) will be performed May 8, 11 and 16 at 7:30 pm, and May 19 at 2:00 pm. at L.A. Opera at the Dorothy Chandler Pavilion, 135 N. Grand Ave., Los Angeles 90012. For further information and tickets see here.
For a scene by scene description of the opera by soprano Ana María Martínez see here.