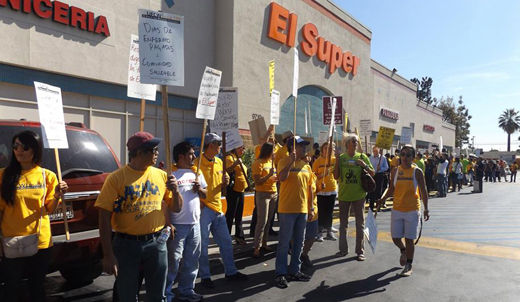 LOS ANGELES – El Super grocery workers, with the support of United Food and Commercial Workers Local 770 (UFCW) and community groups, are urging consumers to boycott their employer, a chain of supermarkets located primarily in Latino neighborhoods.
Alfredo Obeso, the chain's owner, is a member of Mexico's one percent. A press release announcing the boycott notes that and article in Forbes magazine last year described how Obeso, who refuses to raise the wages of his employees, paid $50 million for his 163 foot super yacht.
Los Angeles Highland Park El Super workers have been outside the Highland Park store talking to consumers as part of the boycott message organized with the help of the Coalition for a Better El Super. The workers message is that by boycotting El Super customers can help them win a fair contract and pressure the company to respect the workers by giving them a voice.
On Dec. 12 the workers voted 3-1 to unionize. The company has resisted and has now imposed its last and final offer. The workers have rejected the offer and are demanding that the company meet to discuss what they say are their top priorities: receiving enough hours to earn a living wage, fair seniority rights, wage increases and sufficient paid sick leave.
Carol, an 80-year-old Highland Park resident walked toward the entrance of the market. One of the workers approached her: "Please don't shop here. We are asking consumers to Boycott El Super," he said. The customer talked to the worker and read a flyer he had handed her – a flyer that cited health violations at El Super.
She told the worker that her late husband was a meat cutter and a UFCW member. "I will longer shop here," she said, as she turned away and headed back toward home.
Photo Justice for El Super Workers at El Super 12 Facebook