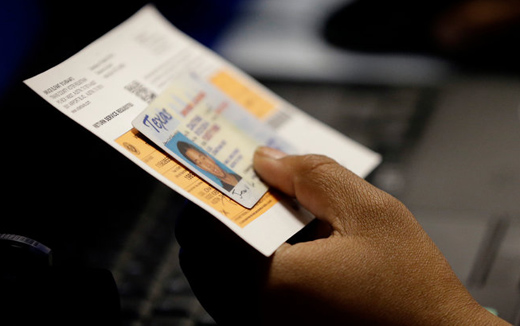 Today, as Texas voters head to the polls in the last days of early voting, Election Protection announced an important radio advertisement campaign focused on informing Texas voters about their rights. Voters who are confused about the state's new photo ID requirements and how to get an ID to vote have called the 1-866-OUR-VOTE hotline to get help from volunteers. The radio ads, which will air in English and Spanish, target voters in historically disenfranchised communities across Texas.
"Recent changes by state courts and the Supreme Court have left voters in Texas confused and without key protections once afforded by the Voting Rights Act," said Barbara Arnwine, President and Executive Director of the Lawyers' Committee for Civil Rights Under Law and one of the Coalition members. "The new Voter ID requirement will potentially disenfranchise more than 600,000 registered Texas voters who do not have the required photo ID, and most of the affected voters are African American, Latino and low-income."
The ads will begin airing on radio stations in the following key markets: McAllen-Brownsville-Harlingen, Laredo, El Paso, Dallas and Houston. They can be heard here on the Election Protection website:
This is the first major statewide election since the state's voter ID law went into effect and many problems are expected with the new ID requirement. Voting rights advocates are especially concerned about voters who are not aware of the new law's requirements, as well as those who have traditionally faced the greatest barriers to voting.
Acceptable types of ID to vote (all unexpired or expired within 60 days of the election) includeb a Texas driver's license, aTexas state personal ID card, a U.S. Military ID card with a photo, a U.S. Passport or U.S. Citizenship Certificate with a photo, a license to carry a concealed handgun or an Election Identification Certificate.
Voter Registration Certificates/Voter Registration Cards are NOT acceptable. Forms of ID to vote in person, unless you receive a disability exemption. Tribal and student IDs are NOT acceptable forms of ID to voter in person.
Call 1-866-OUR-Vote if you have questions about the voter ID requirements or have problems casting a ballot in Texas.
An election official in Austin, Tex., inspecting identification at a polling site in February. A state law requires ID like a driver's license or a passport. Eric Gay/AP