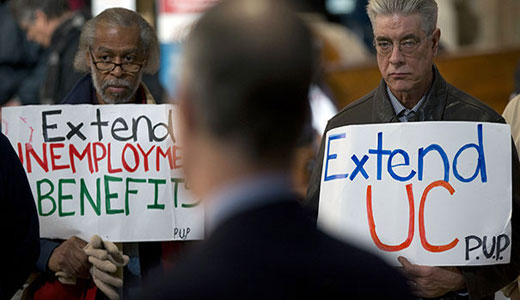 The nation's unions are urging people to contact their representatives this week and demand that they extend emergency unemployment benefits for the 1.3 million people who lost those benefits when the federal program providing them expired on Dec. 28.
Call Congress at 1-877-318-0483 with the message "extend unemployment insurance now."
To find your members of Congress click here for your Representative and here for your Senators.
Restoring the emergency benefits comes up on the Senate's schedule Jan. 6 with the Democratic majority there expected to prevail and pass the measure. The pressure, unions say, has to be put on the House where the Republican majority has opposed extension.
The1.3 million who lost benefits are spread across the country but, in terms of percentage of the population, New Jersey has been hit the worst. Some 90,000 jobless people have been affected there.
Labor and its allies have expressed outrage over GOP claims that the extension is unaffordable and overly generous, especially in light of record high corporate profits and stock prices and the fact that failure to extend benefits will actually hurt job creation in the year ahead.
Photo: AP